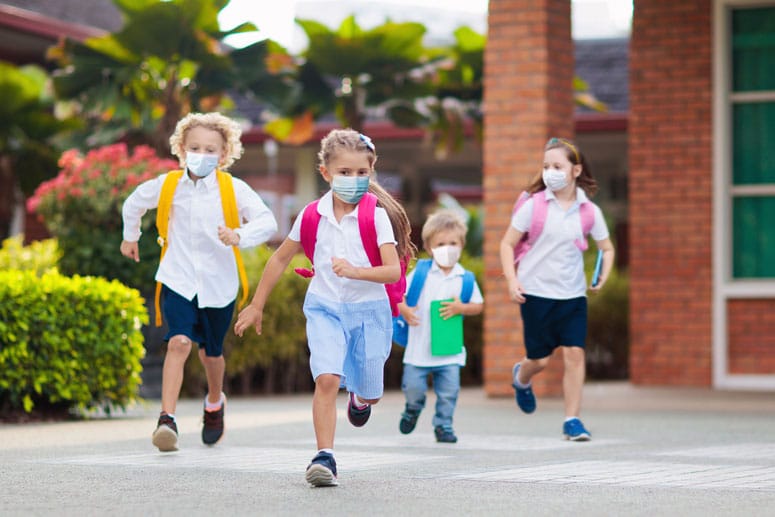 This podcast will share a few back-to-school safety and wellness policies Maria's school has created to help keep the students and staff safe during the pandemic.
Don't you wish you could talk to other teachers from other districts to see what they are planning for the return of school? I know I do!

[0:30] Planning for something now that we have no idea what is going to look like in August is very unsettling and I'm sure many of you feel the same way. This is why I wanted to share with all of you what we have planned so far for our school district and our PE department way out here in Arizona.
[0:46] But first, I want to make it very, very clear that what I'm sharing with you today may all change before we go back to school. In fact, as you know, this pandemic has a mind of its own, and every day it looks very different. So I have no idea what August brings, but this is what we have planned so far.
Masks will be required for all students
[1:06] So what I know for sure is masks will be required for all students and all staff and I believe the district is even providing our staff with mask shields. I'm not too sure about that, but that's the word on the street.
Locker Room Restrictions
[1:21] Next and this is kind of a big one at least for us in high school PE. Locker rooms will not be used for at least one semester and possibly all school year, which means students will not be dressing out. I'm going to recommend that my students wear tennis shoes, so at least we can do a few things that I'll get to in a little bit later.
Space Management
[1:42] So how this will look is students will report directly to their designated teacher at their specified teaching location. They'll have to wait outside six feet apart, and we're designating markers on the sidewalk for this until the teacher goes out there and lets them in. And obviously you know we'll be letting them in in waves so they don't bottleneck inside the door. Once they're inside the door or to the grass area or to the court wherever that designated teaching space is, those spots are going to be marked. Every student is going to know exactly where they report to – just like a seating chart in a classroom if you will. Once they get to those marked spots then we will have disinfectant bottles all over the area and students will one at a time, obviously go and disinfect their hands before we do anything.
PE Activities
[2:39] Activities that we will be doing. I need to do a lot more brainstorming on this for the remainder of this summer, but I'm envisioning things like walking, yoga, stretching, doing lessons on wellness, SEL lessons, bodyweight exercises, things of that nature that can maintain that six-foot social distancing.
Equipment
[3:02] As far as equipment goes, not quite sure about that yet we may be able to use the equipment? I have to get direction from my school principal on this one still. If we do use the equipment, obviously we have to look very closely into disinfecting that. What I really would like to see happen is to have the students have their own equipment pack that they can own and take to and from school that they keep with them that only their hand's touch, but again, that will be probably another podcast in a little while here when I get more clarity on that issue.
Transitions
[3:41] Then finally for dismissing, the students may or may not disinfect again. I'm not sure on that part, but I know that we will have to dismiss in waves. So the students all just don't rush to the door to go to their next class. So again these are just a few concrete things that we do have in place.
[4:00] There are many, many more issues that we have to cover, but I thought I would at least start here and share it with you. I wish we could all get together and brainstorm this. If you have ideas, throw it on Twitter. Let folks know what you're doing at your school district and maybe we can all help each other out and get through this together.
Thanks for listening. Stay safe and stay tuned for the next topic. Which will be what we're doing with equipment. Thanks so much. Take care.