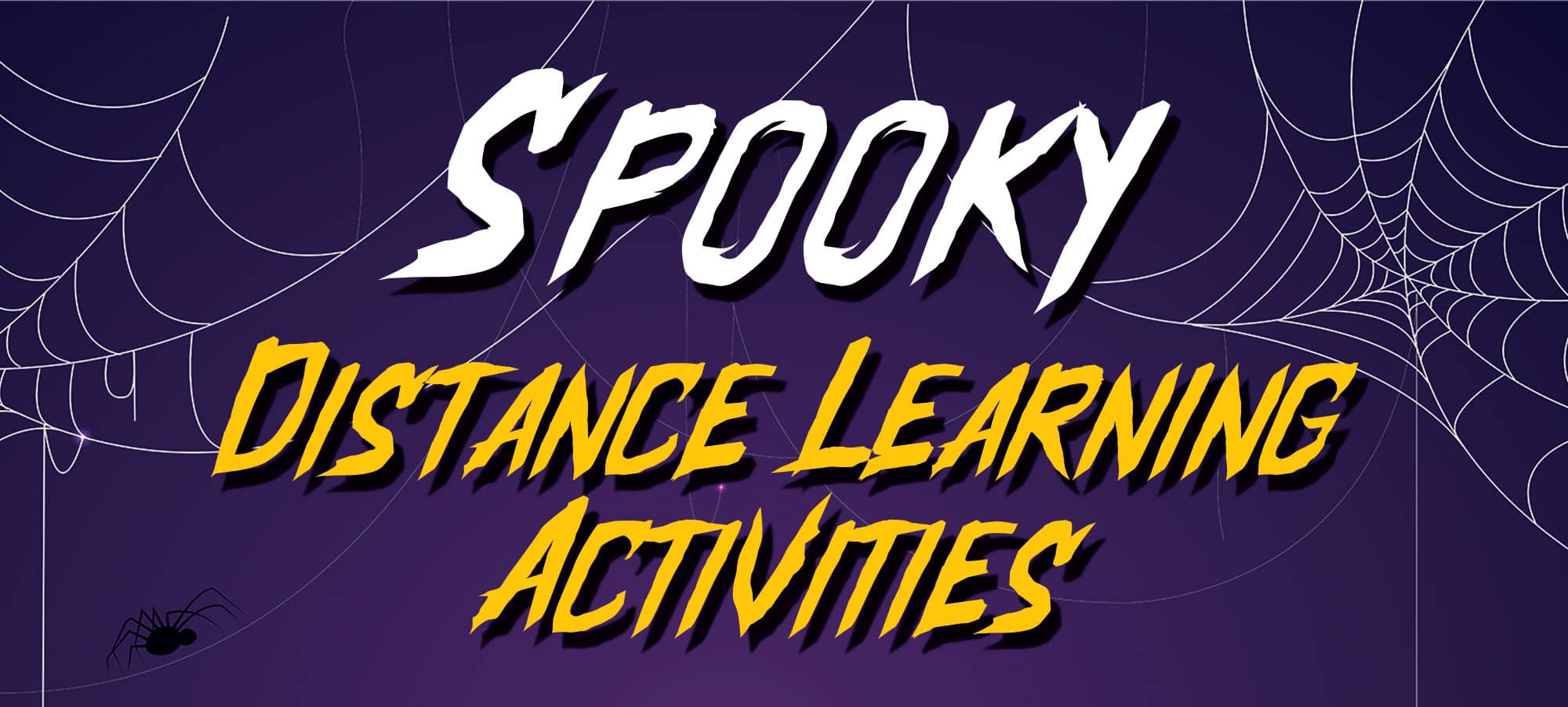 PE teachers are some of the most creative people out there and even though many schools are still practicing distance learning, it's not stopping them from creating and sharing unique ways to keep kids active!
With many school gymnasium Halloween mazes and haunted houses closed for the season, we gathered our favorite spooky videos and resources online to keep the Halloween spirit alive in PE.
Disclaimer: Gopher has not partnered with the creators of this content and does not own any of the content or ideas shared in this blog.
1. "The Witch Doctor" PE Warm-Up
Coach Tom Gelardi from PhysEd Zone, who is known for his Phys Ed challenges and warm-up dances, has shared this warm-up dance for the song "The Witch Doctor",
Follow Coach Gelardi on Twitter.
2. Ghosts and the Goblins
This video idea comes from Nick Williamson over at www.bewellplayed.com. Nick has a wide selection of interactive games and lessons to keep students active while at home. Ghosts and Goblins is a "physically active brain teaser". Be sure to visit the lesson plan link to find the interactive game with different skill levels.
This or That Halloween Collection
3. Brain Break – Halloween This or That?
UJU videos put together this great Brain Break Halloween theme! Be sure to visit their channel to find a wide selection of videos to keep students active.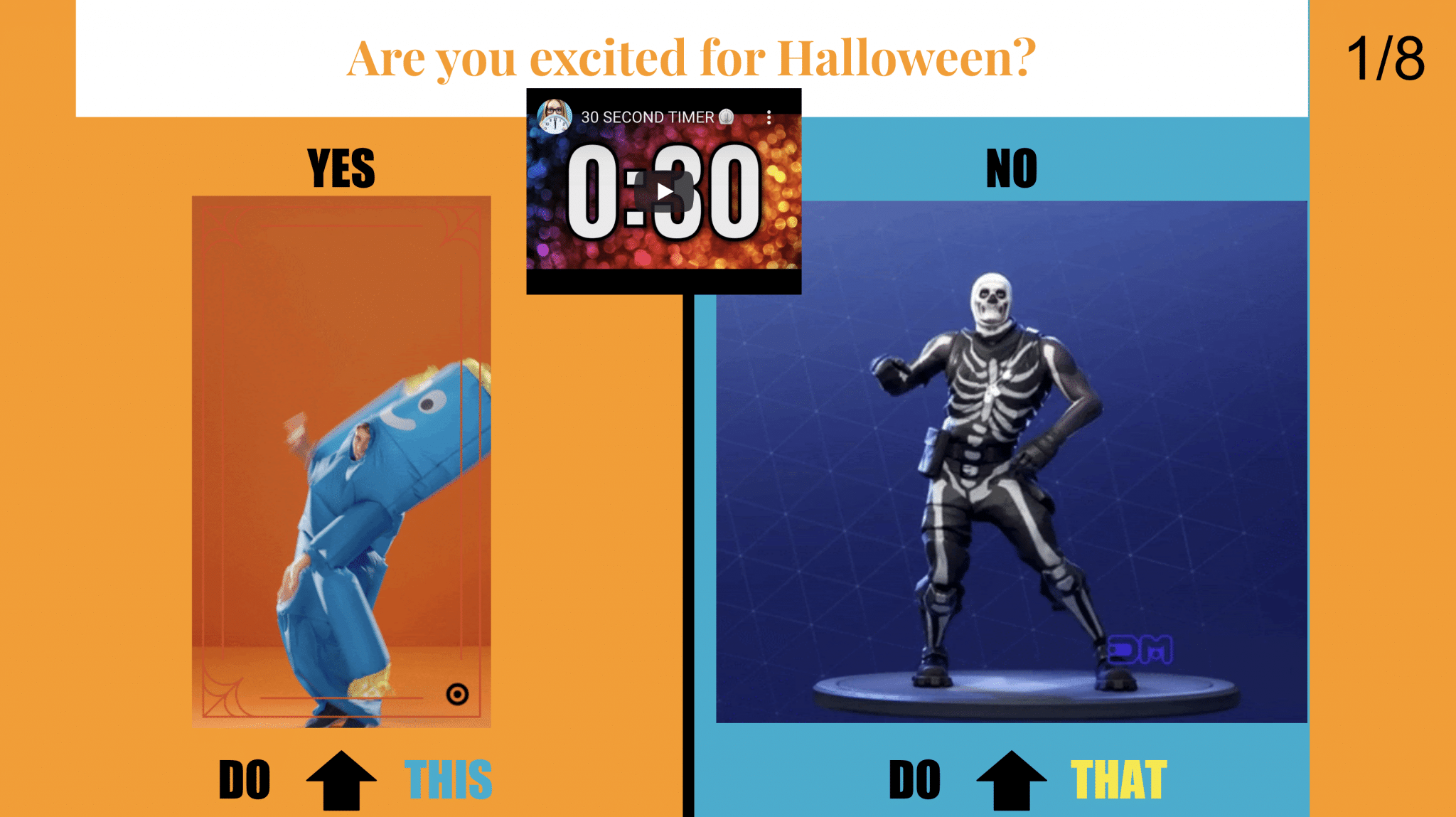 Valerie Renee shared this great resource with the PE community. Click the image above to view a Halloween this or that created in Google slides. Your students will surely love the fun gifs and questions!
5. This or That – Halloween (Fitness)
Not only does the video above include some classic Halloween songs, but it is also a great full-body fitness workout for students. Special thanks to Chris Corso at Morningside Phys. Ed. for sharing this video.
6. Halloween Warm-Up/Fitness Activity by Jason Steele
Jason Steele (Twitter: @PerkettPE) and Mrs. Smith (Twitter: @PeLongfellow) created this Pumpkin Fitness resource. Have students spell out PUMPKIN by completing the Halloween themed exercises.
7. Halloween PE Games: Yoga Freeze Dance
Halloween Yoga Freeze Dance was created by P.E. with Mr. G. When the music starts playing, students should start dancing and moving around. Encourage them to get creative and share their best halloween dance moves. Once the music stops, students must freeze and mimic the picture in the video. Can you students hold their yoga pose for 15 seconds?
8. Create a Pumpkin
Julie Braden (Instagram: pewithmrs.b; Twitter: @mrsbradenpe) has created a bunch of interactive videos and resources for her students and the PE community. One of our favorites is Create a Pumpkin.
View Create a Pumpkin Google Slide by Julie Braden. Be sure to make a copy of the presentation before editing (File > Make a Copy > Entire Presentation)
9. The Creepy Forest – Halloween PE Game
Your students will love this interactive Halloween PE Game by Coach Corey Martin. Students will tip toe quietly through the forest and must RUN when they see a scary creature! Coach Martin shares new Virtual PE lessons every Monday, Wednesday and Friday on his YouTube channel.
10. Halloween Fitness Activity
Marianne Hertzog created this clever Halloween Fitness Activity on her YouTube channel. Students try to find as many treats as they can by selecting the correct house and performing the activities.
Bonus: DIY PE Games: The House of Boos!
This video was created by The P.E Spot on YouTube. Be sure to subscribe for more distance learning activities!

In this video, Danny Garcia creates his own "Boos" and shares a target game with multiple variations and challenges.