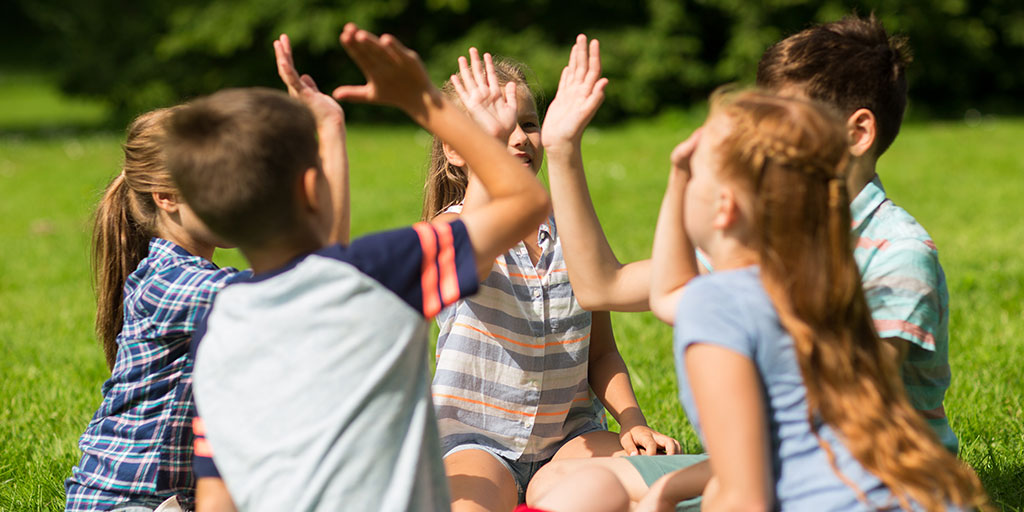 [0:03] Hello everybody and welcome back to school, I am so excited to get back at it again, and I don't know about you but I am super excited to get these kids back in the gym laughing and connecting with their friends and most importantly, moving again.
Students need to learn to have fun again
[0:39] So I've been back to school now for two weeks and one thing I've noticed with the return of all of our students back on campus is their apprehension of connecting and talking with each other and kind of the ability to have fun again. It's been really interesting to watch.
[0:59] I think one of the reasons why that is is because a lot of our students have not been on campus for over a year and a half. You know we had half of our students on campus last year and half of them opted out and did learning remotely. Now we're all back, and I can tell it's taken a little toll on them. So one of the things I wanted to do with the return is to get these kids talking to each other again, socializing, laughing, and moving.
Easy icebreakers to get students comfortable
[1:33] So one of the things that I did was start out pretty easy, pretty gradual, and do a couple of icebreakers just to get them comfortable again being around other people. I have two really easy, easy, easy, and I know I said easy three times, but to really easy icebreakers to do with your students. It's doesn't require a lot of equipment. It gets the kids talking, laughing, meeting new people and I did these on the 1st and 2nd day of school and they really did have a lot of fun with them.
Related Articles:
– 4 Team-Building Activities for Students by Jason Gemberling
– Large Group Icebreakers and Team-Building Activities by Maria Corte
– Ocean Explore: My Favorite PE Team-Building Activity by The PE Thinker
Icebreaker game #1: Favorites
[2:08] So the first one I did, it's called favorites and all I do is I get the kids in the middle of the gym and I yell out, find people with the same favorite color and it's really easy and I step back and watch them find their friends and their peers and new people have the same favorite color as they do. So the kids will start yelling blue and all the blue kids go over to one section of the gym and other kids will yell red, and I like it because I can sit back and watch who my leaders are. I can watch who my shy students are. I can watch to see if students are really having a hard time engaging with others. It's pretty good for me to see how I'm going to approach that class and it may be different from hour to hour. Once they see all the groups are in little small color groups, I have them get in a circle, sit down, they introduced themselves, they go around, and say their name and maybe what grade they're in? I teach high school so I have freshman through senior in each one of my classes. So that's really fast and it gets them talking, it gets them to meet new people and they also realize they have people with the same common interest, their favorite color.
Icebreaker game #2: Birthday Month
[3:30] The next thing that I do is after that we stand up, walk around again, I can freeze them and say, alright, find people with the same month you were born. Well we all know that everybody loves their birthday month and so it's something we all have in common. So they walk around, they start yelling, July, September so, and so sometimes they're smart enough to even put their hands up in the air and put up the number of the month they were born. For example, if it's April they put up a four. So they go around, I let them take some time on this one and once they find their birth month, then I have them sit down, they say their name, and they say the day they were born and a lot of times the students find that they have the same day, the same birthdate and that's an instant connection, even just having the same birthday month is a connection. And they have a lot of fun with it and they're starting to feel a little bit more comfortable in my class.
[4:28] So those are two really fast and easy icebreakers you can do. My students had fun with it. I could tell instantly that they had met some new people and they were getting more comfortable socializing again because we all know that's more important right now than getting them physically fit and hitting the fitness hard. Plenty of time for that. Obviously we want to get them moving, but we also wanted to be comfortable. So I hope this was helpful. I had fun with my students, I hope you will too. Have a great school year, be safe and have fun, everybody! Bye.