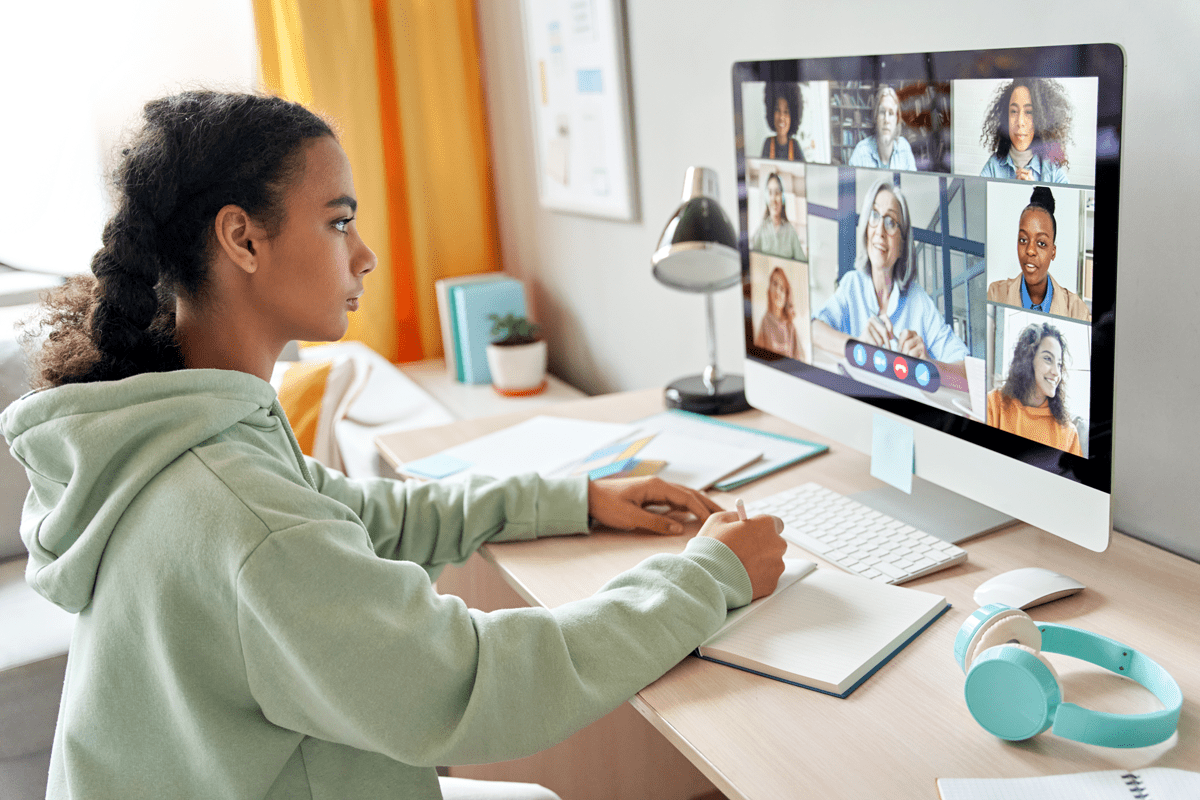 Within the upper left of the United States, many school districts have fully embraced remote learning for the foreseeable future. This school year is new for me and I've been as much of a student as I am a teacher.  Not only am I teaching middle school Physical Education for the first time in my 14 years of education, but I have to do so without any face-to-face interaction with my students. 
Student engagement has been the biggest challenge for me in the last three months. Virtual learning has been quite possibly the biggest curveball I've faced as an educator. 
Here's what a typical day looks like right now for middle school students in my WA State school district…
All students have been provided a computer during remote learning
Students attend online classes four days per week (excluding Wednesdays)
Students are enrolled in 3 classes per quarter lasting 85 minutes (30 minutes live, or synchronous / 55 minutes independent, or asynchronous)
School schedules this year strongly reflect that of a normal school setting. A strong structure is present. However, the underlying issue many teachers like me face in this virtual learning environment is lack of student engagement.
Here are some of the possible reason's student engagement may be low during remote learning:
Poor internet connection.  Low bandwidth can cause an unstable connection and ultimately prevent students from attending live learning sessions.
Care for family.  Many students have a younger sibling to take care of or assist with their schoolwork.  This can be a huge distraction for students during their classes.
Privacy.  Asking students to turn their cameras on during class is basically them opening up their home to the entire class.  I've found many families are not comfortable with that, and rightfully so.
Lack of social interaction.  Its apparent students want to be present with one another.  We all do.  Students are coping with this new reality and have not fully accepted this new virtual setting.  
Low-interest level.  It's really hard for a teen to have the diligence to stay engaged while at home (especially while parents may be at work).  You were once a teen…think back if school was at the top of your interests?
There are many more reasons student engagement may be minimal during remote learning. Regardless of the factors that lead to low engagement, it's our job as educators to find solutions that will eventually stick with our students.
Here are 3 tips to increasing student engagement in middle school Physical Education:
1. Be Flexible: Provide Resources to Get Caught Up
Understand schedules for students are going to be all over the place and they won't necessarily match yours. Tending to family responsibilities, technology malfunctions, or simply needing a break from screen time (something we as Physical Educators can strongly support), should be accepted by the educator.
We have to accept the fact that students, just like ourselves, will have distractions when working from home. That's okay! What's worked for me is providing students protocol should they ever miss any part of class. Here's what I do…
Create presentation slides for every lesson that students can access anytime on a cloud sharing platform like Google Classroom. Be clear with students that they can go back at any time to access lesson content if needed.
If students need a break for any reason during the lesson, my answer will always be "yes." My only ask to them is that they alert me in the chat prior to leaving their screen and upon coming back.
2. Begin Each Class with a Survey or Poll Question
My school district uses Zoom as its virtual learning platform for students. Zoom has the ability to create single or multiple poll questions for students to answer when logging into their class. I have found this feature extremely beneficial as I can use it as a pre-assessment for my lesson or simply as an ice-breaker learning the interests of my students.
3. Utilize Breakout Rooms 
I typically encounter black screens from my students when we meet together as a class. This is easily the most frustrating part of teaching remotely for me. It's very difficult for students to turn their screen on if the majority of their peers fail to do so. No matter how hard you ask, students at the secondary level are most likely not going to turn their camera's on in front of their peers. That's their right. We cannot require students to open up their homes to us (as mentioned earlier).
This is one of the reasons I've chose to utilize breakout rooms with students. My strategy has been to have quick 2-3 minute check ins with my students and their families in private breakout rooms. I have found to make a better connection with students this way and have had many more students turn their camera on for that personal connnection.
My Challenge for You
These were just a few tips that can boost student engagement in your remote learning classes. There are plenty more strategies educators can implement when teaching virtually.
Over the next few weeks, I challenge you to find ways to embed engaging strategies with your students online. If you already have ideas, share them with your peers. And for everyone…there are never enough strategies an educator can implement with their students. Keep learning. And don't be afraid to connect with others in our Physical Education community.
Take care of yourself during these times, stay in good health, and finish the calendar year strong!