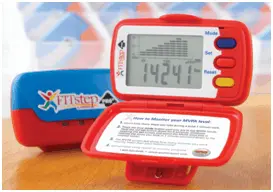 If you are looking for more ways to incorporate meaningful technology that makes student learning more efficient, as well as builds bridges with other colleagues using a cross-curricular approach to learning, look no further than Pedometers.
Pedometers are one of the most affordable and efficient ways to take student learning to the next level. Using pedometers helps make connections in math, technology, history, and more.
As a dual-certified educator, in Math and Physical Education, my first full-time job was teaching 7th grade math. I loved using practical projects that connected students to real life applications. For example, an engaging data analysis project asked students to select a topic or theme to analyze and apply statistics in a variety of ways. At times, students struggled with picking a particular theme. They didn't always have a favorite "something", like a sports team, where they could access easy statistics for graphing and data analysis. For these students I wished I had meaningful data for them to analyze. As educators, we know meaningful content is an important hook to connect students with their learning.
Fast forward ten years and I now have the perfect tool to make this all possible – the downloadable FITstep™ Pro Pedometer by Gopher (or wireless FITstep™ Stream™). For three years now, students have been downloading their daily information into the FREE FITstep™ Pro Software and I can now download a variety of reports with just the click of the button:
I can analyze and print reports by student, grade level, or class.
I can analyze and print daily, weekly, monthly, yearly, or custom date-range reports.
I can customize the report for the student to take home to increase family involvement and student reflection.
I can export the data into Microsoft Excel so I can further sort and analyze data.
I can email the information to my administration and other teachers with whom I collaborate.
Print outs can be given to students to take to other classes for cross-curricular projects.
Pedometers are an efficient tool for students to collect their personal data that can then be used for goal setting, cross-curricular applications and to enhance the Common Core approach for teaching and learning in physical education:
1) Math:
Send students to math class with their personal report. Email the math teacher an overall report or data file so they have the cumulative information by grade and class. Students can now analyze and reflect upon their daily, weekly, monthly, or unit averages. They can compare their favorite activities and analyze the amount of Activity Time and Moderate to Vigorous Physical Activity (MVPA) in each.
The personal application of data is priceless and makes the learning more meaningful. Taking it one step further, teachers can share the overall data and ask students to compare data by grade levels, class period, time, or topic.
Students present the data in various ways (bar graph, line graph, line plot, etc.) that align with the curriculum and then analyze the information. Students can compare and contrast, and reflect upon the information. These findings can be brought back and shared in the physical education class.
2) Keyboarding & Technology Applications:
Taking a similar approach to the mathematical applications shared in #1, students use their pedometer data to apply their learning of computer technology skills. For example, keying in pedometer data into Microsoft Excel for graphing, charts, and data analysis. In a collaboration meeting, my technology teacher was talking about how she wished she had an easy to fix for when students forget to bring in a set of data points to practice their keying and graphing skills. I quickly chimed in that I had a solution – students' personal pedometer reports.
3) History:
My first cross-curricular project as a physical education teacher was with my Math and History Department. Using student pedometer step counts collected in physical education class, we tracked mileage over the historical Lewis & Clark Trail while the history class was simultaneously learning about this period of history and the math class was completing their graphing unit. It was the perfect trifecta and one that could have been made even more efficient had the downloadable pedometers been available at that time. With today's technology, teachers can track mileage for a variety of step and activity time challenges that bring history, math, and physical education together.
Continue the Conversation: In what ways have you used pedometer technology to create cross-curricular connections in your classroom?