Selecting a parachute can be a daunting task! Size, construction, and style are all factors to consider when purchasing a parachute. With these tips, choosing a parachute will be a breeze!
1. A Durable Parachute Is Worth It
Whether the parachute is used every day or once a year, choosing a durable material will guarantee lasting use! The parachute is every student's favorite activity and with constant tugging and pulling, damage can occur over time. Our most durable parachute, the UltraChute, is tear-resistant due to tough triple-coated rip-stop nylon stitching. A reinforced-mesh center allows for ample airflow and prevents balls from rolling through the middle. Double-stitched handles resist tearing to ensure lasting durability.
2. Handles Or No Handles?
The benefits of handles are easy maneuvering for students and increased grip. Each student grabs onto two handles for comfortable positioning. Others may prefer to hold onto the ½" thick perimeter rope. Gopher's Elev-Air Parachute provides the option to include or exclude handles.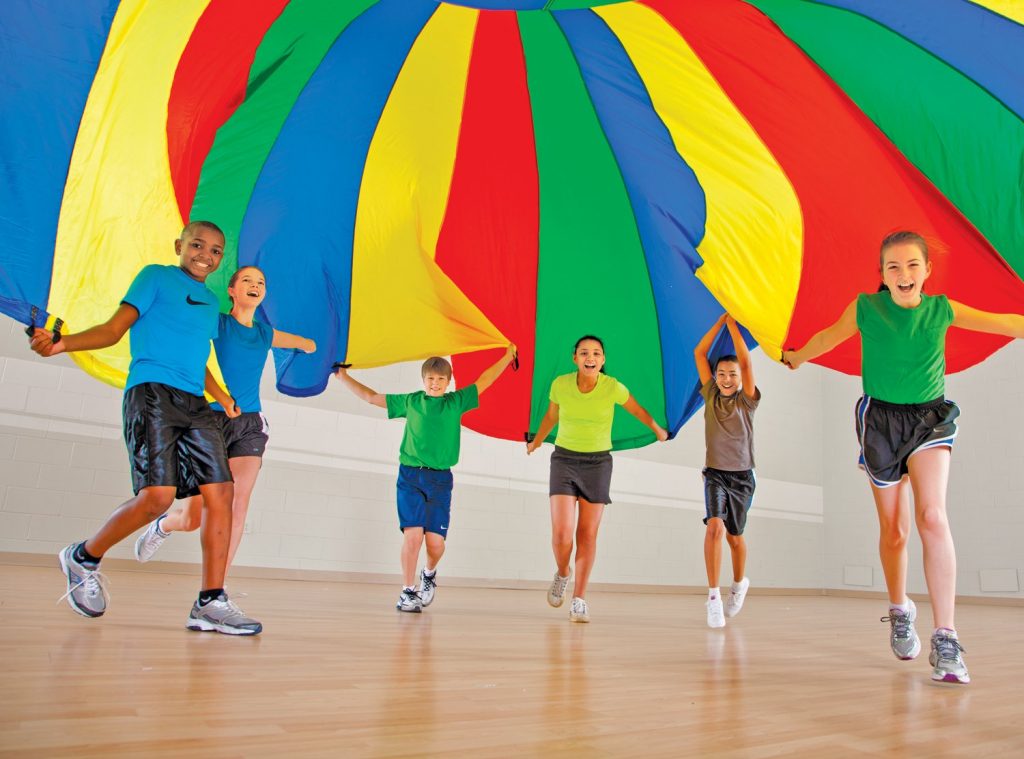 3. How Big Of A Parachute Should I Buy?
Different sizes allow for different amounts of students. Our most versatile parachute, ElevAir Deluxe Parachutes, comes in 7 sizes: 6' (2-6 students), 12' (6-13 students), 20' (8-21 students), 24' (10-25 students), 30' (12-31 students), 35' (14-37 students), and 40' (16-47 students). If the parachute is too big, the parachute won't be firm enough causing a difficult time creating waves and playing games. A pre-school or elementary student will have less upper body strength when creating waves, so it will be more difficult with large size. With middle and high school students, a parachute being too big is less of an issue. For example, for elementary school parachute, a class size of 18 students would fit into the 8-21 student range, meaning the 20′ size is ideal.
4. Choose Your Purpose
Choosing the right parachute requires understanding the style. Parachutes are aimed at creating physical activity but can also create chances to learn valuable lessons. Character development, comprehension, and spelling are focus areas.
A Parachute to Integrate Core Subjects Into P.E.
Physical activity doesn't have to exclude educational opportunities! The Active Academics Cross-Curricular Parachute has letters and numbers near each handle. Fun activities can be played to develop spelling and comprehension skills. For example, a word is chosen and students work together to spell the word, performing an exercise when their letter is called.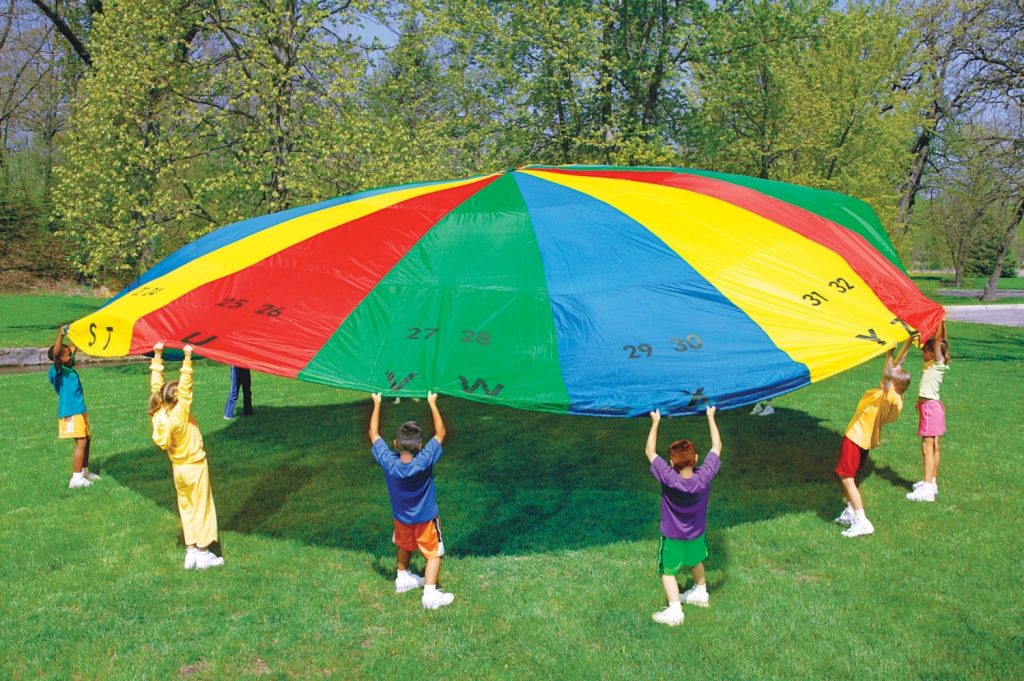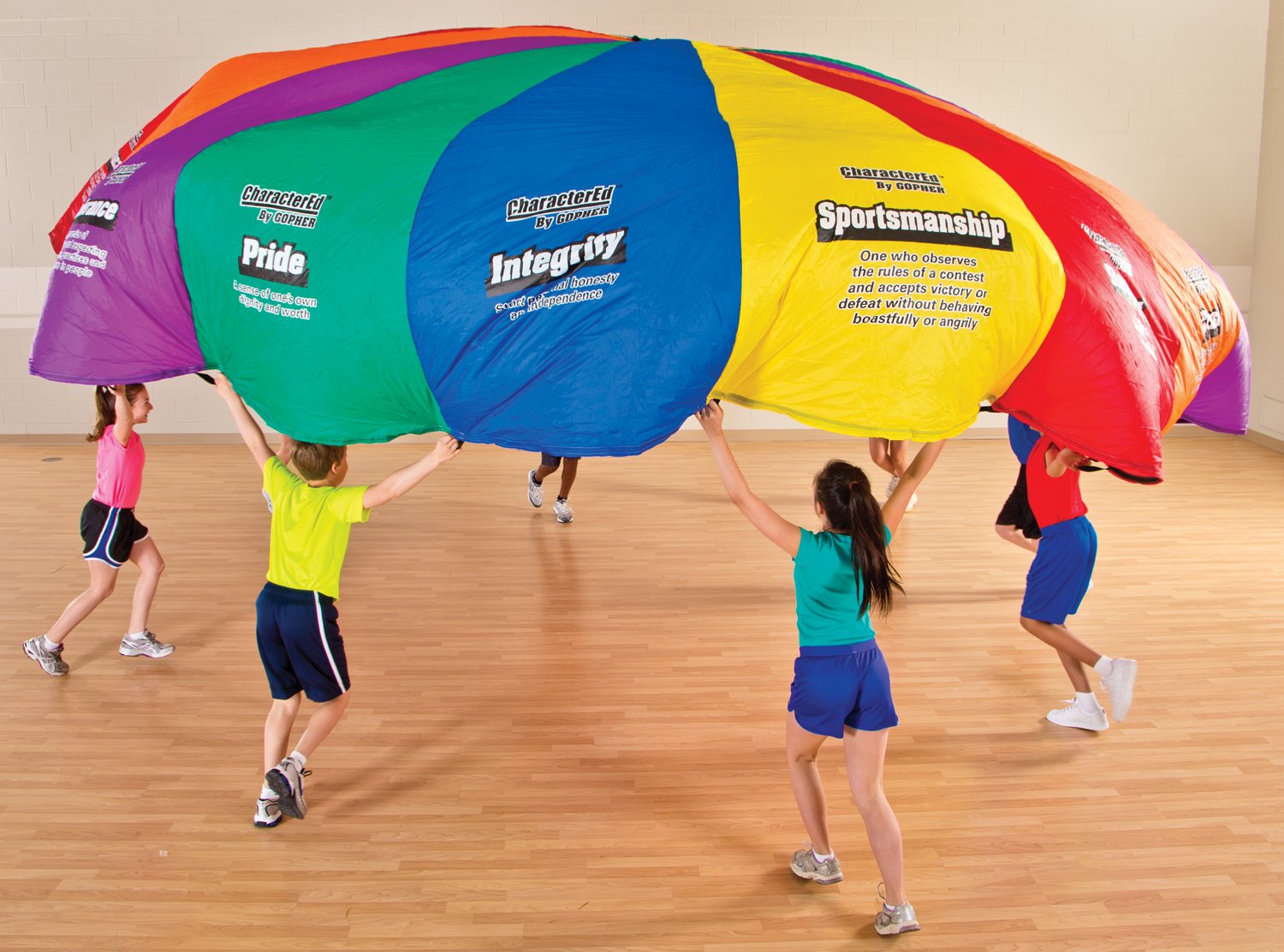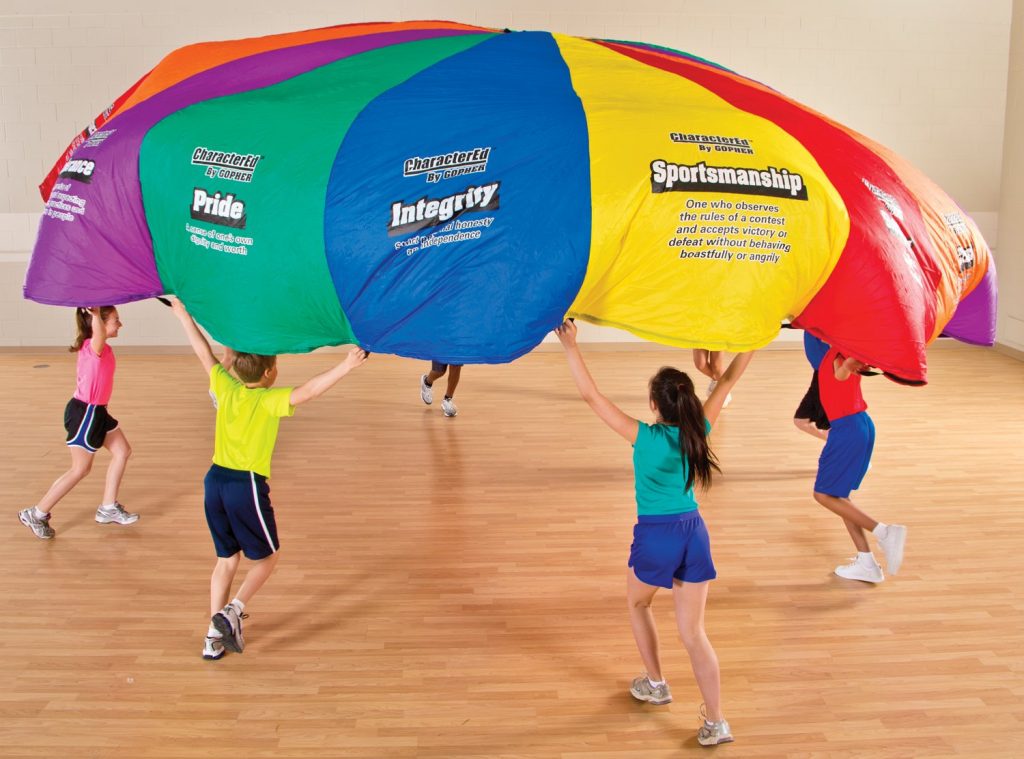 This Parachute Offers Character Building Activities
Above all of CharacterEd Parachutes handles are character traits with definitions. Examples include sportsmanship, courage, integrity, and confidence. These keywords provide students character-strengthening values. An example is to place a ball and have students call out the trait as it lands on the panel. After reading the definition, students can give an example of a time they demonstrated that trait.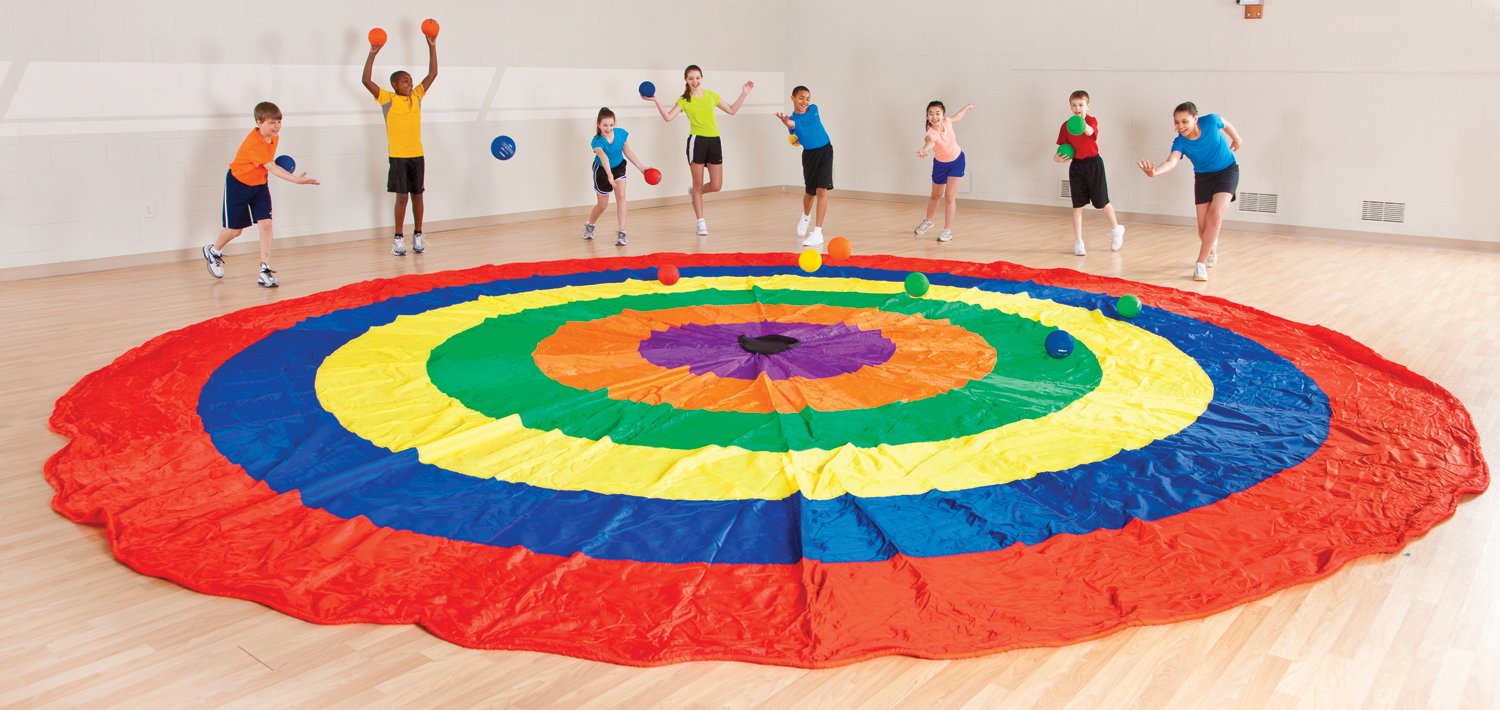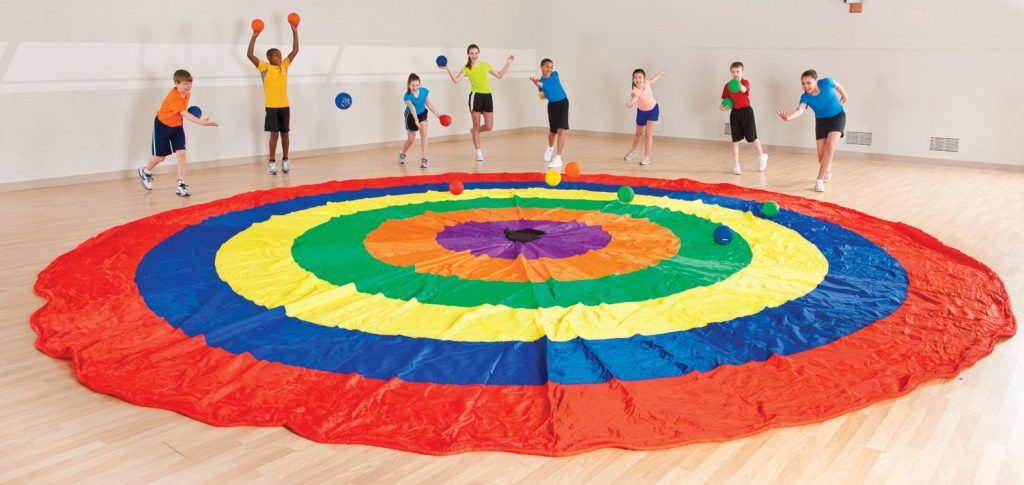 A Skill-Based Parachute
The Bull's-Eye Parachute – Gopher Sport adds an accuracy-based activity on top of the classic parachute! Students aim and throw or roll a ball onto a designated line, scoring points for each successful attempt.
Add More Fun With Extra Equipment
The Omnikin Cageball is an ultra-lightweight 48" inflatable ball that is perfect for launching on a parachute. Students can enjoy working together to catapult the ball into the air.
With these kid-friendly accessories, students can enjoy bouncing, throwing, and catching these cartoon inflatables. They'll love Stella the Starfish and Ollie the Octopus
(see below!)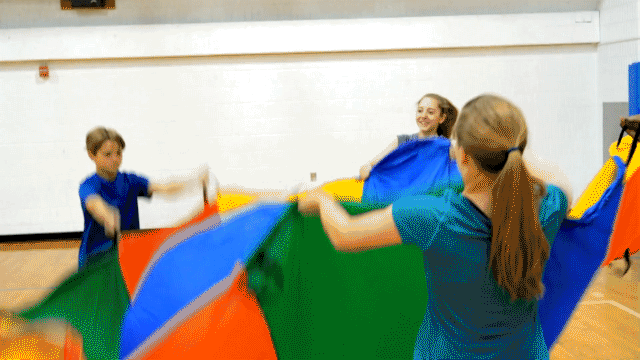 Classic Play Beach Balls and Rainbow Low-Bounce/High-Density Uncoated-Foam Balls offer a safe and lightweight alternative to common sports equipment. All ages can participate in hitting, throwing, or simply improving hand-eye coordination with these. Other equipment that is loved by teachers and students are Rainbow Polyester/Cotton Beanbags, Rainbow Animal Beanbag Pack, and Big Foam Dice.
Looking For More Activity Ideas? Look at this resource!