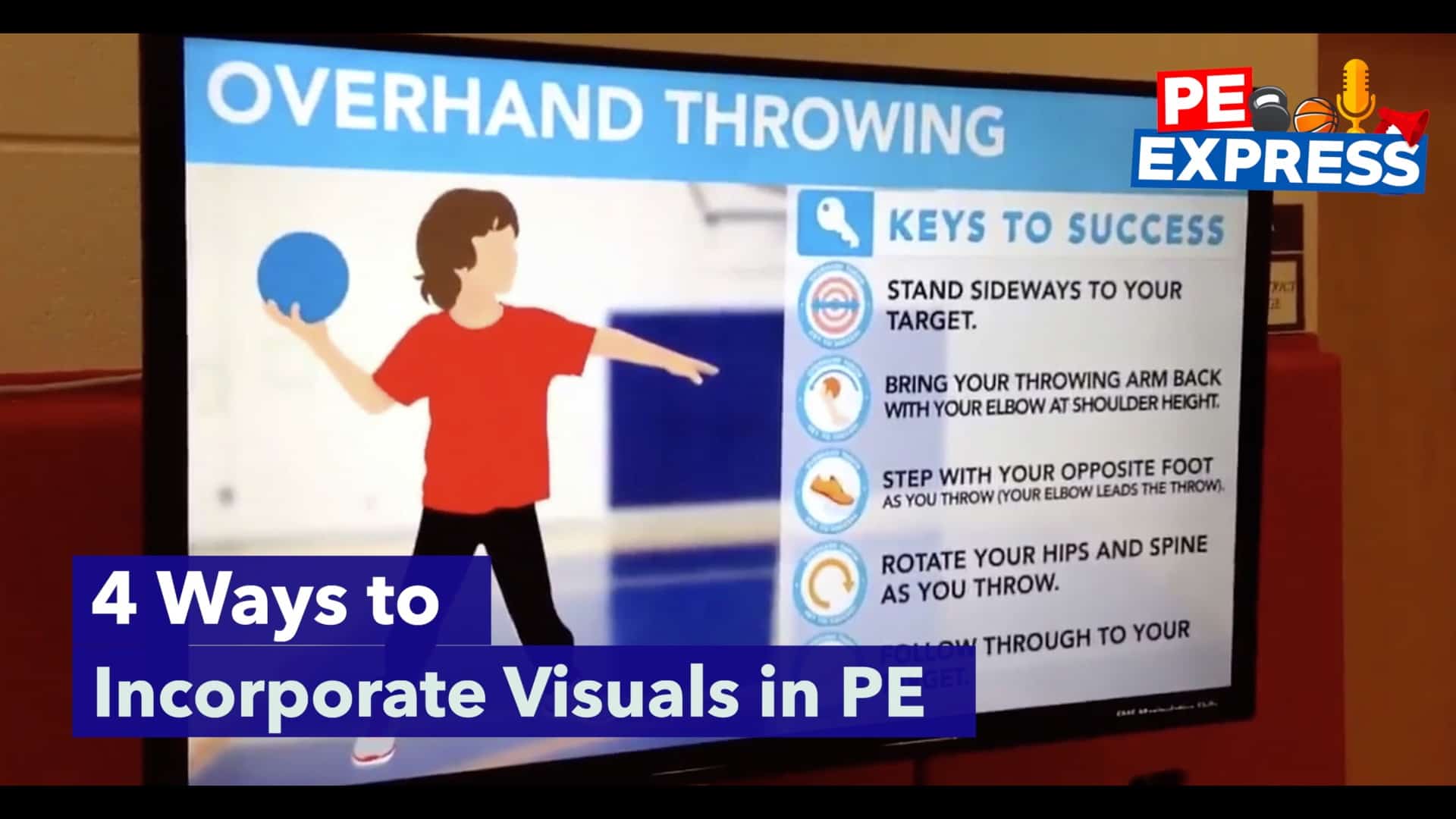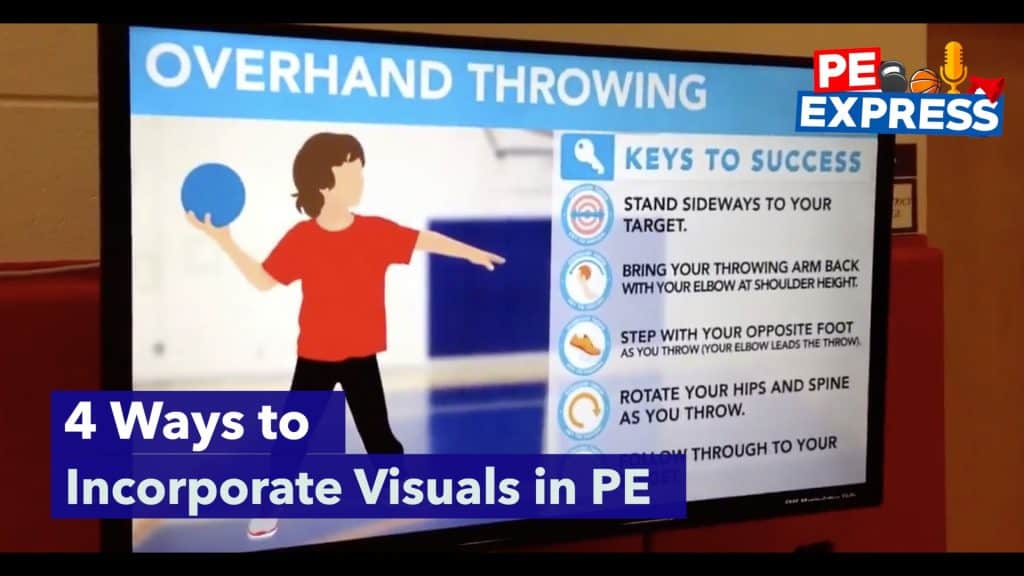 Episode Transcript:
On today's podcast, I want to share some great ways to incorporate visuals in your program, which will help guide students in a variety of learning tasks.
Research tells us that approximately 65% of the population are visual learners and armed with that information, we need to have a plan in place to reach those students because it's going to be really vital to their success in our classes. Now, I teach at the elementary level and obviously I have some younger students who are non-readers or emerging readers and I also have some students who are English language learners and using visuals is a great way to communicate with these kids. Now I'm going to share three ways that I make my teaching more visual in the gym.
Using Video for Instruction
The first one might seem obvious, but it's just the use of video. Now I've searched YouTube and found tons of videos that I'll use in my teaching to either incorporate skill work or perform dances or to do some fitness activities. I'll typically use these types of videos on my projector and my screen as sort of a whole group instruction format. Sometimes I'll do it as a warmup activity at the beginning of class just to get all the students working in a focused manner. I'll often use the time that students are engaged with the video activity to either work with individual students that might need help, you know, just circulate around the room, diagnose and direct as needed. Sometimes I'll use that time to switch up equipment for later in the class, or I'll even use that time to do an informal observation of a kid or an assessment. Having that video playing and having the students interact with that video. It's almost like having another teacher in the gym with me is like, if I can clone myself and have two of me in the gym, that would be great. So while they're focused on that, that always allows me that freedom to move around the gym and get some things done, uh, that I need to get finished.
Introduce Activities with Video
Another way that I leverage video in my class is just to whip out my iPad and record a class playing a game while I narrate the directions. I'll try to do this at the beginning of the week with one of my first classes. That way I can play the video snippet back for subsequent classes throughout the week and it allows them to see the game in action instead of me just explaining it to them and having them sit there and listen to me. I mean, there's just something about watching their friends or watching other students at our school in our gym space just captivates their attention. So after watching that one or two minute clip, I'll ask them for questions and then we'll get started. That really, really cuts down on the amount of talk time that I have to do and it conveys the same consistent message to class after class. You know, it's like, I don't forget to mention a rule or, or talk about a specific direction. Everything is the same and it's repeated over over.
Gifs for Skill Development
Another way that I like to focus student's attention on the learning activities is through the use of PowerPoint slides shows. I like to add some animated gifs which are just short looping videos of different skills for students to perform. And I actually did this for the first time this year. Um, you know, full out in my gymnastics unit, I put up different animal walks and balances and rolls, different things that I wanted students to practice at their mats and basically had the students set up in small groups like three or four at a mat and I would show an animal travel up on the screen as an animated gif and, and students could watch that movement over and over and try to copy what they were seeing on the screen and duplicate that on their mat. I mean another great benefit to leveraging those gifs is that I don't have to have the students' attention focused on me all the time while I physically demonstrate every skill. I mean cause let's face it though, repeating those things over and over and those exercises, those movements or dances all day, it does take its toll on your energy level by the end of the day.
Signs, Posters and Banner Ideas
And finally like the last thing that I use to convey that information visually, it's just use a lot of signs and posters and banners in my space. I add a lot of pictures to go along with the various procedures in my class, like the start and stop signal or bathroom procedure, drinking fountain. It just gives that eye catching element to go along with how you want your class to function. Station signs are great. I'll put some directional arrows on those. I'll use some simple pictures and diagrams to help guide those students towards whatever outcome that we're working on for the day. You know when students begin to gather that information from the sign and then interpret what I want them to do instead of always asking me to repeat a direction for them or having questions for me, it just, it makes them, it makes them more self-reliant, let's say in the class where they know that they don't have to ask me for every question that they have. They can go and get that information from these different visual sources.
So there is three ways that I add more visual content into my PE classes through the use of video slideshows with animated gifs and some colorful signs with graphics for station work, and to help reinforce my procedures in the gym.