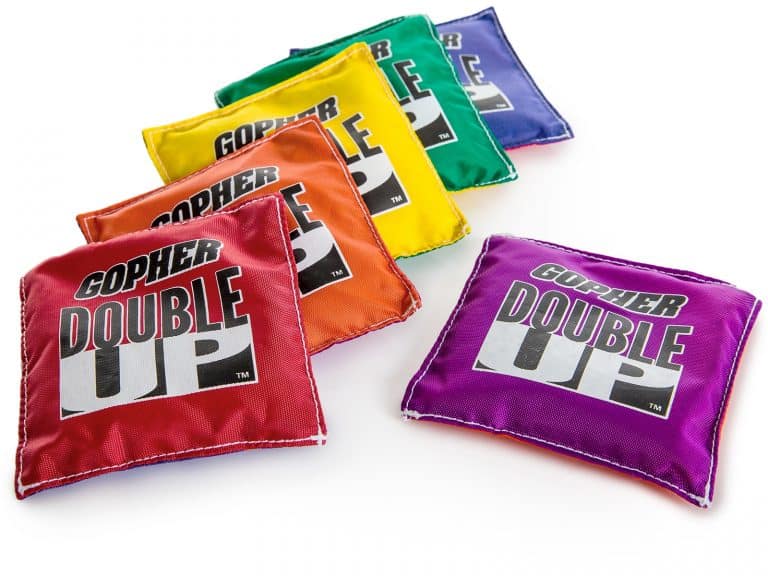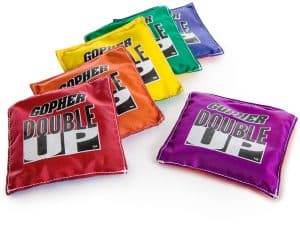 *This is the second blog in our three-part series featuring unique activity ideas with essential P.E. equipment like hoops, beanbags, and poly spots. Check out our other blogs: Hula Hoop Activity Ideas for PE, and 5 Ways to Increase Activity in PE with Poly Spots [Video].
Beanbags are a must have in every equipment room or storage closet! They're easy to store and can be used for beanbag tossing, as well as movement and collection games. These 5 beanbag games feature Gopher's Rainbow® DoubleUp™ Beanbags that double the fun with a different color on each side! All activities can be adapted for use with standard beanbags.
1. Catch Me If You Can
This is a great bean bag game to warm up students' minds and bodies. Each player selects a color on the beanbag. Partners take turns throwing the beanbag into the air. Whichever color lands facing up, that player has to chase their partner back to a predetermined area. If a student tags their partner before reaching the finish line they win a point. First player to 5 points is the winner!
2. Beanbag Relay
Players race to the other end of the playing area and either place a beanbag into their goal to add a point to their team's score or place it in their opponent's goal to subtract a point. After all bags are in play, players can race to flip their beanbags over to turn negative points into positive ones! We played this game with only two colors, but use all six colors at once to increase the chaos and fun!
3. Beanbag Hunt
Scatter multiple cones around the play area and place a beanbag under each cone in this activity with bean bags. Six teams, one for each Rainbow color, run in a relay style to lift the cone up to reveal the beanbag. If the beanbag is their team's color, grab the beanbag, knock the cone over, and bring it back to their team. If it's not their color, flip the beanbag over to the opposite color to change the playing field. First team to collect all of their beanbags is the winner! (PE Universe / Angela Michel)
4. Beanbag Tossing Activity
Rainbow® DoubleUp™ Beanbags offer a great variation to traditional beanbag tossing activities! Toss the beanbag into the air or at a target, but only score if the correct color is facing up!
5. Beanbag Frenzy
Players are spread out along the gym and assigned a hula hoop with three beanbags inside. The objective of this game is to get rid of all of your beanbags by running, skipping, shuffling or hopping to the other colored hula hoops to drop them off. Players are only able to pass beanbags to the colored hoop that matches the colored beanbag. The team with the least number of beanbags after 5 minutes is the winner! Students will love this fast-paced strategy game!
Do you know of any activities with bean bags that you'd like to share? Join the discussion and comment below!