Get students moving with these PE game ideas featuring new products from Gopher! We compiled five of our newest games that get your students' heart rates up and their feet moving.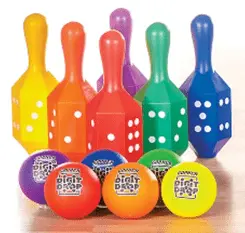 1. ACTION!™ DigitDrop™
DigitDrop™ is a math game that's active and fun! Three teams bowl to knock over the six-sided numbered pins to get the highest pin total. Once all 6 pins are knocked over, teams can choose the lowest numbered pin to stand back up and hit again for a higher score. The team with the highest pin total at the end of a designated time is the winner! Learn more about DigitDrop™!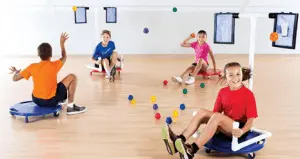 2. ACTION!™ ScootPursuit™
How many laps can you finish without getting your targets knocked out? In ScootPursuit™, players race around the track on scooters to complete as many laps as they can while keeping their targets intact. This game is perfect for drivers to develop speed and directional control on scooters, while the "Pit Crew" practices their throwing accuracy. Learn more about ScootPursuit™!
3. ACTION!™ SquaredOff™
Work as a team to place lines and build as many squares as possible! This game is a perfect way to get kids moving in small indoor spaces. Students work together to build squares with their team's colors. But, watch out, the other team can also build off of your team's lines to complete squares. The team to complete the most number of squares wins! Learn more about SquaredOff™!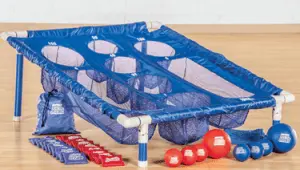 4. ACTION!™ ScatterScore™
It's a race to score the most points in this arcade-style action game! Two teams face off head-to-head to see who can toss their ball or beanbag into the target and score the highest point total! This tossing game for kids is a great way to keep them moving while practicing accuracy and tossing skills. As a variation, adjust the tossing line or vary the style of movement. Learn more about ScatterScore™!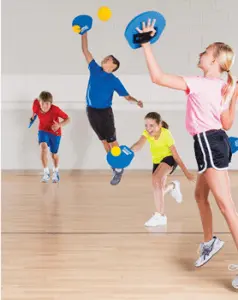 5. ACTION!™ Handquet™
Unique hand paddles give players complete control while playing a classic racquet sport game! Players hit the balls with their hand paddle to the other side, attempting to keep as few balls as possible on their side. The team with the least amount of balls on its side at the end wins! Hanquet™ is a great way to develop eye-hand coordination and racquet skills. A great addition to any racket sport unit! Learn more about Handquet™!
To get additional PE game ideas Check Out more ACTION!™ games!