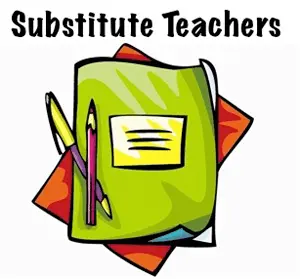 I had to be out of work for a few days and needed to create lesson plans for my substitute. Being that I was in the midst of a unit, this mid-week interruption would surely create havoc to my curriculum. I decided to write up extremely detailed lesson plans. I was very thorough, having lots of descriptions, anecdotal notes, diagrams and charts of activities, tasks, and of course, the gymnasium. I wanted to make sure that whoever read my PE sub plans would have no questions of any kind.
I was proud of them. They were detailed, yet simple. Would it take a little time to read them? Yes, but definitely no longer than previous lesson plans I had written. I soon realized that it was slightly larger than I had originally hoped (it was multiple pages), however still very easy to read. I had spent a great deal of time on them, so there was no turning back now. As is the usual routine when one of us is absent, I wanted to fully inform and consult with my co-worker about what I needed done. All I would need from him is to let my substitute have access to the equipment and for him to keep an eye on the person. So, I handed him the papers, a gleeful, large smile plastered on my face. I intently watched him skim through them. What seemed like a decent amount of time (probably too long a period), he glanced up at me.
"Donn, are you sure that you want to leave this?" He asked. I became shocked and slightly annoyed at his question. "Why not", I retorted. "I know it seems like a lot, however, if I don't leave detailed PE sub plans, my kids will be missing a chunk of my unit. I don't want them to be way behind. It is simple to follow…"
"Yea it's easy to understand." He looked at me with the hint of skepticism. "However you know how messed up things can be when it comes to subs," he warned. He was right. My co-worker was referring to the many occasions where problems and snags with substitutes seemed all too common when one of us is out.
I waved off the suggestion. "That shouldn't be an issue. I specifically put in Subfinder" (the computer program we use to request and/or arrange for a substitute) "for Ms. *****, and she was available. No problem." This particular sub was well schooled in how to handle children, and one of the few, very competent educators suited for the gym.
He didn't push the issue any further. He told me that it would not be a problem, wished me the best of luck, and each went our merry way…
…Fast forward to me coming back to work. I arrived early to get ready for the day. In walks my co-worker with a smile on his face. "So, did you miss me," I asked.
He laughed, "Not really," he kiddingly replied. Then his look turned quickly to concern. "However your PE sub plans weren't exactly followed the way you wanted them to. Too many issues happened."
He proceeded to explain that on the first day, one of our buses was in an accident, and children would be arriving to school late. There was a need for additional staff for bus duty, and he needed to go out to help. Apparently at that same time, the main office became extremely chaotic when the secretarial staff learned that too many teachers needed coverage for an in-district meeting, and coverage was short. A different substitute, not the one that was scheduled to be me, arrived approximately five minutes before my first class was to arrive. This person, who now had very little time to read through and organize the equipment properly decided to do a simple game of kickball instead. It apparently was going so well for her that she decided to do that activity the entire day! On the second day, another person arrived to fill my position. It turned out this would be the sub's first time being in the gymnasium, and felt too overwhelmed being in dress shoes and a business suit for what my plans were dictating.
What a disaster. After all that time and effort it took, my kids were unable to do what I had hoped. This debacle taught me some valuable lessons and techniques when creating PE sub plans for the future that I will share below.
5 Simple Tips for Creating PE Sub Plans:
Be De

tailed, but Brief

Still add in detail to write-ups, like diagrams; however keep the games "short and sweet". If it is takes too long to explain or write a certain activity, scrap it.

Provide Emergency Plans

We all have a few activities that are simple to set-up and use minimal equipment. Select games that keep students engaged and moving. Try to select activities that students have been taught already, so it isn't completely new to them.

Keep It Simple

If you want to continue with your current unit, Keep It Simple. Try using short, simple instructions for tasks that are easy to perform. Also, include activities or skills that students have already learned

Add Important Information to the Top

Keeping pertinant information in an easy-to-find place means it will be seen. Ideas of what to include: schedule, necessary books or tools (attendance, discipline log, etc.), bathroom passes, pertinent student information (students with special needs, medical info, etc.)

​Provide a whistle

​​Provide a squeeze or electronic whistle for the substitute. In my experience, subs rarely come with one, and since students tend to act differently on Sub days, it absolutely comes in handy.