In the dynamic world of education, where budgets are tight and resources are often limited, Ayme Zortman, Wellness Coordinator for Mesa County Valley Schools in Grand Junction, Colorado, found an effective way to ensure the schools in her district have the equipment needed for quality PE.
Ayme spearheaded an innovative approach for assessing the equipment needs in her district that guarantees an equitable experience for ALL students. Gopher's Educational Consultant, Dr. Robert Pangrazi and Gopher Rep Andy Tupy spent some time with Ayme to learn more about her approach in the video below.
Now it's your Turn!
If you are interested in replicating Ayme's approach within your district, we created an easy-to-follow template that you can use to make a large impact in your district. You can get instant access to this template by downloading it for free here.
Webinar Summary:
This discussion centers around Ayme's unique approach to acquiring equipment for PE. Ayme's systematic process ensures equity for ALL schools and ALL students! This article summarizes the key points from the webinar and explores Ayme's approach to inventory management, curriculum coordination, and funding advocacy.
Establishing a Common Equipment List for Equity:
Ayme recognized the need for a standardized equipment list across the district to promote equity in physical education. Working with the PE teachers within her district, she adapted the Gopher equipment list to meet the specific needs of her students and curriculum.
"We pretty much kept it the same, just added a couple of things. What does a brand new school need to get started? And what do all schools need to create equity for our students across the district?" Zortmann said.
The goal was to ensure all schools had access to essential equipment. By conducting a comprehensive needs assessment and inventory process, they identified the equipment necessary to create a level playing field for all students.
Aligning Equipment with Curriculum and Standards:
Ayme emphasized the importance of a common curriculum that aligns with the equipment list. Without a coordinated curriculum or standards to guide the PE programs, it would be challenging to determine the essential equipment needed.
By developing a Unified Instruction Curriculum and Assessment (UICA), the district ensured that curriculum, standards, assessment, equipment, and resources were integrated into a cohesive framework. "All of that goes into our curriculum…It's how you assess, it's the lessons that you teach, it's the equipment and the resources that you use." Zortman said.
How to Take Equipment Inventory: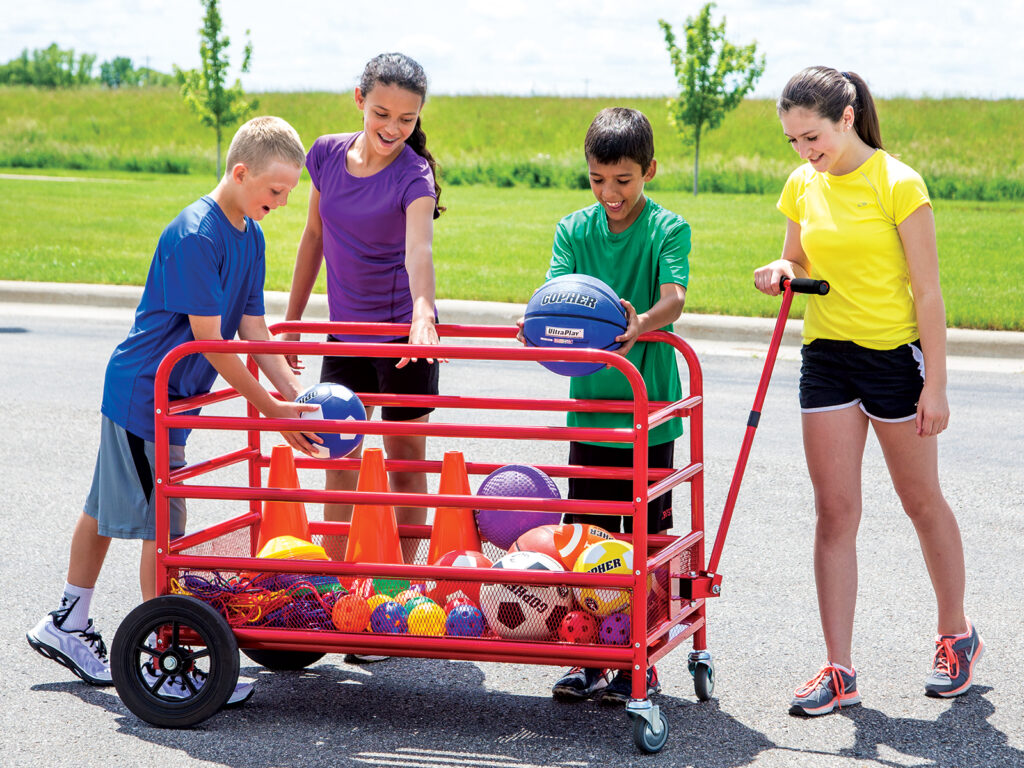 In the webinar, Ayme described the process her teachers used to take inventory and offered some additional strategies to encourage participation. "We first pulled the inventory list off of Gopher…We clicked on everything in Gopher and made sure it was the right size, the right color, you know, all the details of it." Zortman said. Having a digital copy of the inventory spreadsheet made it easy for teachers to collect inventory and also share it with Ayme once completed.
Additionally, teachers engaged students from a local university to assist with inventory taking. The inventory process provided an opportunity for students to gain hands-on experience and familiarize themselves with the equipment available.
How to Use Inventory Data to Advocate for Funding
Securing funding for equipment purchases is a crucial aspect of Ayme's approach. She devised an approach to gather inventory requests from teachers, ensuring a fair distribution of funds.
Teachers were asked to submit their top five equipment requests, keeping the total cost around $700 per school. The requests were compiled into a spreadsheet, and quotes were obtained from Gopher.
A comprehensive document was prepared, outlining the equipment categories, descriptions, and cost, along with a written statement justifying the funding request. The requests were reviewed by their curriculum coordinator and passed along to the district before getting final approval.
Ayme Zortman's systematic approach to equipment acquisition for PE demonstrates the importance of inventory management, curriculum coordination, and advocacy. By establishing an essential equipment list, aligning it with a comprehensive curriculum, and streamlining the funding process, she ensures that all schools in the district have access to necessary equipment for a well-rounded PE experience. Her approach serves as a valuable model for other schools and districts seeking to improve equity and maximize resources in their PE programs.