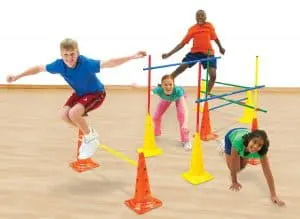 If you are a teacher or instructor of children (or anyone for that matter) and you would like to utilize movement activities with a dash of fun, critical thinking and cooperation in some of your lessons, then don't wait to become more familiar with Adventure Fitness!
Adventure Fitness is a form of adventure programming (many of you may know it as Project Adventure.) Project Adventure really is the company name that brought adventure programming, team building and cooperative learning to life in the 1970's and beyond. Adventure Fitness came about in response to our nation's need for fitness and movement and can be viewed as a more perpetual and vibrant form of adventure programming. Many of the more traditional games of adventure programming focus on cooperative activities, problem-solving, and critical thinking.
On the other hand, Adventure Fitness "speeds up" these types of cooperative and inclusive games in a fashion that encourages lots of movement and activity without time for participants to be removed from play or even excluded for any amount of time. It is the best of both worlds from the Wellness perspective. Participants are still collaborating, cooperating, and thinking critically in the middle of the activity; however, they are participating in the activity at a more rapid and continuous pace.
The greatest benefit I have personally witnessed as a teacher, coach, camp counselor, facilitator, and father, (yes, I do use these activities with my children, mainly at birthday parties and large gatherings) is that kids have a blast playing adventure fitness activities without realizing they have been "working out" for 25-30 minutes at a time. I always wait until the end of the class or session to make that announcement! All the children know is that they are having fun running around, smiling and laughing with their friends while the teacher continues changing and adapting rules as the activity progresses. The children usually seem surprised and disappointed when it is time to end class; however, it's important to wrap up the session by asking a few questions about what they learned; how they feel (tired?); and did we reach our lesson goals? Whether running an Adventure Fitness session for children or adults, the participants are always left wanting more time for the activity. They always ask to play it again.
There are many benefits to planning and playing adventure fitness activities for your physical education classes, Wellness sessions, staff trainings and retreats, recreation programs, and athletic practices. The applications are limitless! Let me hear from you. Have you used Adventure Fitness or Project Adventure types of programming before? How might they work for you in your professional environment? What has been your experience as a participant or facilitator?