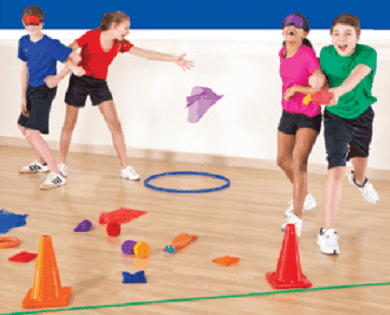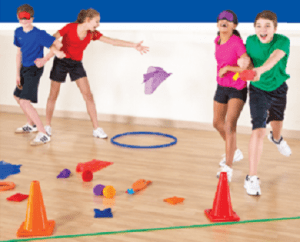 Physical Education and Wellness classes have come a long, long way in the 21st Century. Gone are the "Friday Dodgeball" bashes from the 1970s-80s – they've been replaced with a healthy smattering of fitness, team and collaborative sports, and individual skills classes. Much of the credit for these improved physical offerings goes to the colleges training our PE/Wellness teachers, improved knowledge/technology, Wellness Directors leading the curriculums, and certainly the physical education teachers whom are deploying and designing these types of cutting-edge classes. And there certainly is worthy acknowledgement to the administration and communities that have demanded and/or supported these types of Wellness classes.
However, there is one offering that I'd like to encourage teachers to consider— adventure programming. This programming has multiple references; many would know it as "Project Adventure," which is the name of the group that pioneered this type of curriculum back in the 1970s and continues as a leader in the field today. Many schools, camps, businesses, and community/recreation programs have adopted and utilized adventure programming with great success and tremendous feedback. Adventure Programming is a "challenge by choice" type of fun, experiential, learn-by-doing series of sequential activities that EVERYONE can participate in. There are 3 major types of adventure programming that I am familiar with and very supportive of at all levels:
Adventure-Fitness Programming
The basic premise of these types of lessons and programming is perpetual movement in fun, challenging activities where all students/campers are included for the entire duration of the activity. Teachers are taught to combine fitness principles with adventure philosophies in some of the most fun and creative activities I've ever seen, taught, or experienced. And there is a cognitive/academic connection, too, with body awareness and the 5 major fitness principles. It's a fun and creative way to teach fitness where the students/campers don't really know they were working on cardio until the class is over.
Social/Emotional Programming
This is an incredibly powerful programming model that teaches self-efficacy, empathy, and overall teamwork and cooperation. Social Emotional Learning (SEL) strategies are introduced along with academic content in an adventurous, fun, and exciting movement manner. Students are challenged and learn through sequential thought-provoking physical initiatives designed to encourage teamwork, cooperation, and collaboration. Goal setting, decision-making, and teamwork are essential components and outcomes of this type of curriculum.
Adventure-Based Programming
This is probably the more "traditional" adventure programming that people visualize when they hear "project adventure". Ropes, carabiners, harnesses, helmets, belaying, etc. But there is so much more to it than the rope climbing and it doesn't need to be so expensive or so high off the ground. Ropes courses are definitely a worthy financial endeavor; however there are low-element, ground games, and lead-up activities that do not require such a financial commitment. The low element and ground games can be so powerful for students to learn problem-solving and teamwork in a fashion that other physical activities simply cannot offer. This type of programming is the type of programming that can reach and positively impact many students' lives due to the adventure it offers and confidence it creates.\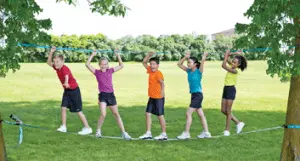 Adventure programming opened my eyes to a whole new world of learning for me, my students, and my colleagues. This type of programming can and will engage EVERY student in your classroom. If delivered with knowledge, confidence, and enthusiasm this type of programming can truly transform some of your students and help them to grow and mature socially, emotionally, and also from an activity standpoint, too. I encourage you to do a little investigating and research on adventure programming and "take the leap" – pun intended! It will be an exciting journey for you and your students.