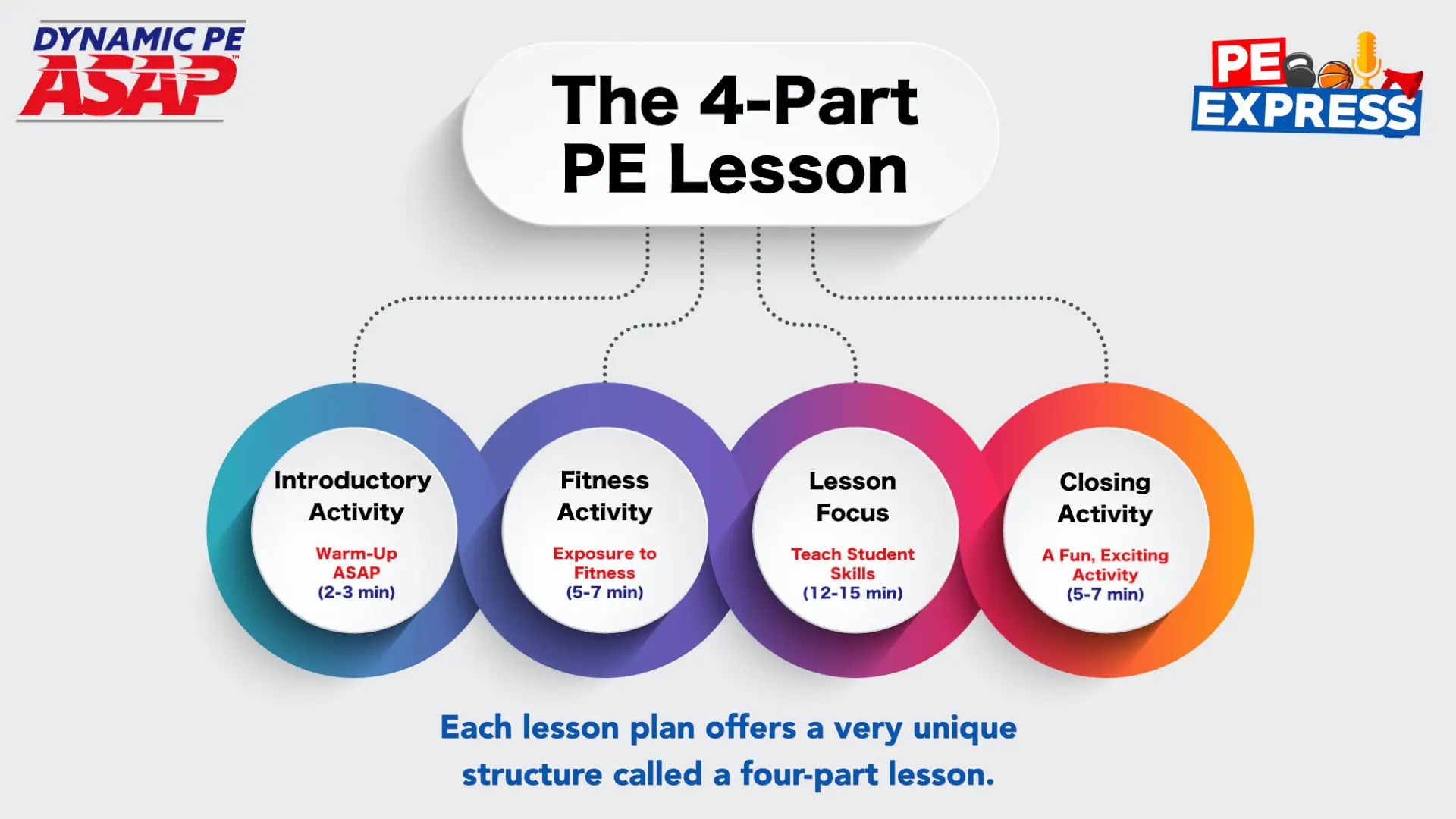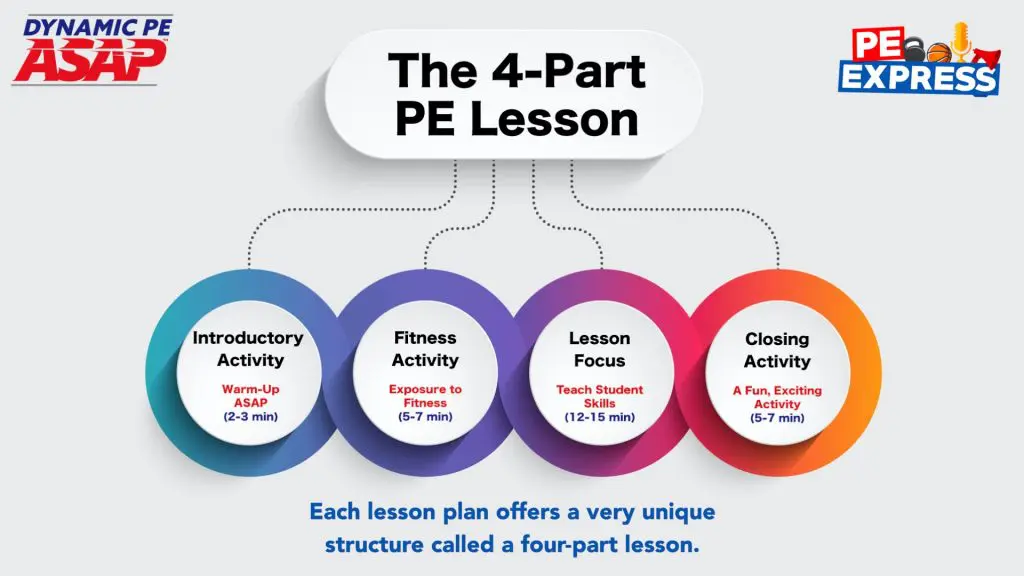 In this podcast episode, Aaron Beighle provides a brief overview of the four-part lesson structure on DynamicPEASAP.com.
[00:01]: The DynamicPEasap.com website offers free lesson plans for teachers to make into their own. Each lesson plan offers a very unique structure called a four-part lesson. I'll explain how that works.
[00:36]: Having sold over a million copies and being used by teachers for over 50 years, the dynamic physical education curriculum offers a pioneering lesson-plan structure that's unique to this curriculum.
The four-part lesson establishes a structure where students know what to expect and allows for organized lessons. @aaronbeighle
Click To Tweet
The Four-Part Lesson
[00:49]: The four part lesson structure has several purposes. First, it prepares children for activity and gets them started with activity immediately. It ensures they get moderate to vigorous physical activity. It ensures that teachers teach skills. It allows students to implement those skills in an activity setting and it establishes a structure where students know what to expect and allows for organized lessons.
Introductory Activity
[01:12]: The first part of the lesson is the Introductory Activity. Some call this a warm-up or an ASAP or an instant activity, and in a 30 minute lesson, this is about two to three minutes and it really sets the tone for the rest of the class. There's physiologically preparing them for activity. There's not a lot of instruction. These activities are very basic. It allows teachers to practice their lesson management or activities and things that they're going to use during that lesson and ensures that students receive immediate feedback from the teacher with a smile and letting them know exactly how they're doing for the day.
Fitness Activity
[01:48]: The next part is the fitness activity and to be perfectly clear, the purpose of this activity and this component or part of the lesson is not to get students fit. It's to expose students a variety of exercises and activities. The key is to, is really focusing on success. During this time brief discussions on health and fitness and different concepts related to, health and fitness and it makes sure that students learn to personalize their activity and allows them to make choices about their physical activity intensity. This part of the lesson is about seven to eight minutes of a 30 minute lesson.
Lesson Focus
[02:26]: The next part takes about 12 to 15 minutes of a lesson and is the bulk of what you consider to be a physical education lesson. This is where you teach students skills. The major objectives or outcomes are usually obtained. This is time that allows for lots of repetition and refinement of skills. This teaches skills necessary to function comfortably during a lifetime activity and the emphasis is on instruction that focuses on the process of skill development or specific outcome development that are created for that lesson.
Closing Activity
[02:56]: The last part of a four part lesson is the activity or some people call this the game. This allows teachers to stress and reinforce skills learned and allow students to apply them in a game or activity setting, at leaves physical education with a fun, exciting activity. Head on over to DynamicPEasap.com. Check out this lesson-plan structure and let us know what you think! THRIVE!