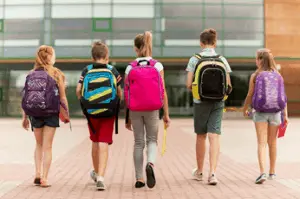 When students go back to school it can be a challenging time for physical education departments… So, ensure your students bring a positive attitude to your class all year long with my tips below!
1. Save the "Business of P.E." for Week 2
Good teachers want to jump right in with energizing lessons but organizational schedules, including uniform checks and locker assignments, often leave teachers covering each others classes and trying to manage glorified recess in an environment where no-one knows the kids very well.
My suggestion is to put the "business of physical education" off until the second or even the third week of school. In the first week, I recommend using low-skill, low-aerobic activities and cooperative games that require minimal equipment and space. Play music and have fun. Activity stations such as rock-paper-scissors, juggling, ring toss, and hula hoops can be fun warm-up activities and everyone can hold onto summer a little longer with activities requiring beach balls.
2. One Class Expectation Per Day
Quality physical education requires teachers to discuss class expectations with their students, and it is important to create a safe physical and emotional environment from the first moment of class.
I recommend dividing those discussions and activities up into four or five separate 10 minute lessons, one for each day of the first week, and you can reinforce lessons from previous days, and provide fun activities that support students getting to know each other and building fine motor skills.
3. Teach "General Games"

Another great first week plan for any department is to teach what I call "General Games". Our school has three games that are appropriate for all grade levels and work well with 30-100 students. Every teacher uses the same rules and strategies so that students from any combination of classes can play together. This helps the whole department because one teacher can supervise large groups of students while lockers and uniforms are being handled.
If the first few days of physical education class are fun and active, students will bring a better attitude to class all year long.