A great activity design gives students multiple opportunities to practice a skill, it can run itself, and it is adaptable for easy incorporation into a variety of other skills. One such activity I use in my program is called "Champions & Challengers". I've used it in a variety of ways including at the beginning of the school year to help me learn student names, I pull it out when I want to assess a particular skill, and I'll leave it for a substitute if I'm away from school. Having that kind of versatility in an activity is rare, so let me explain the basic format of the game and share some other ways I've used the Champions & Challengers format with other skills.
Champions & Challengers – The Basic Premise
The basic concept of the "Champions vs. Challengers" format is that students challenge each other in a 1 vs 1 format until someone wins the game. If the challenger wins, he/she becomes the new champion. If the champion wins, he/she remains in the game as the champion and plays again. When players lose a game—no matter if they're the champ or the challenger—they set up the equipment, take a lap around the playing area, and get back in line to challenge someone new.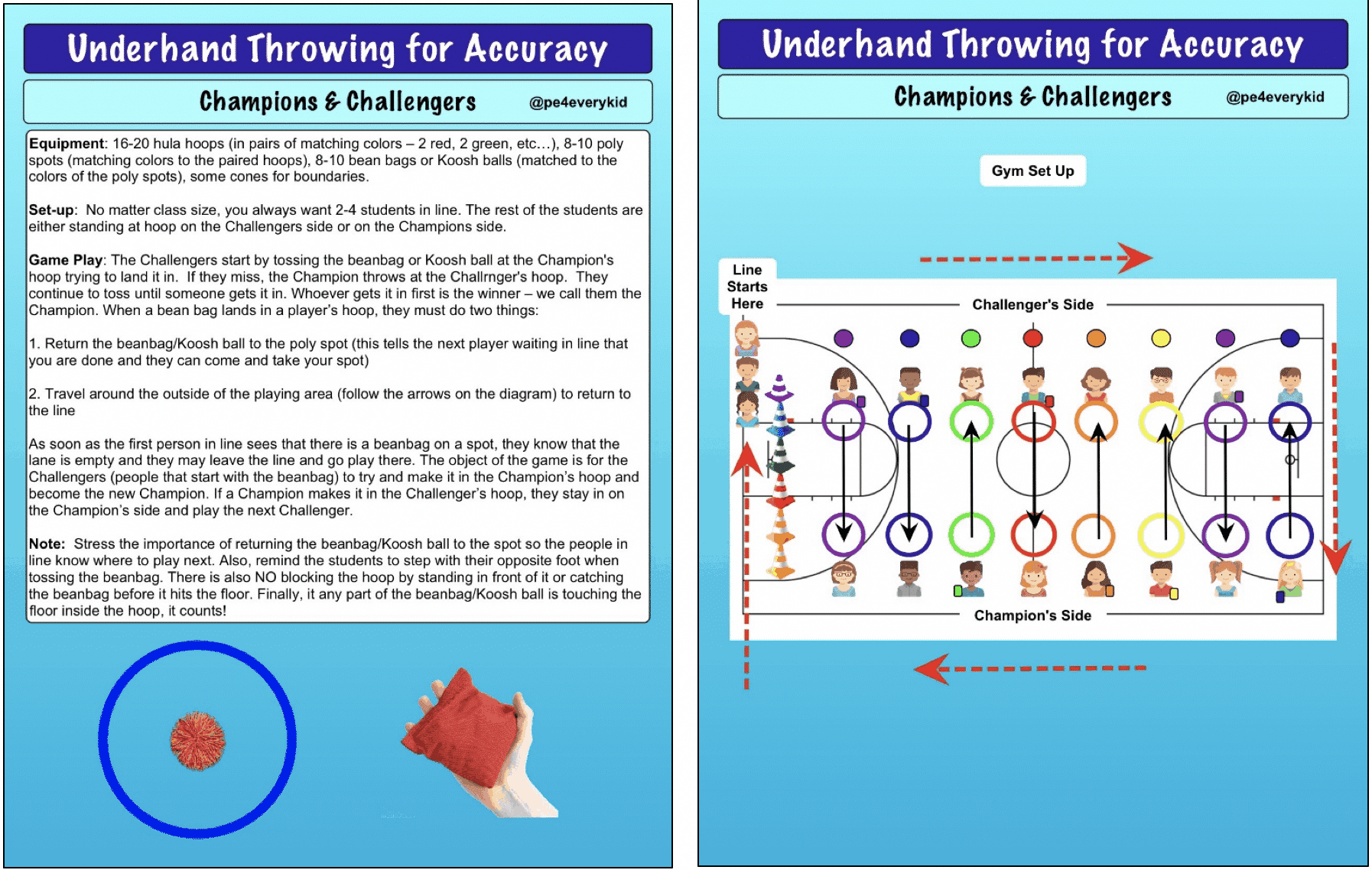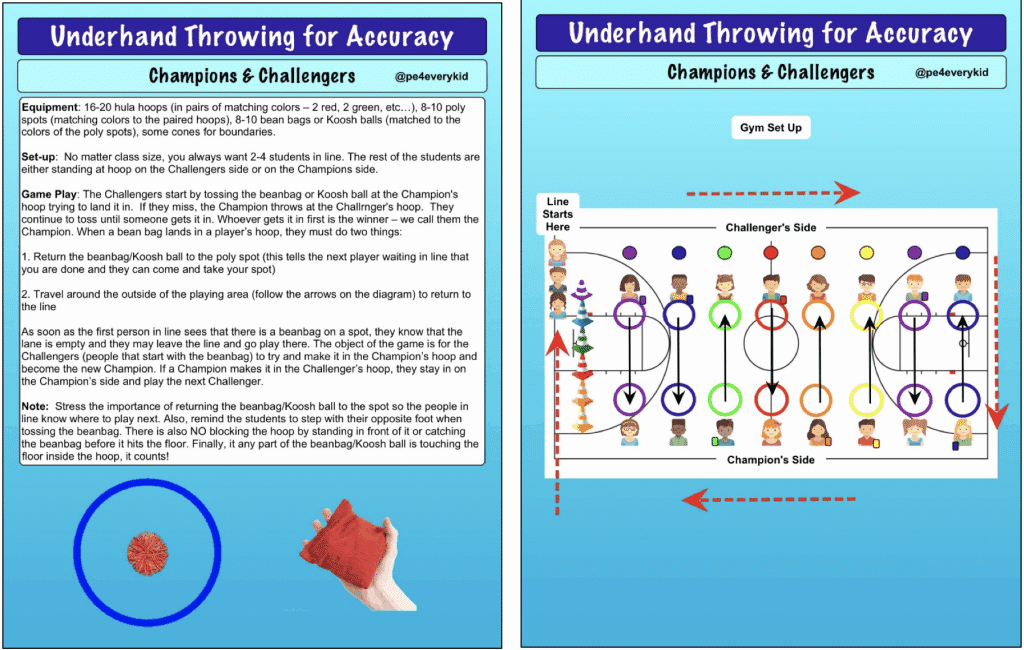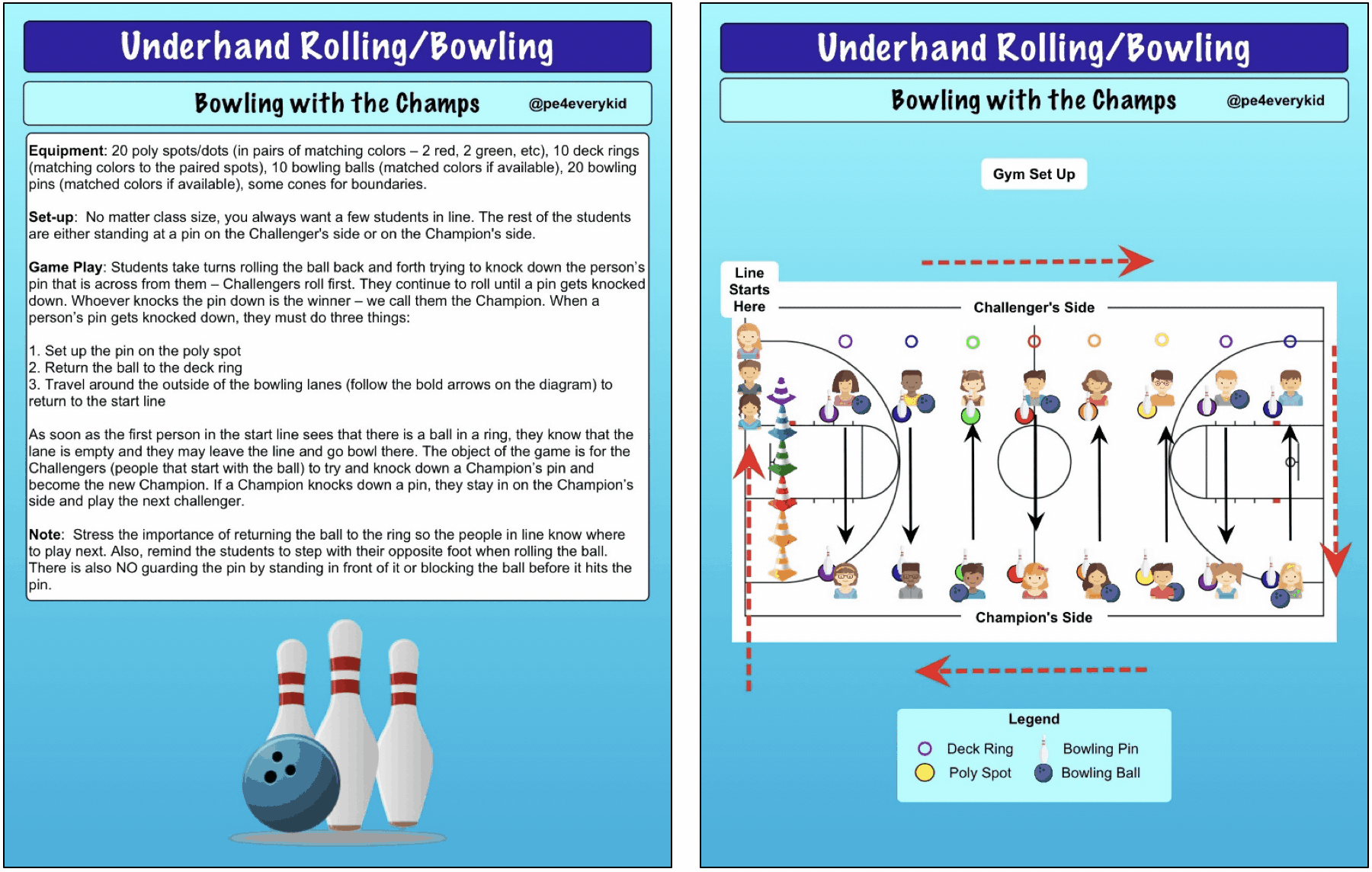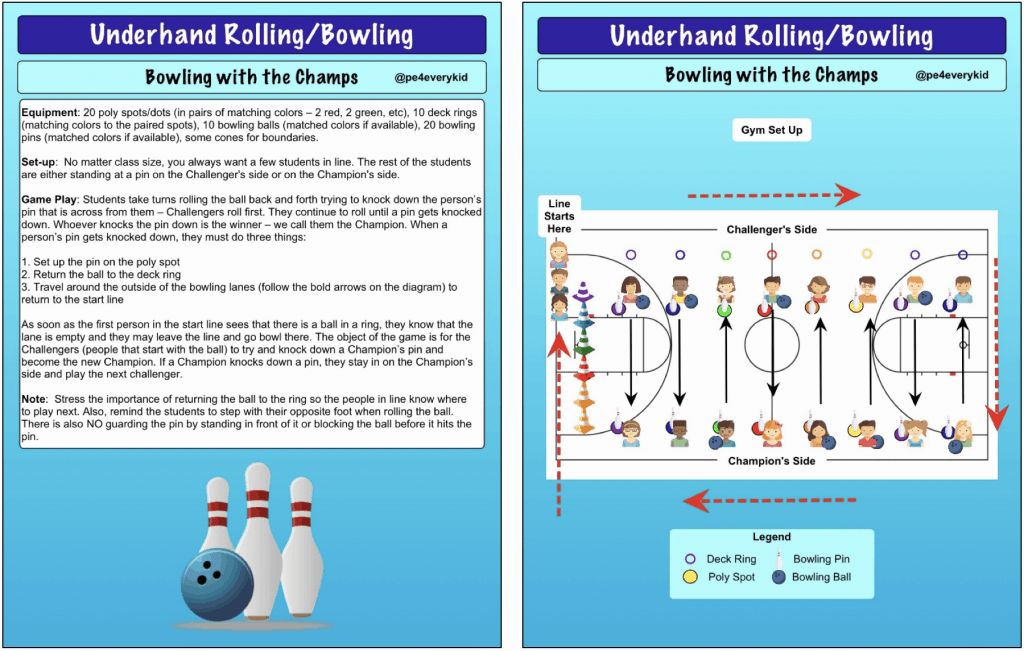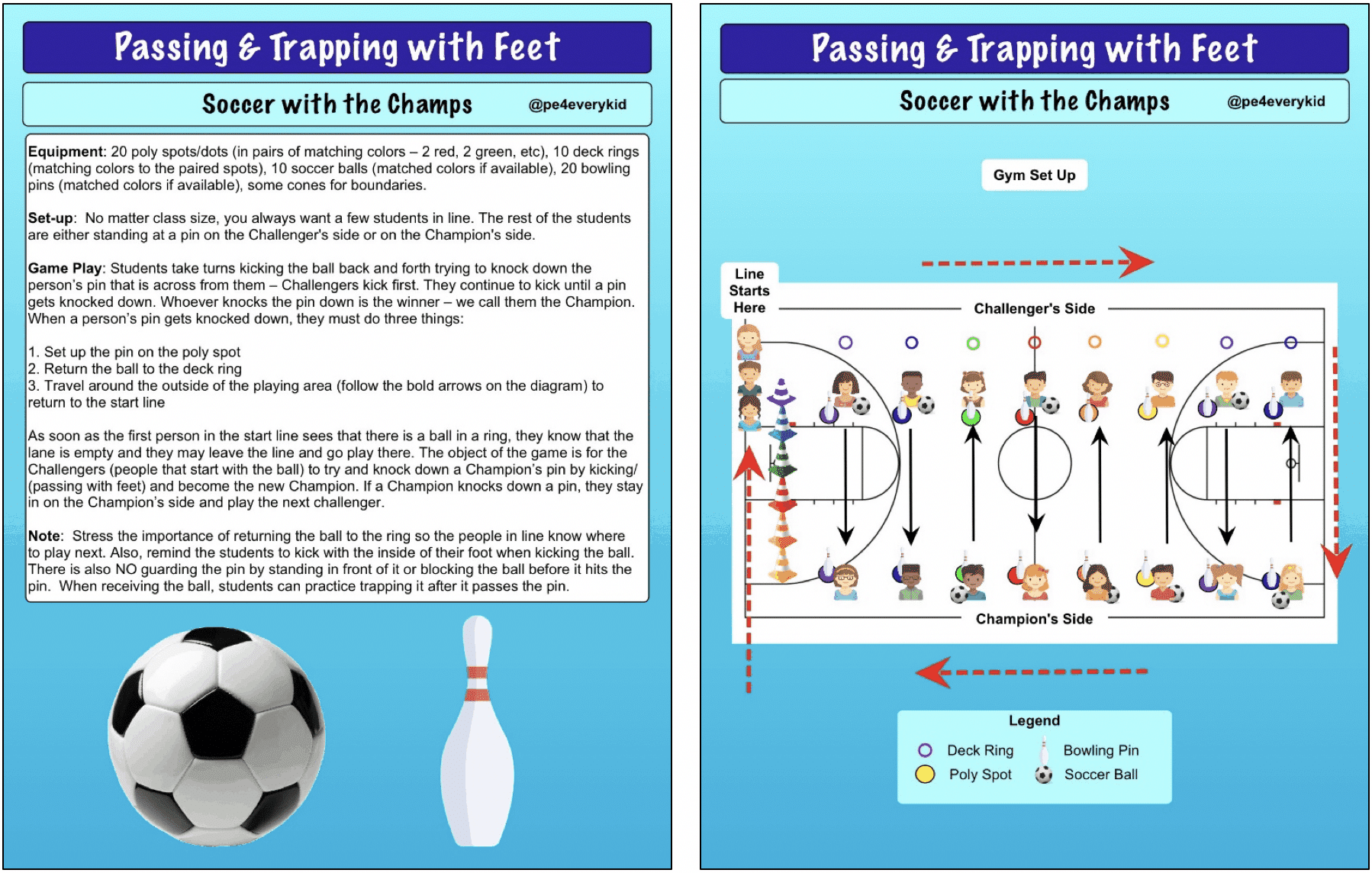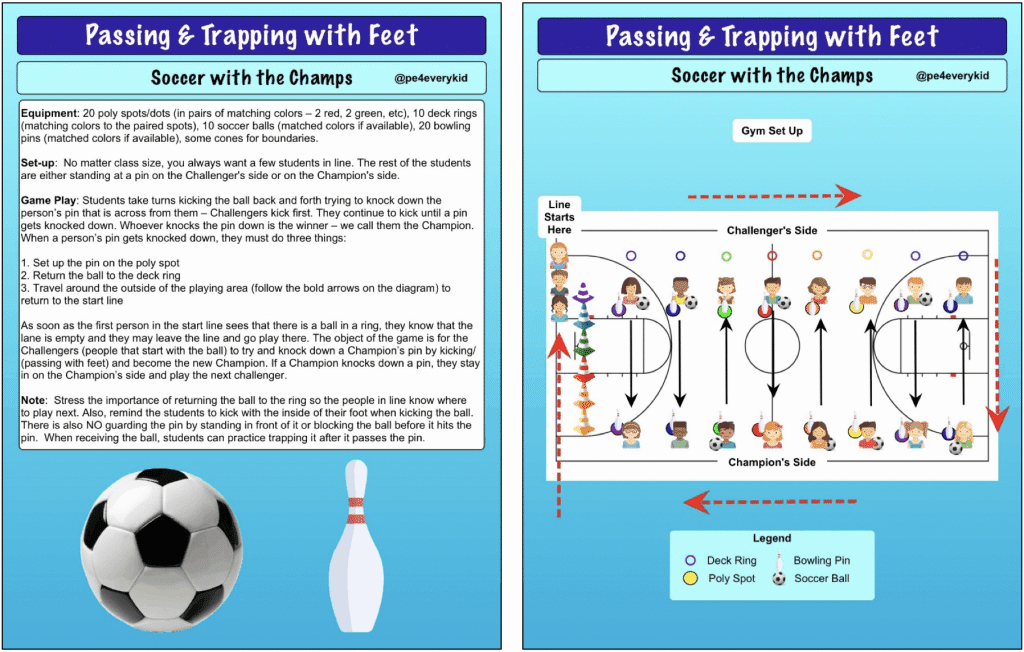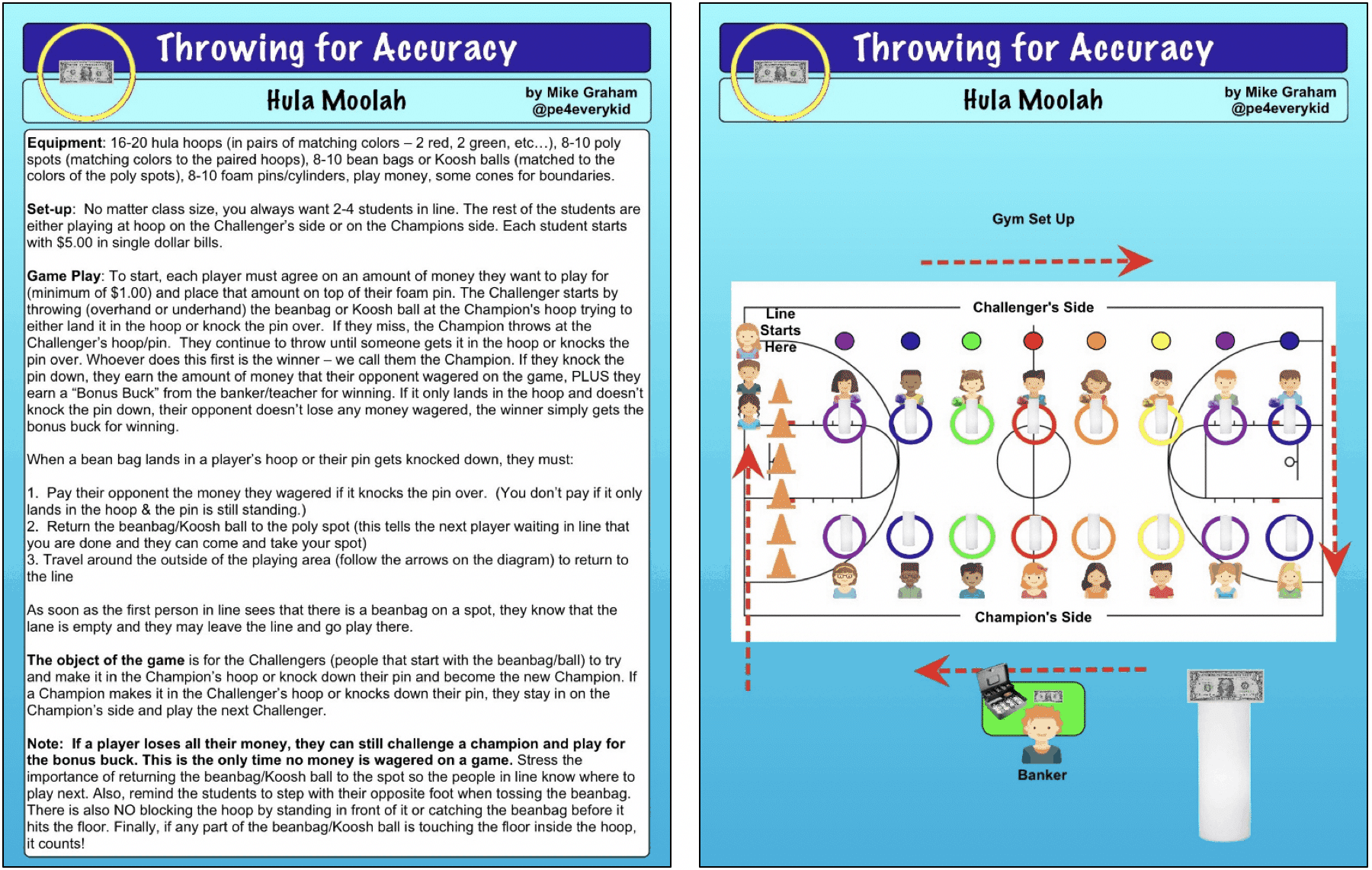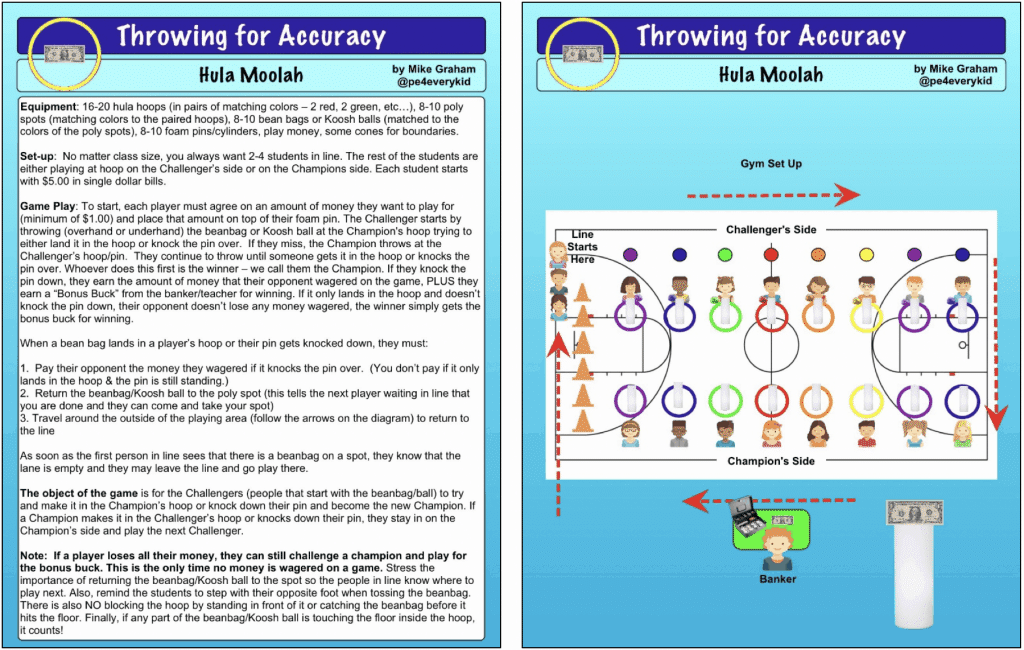 As you can see, this activity can be adapted in a variety of ways. I've also tried this format using floor hockey skills of passing/receiving a puck as students try to knock down a pin. To adapt the underhand throwing version even more, I've used two different sized hoops. The larger hoop is placed on the champion's side, while the smaller hoop is placed at the challenger's side. This gives each player a different sized target and gets those students who may not be a champion too often a higher percentage of success.
At the beginning of the school year, I like standing by the front of the line where the students wait for a few seconds to become a new challenger and I'll ask them their name. Each time they come around, I try to quiz myself to see how many I can remember. Since the game pretty much runs itself, it frees me up to interact with the students. I even use this activity when I'm assessing their form. As they participate in the activity, I observe their body mechanics and give them feedback.
Summary
No matter how you use it, Champions & Challengers is a great all-around activity format to add to your program. Once students understand the basic game play, you can use it again and again with multiple grade levels as well as incorporating different skills. I'd welcome feedback on this activity, if you've used it before, and would love to hear additional ways you play it with your students. Have an idea you'd like to turn into an activity for your students? Don't be afraid to reach out to me personally or leave a question or comment below. I'd love to collaborate on a project with you! Visit my site at www.pe4everykid.weebly.com
Related Equipment:
– ACTION! SturTee Set: Knock your opponents' ball off their SturTee before they get yours during these fun target games!
– ACTION!™ Rainbow® AllAround™ Set: Non-stop action and mayhem with 6 circular goals and over 60 balls all in play at once!
– ACTION! HiddenMission Set: Teams are on a mission to knock over the other team's hidden targets!