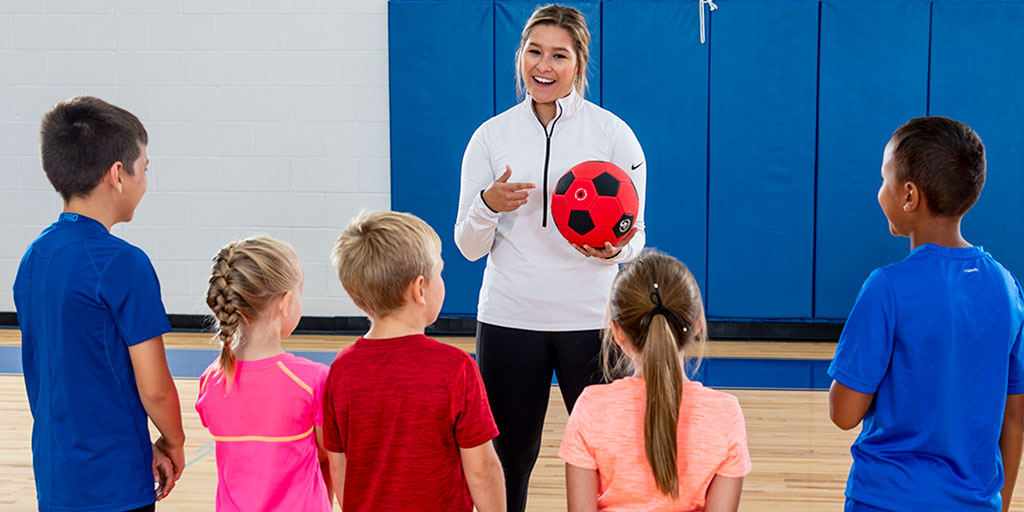 [0:02] I just want to take a few minutes and talk about how to create a learning environment, and I'm not talking about classroom management. I've done other blogs and other podcasts that you can find on Gopher's website, but I just want to make two quick points. The points I want to talk about is getting to know your students and how to do that, and establishing your rules and class values, and how to do that.
[0:41] To get to know your students, make relationships a priority. You get to know students and they get to know you and they want to know you as a teacher. So don't assume that the classroom teachers are doing things and students are getting it from that, make it your environment in physical education and make it unique to what you're doing in physical education.
Tips for Building Relationships:
[1:02] I think the best way to do this or just ask questions and ask questions as the students are engaged in an activity, not just sitting them down and lining them up and asking these questions, but as they're engaged, just walk around and ask, what do you like to do? What do you like to do outside of school? What movies, shows, books? What do you like to do for activity? What are activities that you like that we do in physical education? Which leads to a really interesting question: What do you think about PE and what do you think physical education is? And what's awesome about school? For all of these, take notes in your head or if you're like me and you have a memory issue and you can't remember things as well, use a voice recorder on your phone or jot down post-it notes. But remembering these things and remembering who these students are and bringing that back up to them when they come back to class is huge for creating a relationship and where students are starting to ask, wow, this person knows about me and this teacher really cares about me.
Related:
– Why It's Important to Build Relationships with Students in PE [Interactive] by Mike Graham
– Building Relationships with Students: The 2×10 Theory by
Jessica Shawley
– Fostering Relationships with Students by Aaron Beighle
Developing Class Values:
[1:57] Another thing you can do early in the school year is develop your rules with students and this kind of goes with class values and you know, you have your rules and these rules reflect your values as a teacher. You respect students and you want students to respect you, but I think we need to help students know that and help them learn the importance of these values that we create.
[2:20] Again you probably know what your rules are going to be, but I think we can have some discussion early on and ask students simple questions. Again, as I mentioned with the relationship building. Ask students what does a good PE student look like? What are the behaviors that they show? What's a good PE teacher? Why is that important? What is important is another way of saying, what do you value and that's what we're trying to get students to understand. As you lead students through this pretty short discussion or you can use post-it notes. There's lots of different strategies you could use. You'll funnel down to conversations about what are the rules and values that we have in physical education. So as you take post-it notes or the words that students use and you start to summarize them by the time you get to your next class, next lesson with them, you'll have a set of rules that all the physical education classes that you have, have agreed to. It just helps generate buy in, teaches students about values and it lends and provides student voice or student involvement in the classroom environment and the process. They created this, this is the values that they've all agreed on and these are the rules that they've all agreed on.
Related:
– Setting Student Expectations to Start the Year in PE! by Aaron Beighle
– Dynamic PE ASAP Back-to-School Class Management and Orientation Lesson Plan
– Dynamic PE ASAP Expectations, Rewards, Consequences, and Time Out Signs
[3:31] So as you head into the school year, A, I want you to have a great year. I think this is unprecedented and I hope that we can soak it up and enjoy it and really focus on developing relationships, helping students understand what we value and understand that these times are precious and we love spending time with them so make it a great environment and soak it up. THRIVE!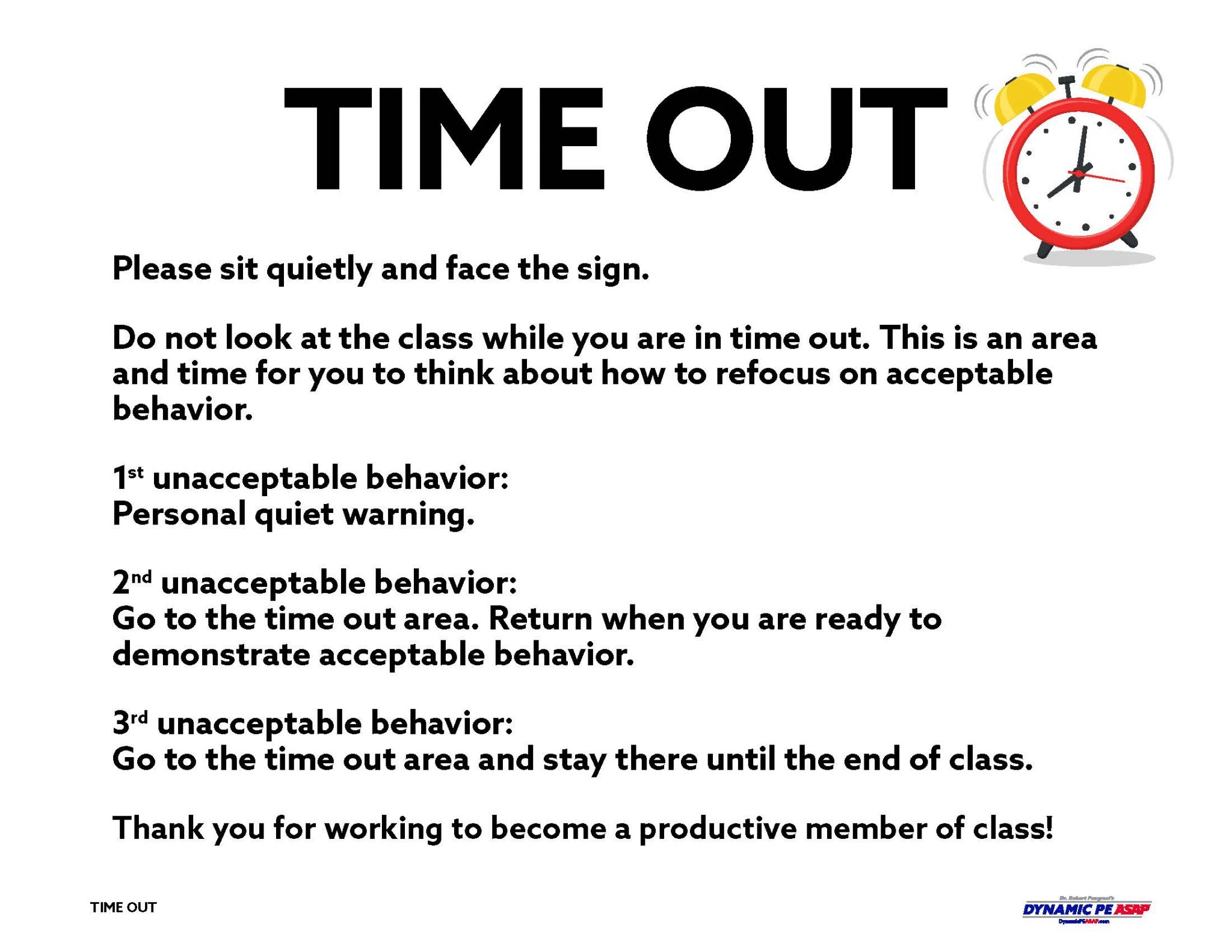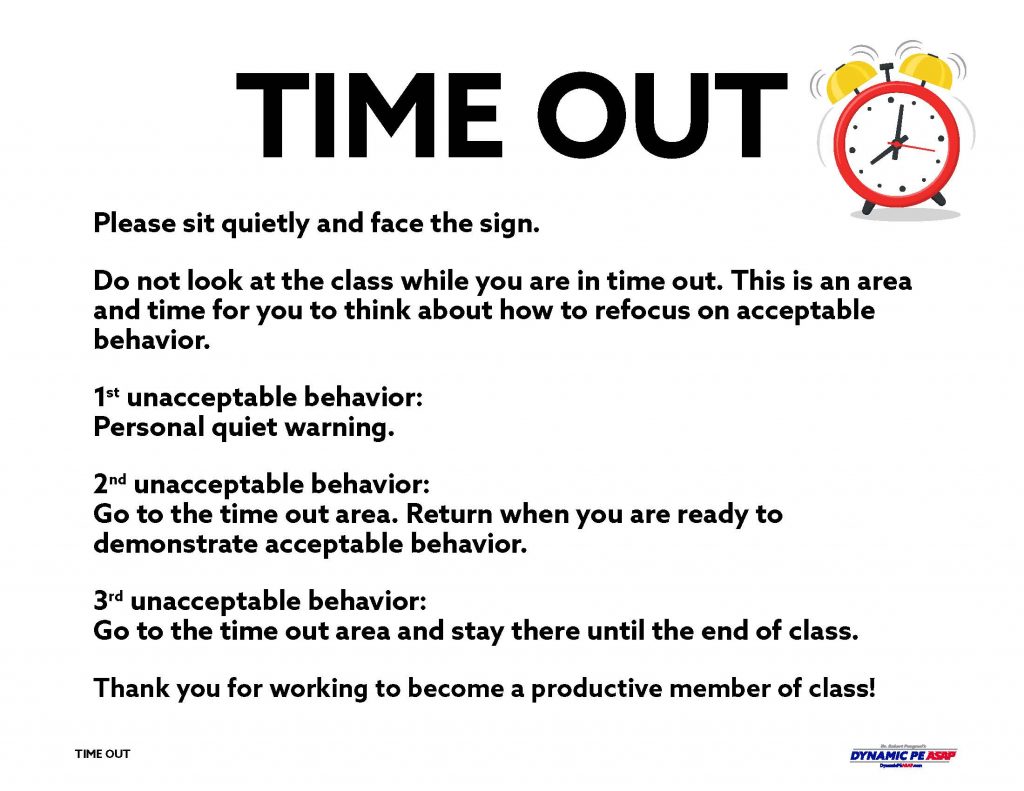 Download full-resolution signs and build a free PE curriculum using Dynamic PE ASAP!