Purposeful planning, organizing, and reflection are key components to quality teaching. I'm always asking myself: How can I be more mindful in enhancing the learning experience for my students? The answers to this question help refine my curriculum organization practices. It is important for teachers to develop an organized and dynamic curriculum, one that can be modified and grow with time. Teachers must have a plan for implementing and assessing curriculum progressions to help students achieve learning outcomes. So how do I keep it all organized? Here's a look into a few of my curriculum organization practices.
1. Develop a purposeful plan
Identify the key standards and grade-level outcomes you will be addressing or measuring. Determine how you will measure this. Develop learning activities to help students achieve these outcomes. My department has created a curriculum map. It's a large document that has all the nitty-gritty details of everything we want to do including learning targets, essential questions, learning activities, assessments, and a timeline. From this larger curriculum map, I created an "at-a-glance" chart that acts like my Cliff Notes. This helps me see overall progressions quickly to assist my lesson planning. All documents are in a shared Google Drive folder (there is a Team Drive option if you collaborate with others or a department). This allows our department to collaborate easily. There are a lot of resources available on how to map out a curriculum and design-standards-based lessons. Here are just a few:
2. Develop a lesson plan library 
Now that I have a curriculum map and "at-a-glance" chart in hand, I need to organize all my ideas, lessons, and activities and link them together for easy access. Everything is saved in the shared Google Drive folder mentioned earlier. The warm-ups are in a "warm-ups library" folder, fitness activities are in the "fitness library" folder and these are linked to the headers in my "at-a-glance" chart so I can easily access them from one main planning document. Check out the screenshot below to help clarify. Physical Education Specialist, Kevin Tiller, has a YouTube video explaining his Google Drive Lesson Plan Library organization here. It is similar to how I organize my folders that I link to my overall planning documents – the curriculum map and "at-a-glance" chart. Terri Drain has an excellent video on "Planning a Standards Based Lesson" on YouTube if you'd like more on that topic as well.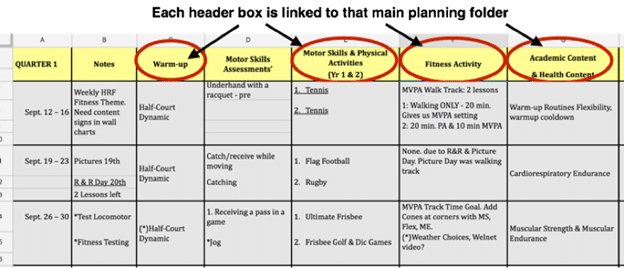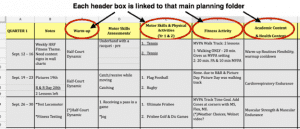 3. Post essential questions and learning targets
What does it mean to be fit? Why should I be fit? How will I know if I am fit? These are important essential questions for students to think about in physical education. Fitness is a year-round focus in my physical education program. It manifests itself through a variety of activities. Some activities may or may not look like "traditional fitness" yet all activities are designed to help students achieve the goal of lifelong fitness. My learning activities help students reflect upon their interests, strengths, and weaknesses and help them develop a lifelong fitness plan.
Having essential questions and learning targets in view helps communicate what students need to know and be able to do. This information also guides my opening and closing class discussions. Utilizing essential questions and learning targets are an important component to your teaching. Use them! I have fallen in love with the ClassCue Sign Holder to post my learning targets, essential questions, and station signs. It is the feature image for this blog.
4. Reflect and Record
Reflect upon your planning and implementation and record it so you can enhance the learning experience next time. I use Google Drive to develop and organize my lesson content. I write lesson Cliff Notes and reflections in a small notebook that accompanies me wherever I go along with my iPad open to my Google Drive app lesson content. I write follow-up notes and reflections in my small notebook. I then transfer the notes to my Google Drive lesson plan library. When I go to teach this content again, I know how to make it better.
Bonus Tip: Relationships. In all things, it always comes back to relationships. It starts with us. The teacher is the catalyst for the positive learning environment. Regardless of learning outcome, the curriculum content, or the weather, the teacher's mindset lays the foundation for success. Build relationships with your students. Be positive and have fun teaching!
If you need new curriculum ideas, here are two great places to start:
SHAPE America offers awesome webinars, trainings, and their Exchange forum allows you to post questions where you receive supporting answers and ideas from other professional members.
The Voxer Physical Education community is very supportive, and you can join in discussion groups to gain new ideas. You can also check out a previous post "My Web-Based Toolbox for Professional Development" for more ideas on how to keep learning.