If you ever have the chance to attend a workshop featuring high school physical education teacher Maria Corte, you need to do so. She is one of the most highly respected workshop presenters I've ever met and teaches physical education best practices through her "M's" of quality physical education: Manage, Move, and Motivate. We've got to be able to manage, move, and motivate our students, but I would also add Measure to the list. How do we measure student progress or program impact? There's one measurement tool that has been a game-changer for my program when it comes to achieving the "M's" of quality physical education, and that's the FITstep™ Pro Uploadable Pedometers.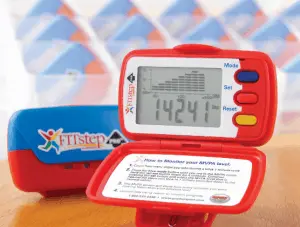 I classify the FITstep Pro Uploadable Pedometer as one of the most applicable and affordable teaching tools available today. It was specifically designed for physical education and I recommend it to anyone wanting to add meaningful technology to their program, especially one that measures student progress and can easily report this data to students, parents, and administrators. Data is a powerful tool.
A few of my favorite FITstep Pro Pedometer features include:
In less than 2 minutes, an entire class of 30+ can download their data
The software program is free and there are no annual fees
Students get immediate feedback: How active was I today? How do I feel?
I get immediate feedback: Did my lesson go as planned? How active was it?
I can print customized reports for each student, class or both.
I can use them in PE, for take-home projects, or staff wellness challenges.
I'm now expanding the use of pedometers to outside the general physical education classroom. Last spring my classes cycled through wearing a pedometer home for the week. Students filled in an activity log and analyzed their data in a Physical Activity Reflection assignment. This helped them develop a plan toward achieving the "60 Minutes a Day of Play" recommendation. Some of my special education students now wear the pedometers all day to measure daily physical activity levels at school. They enjoy the privilege of having their own pedometers.
The purpose of expanding pedometer use outside of physical education is to help students begin to connect what they are learning in class to their personal lives. I want them to develop a physical activity plan that supports health-related fitness and achieves moderate-to-vigorous intensity levels in activities. The pedometers help teach these concepts. I want students to identify what they enjoy, the health benefits of these choices, and where they can access it outside of school.
The research shows active students are better learners. Elementary classrooms now have students wear pedometers all day to motivate students to be more active, help them reflect upon their activity choices in school, and help teachers integrate more movement-based teaching practices and activity breaks. Integrating movement in the classroom is now a respected best practice.
The opportunities pedometers can provide school systems are many – what an amazing time in our profession! Check out my website's pedometer resource section for more ideas.
The FITstep™ Pro with the "M's" of Quality Physical Education:
MEASUREMENT

Simultaneously captures THREE Modes: Steps, MVPA, and Activity Time.
Achieve national and state standards to measure 50% or more MVPA time in class.
The free customized tracking software comes with free upgrades. No annual fees.
Data downloads in less than 2 seconds, maximizing class physical activity time.
Customizable reports for parents, students and administration are easy to create.

MOVEMENT

Analyze student and class activity time immediately. Are students really moving?
Concrete data. No more guessing.
Reflect upon MVPA & activity time. Did I implement an effective lesson?
Helps students understand what intensity levels they are moving at.
Helps students set movement goals and can challenge them to keep moving!

MOTIVATION

Students are empowered with the instant feedback from the pedometer.
Students can set goals, see if they are achieved and reflect upon the results.
These pedometers are very accurate. Reliable data helps motivate students.
The pedometer can be personalized to a child's MVPA threshold each class, allowing for more success other single-mode pedometer.

MANAGEMENT

Attendance is quickly taken with the pedometers, helping lessons begin faster and reducing discipline issues.
Students put the pedometer on and can begin moving instantly.
The pedometers can be used each class period for different students.
Students of all abilities can use this pedometer easily.

*Table information adapted from Gopher website.
Today's physical education programs must know how to effectively "Manage, Move, and Motivate" students. Programs must also be able to Measure student progress. The FITstep Pro Uploadable Pedometer supports all of these areas.
What is your current system for achieving the "M's" of quality physical education? How might pedometers help you advance your teaching?
Looking to purchase pedometers? Check out local grant opportunities through your hospitals and insurance agencies. Look into Donors Choose, Fuel Up to Play 60, and become a Let's Move Active Schools champion. Many grant opportunities are available here and can include pedometer technology.
There is a Voxer group for physical education teachers using FITstep™ Pro pedometers or wanting to learn more about pedometers in physical education. Check out the FITstep™ Pro Pedometer group on Voxer!