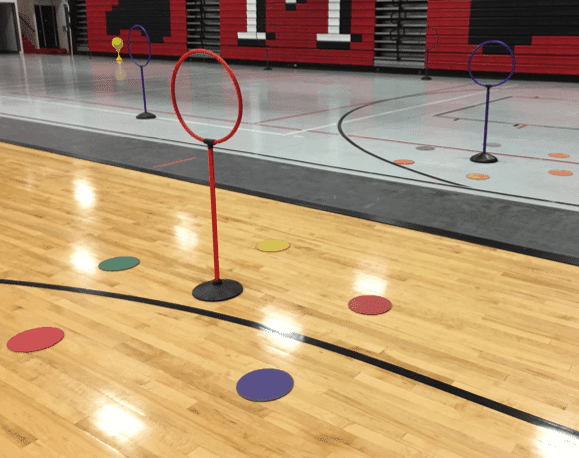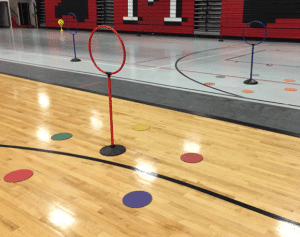 From the backyard to any park, picnic, or family reunion, the frisbee is an important part of physical education programs. I use frisbee games throughout the year, both indoors and out, and have grown to incorporate them more within my teaching of invasion games because of its versatility. Invasion games are the focus for this blog. For target-based activities using Frisbees such as disc golf, disc bonk, and saucer slam, check out my previous Gopher blog. Combining tips from both blogs will help you incorporate Frisbees with ease in your program.
Getting Started: Equipment & Pedometers
Using equipment that can be used indoors and outdoors helps maximize learning and adjusts to weather challenges. I use different sizes and styles of targets (cones, hoops, pop-up stands) and a variety of discs (regular, foam, golf style, etc.). Provide different challenges regarding strategy and gameplay by modifying the playing space. This is especially important among different grade levels. I also use the FITstep Pro Uploadable Pedometers to teach students about activity time and moderate to vigorous physical activity (MVPA). Pedometers show students how all types of activities can help them achieve a healthy, active lifestyle.
---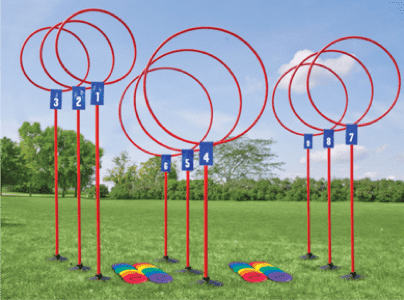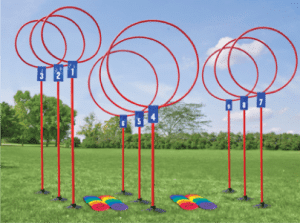 #1 Ultimate Frisbee with Different Targets:
The Gopher Indoor/Outdoor Hoop Disc Target Set: I like that it has different size hoops with adjustable heights. I use it both inside and outside for disc golf and Ultimate Frisbee style invasion games
Use these hoop targets to turn your Ultimate Frisbee game into one where instead of scoring in an end zone, you score by throwing through your team's hoop(s) or your opponent's hoop(s). With multiple hoops available, you can have several small sided games playing at once to work on invasion game strategies while utilizing disc skills. I place a circle of floor dots or mini cones around the hoop to act as a goal box or forbidden zone that both the offense and defense must stay outside of (image at start of blog).
---
#2 Disc Lacrosse: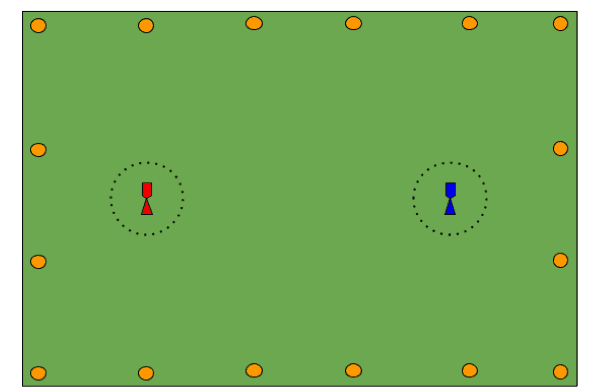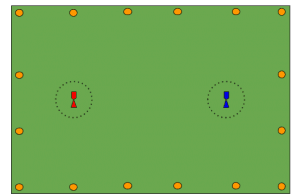 The DISCatcher Traveler Disc Golf Targets are great Disc Golf targets. I also use these for Disc Lacrosse. This invasion game is a mix of Ultimate, Disc Golf, and Lacrosse.
It is essentially Ultimate Frisbee and teams score by landing the disc into the disc golf target vs. catching it in the end zone. Movement of the disc, fouls, and turnovers are the same as in Ultimate. Disc golf skills are used to land the disc in the target. The field setup is similar to lacrosse where the goals are inset. I place cones in a large circle around the target as a goalie box area. All students must stay outside of it to score. If they miss the shot, it is a turnover. Here is a basic rules handout of the game developed by Justin Menickelli, Ph.D. You could easily play on one large field with multiple discs going or several smaller fields utilizing more of the disc golf targets.
---
#3 Ultimate Frisbee "Box" Style:
Ultimate Frisbee Rules for scoring, movement and turnovers.
Set up as small-sided game to maximize play. Try 3 vs. 3 or 5 vs. 5 in a larger box.
Score by catching disc in center box.
Outside Cones = "The Clear" Area
"Make it – Take it" = Must move disc out to the clear area before trying to move in and score again.