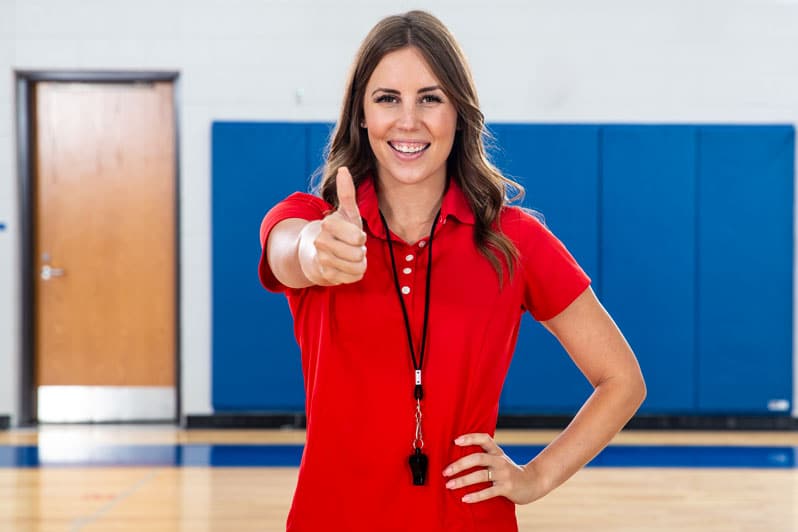 I keep asking myself this question every day as a teacher, a coach, and a father. Where do we go? How do we plan for the future? What will school look like when we come back next school year? These are questions I think we all have, but like all of us I have no answers. I tell my 12-year-old and my 8-year-old every day that Mom and I are not sure what it will look like next school year. But we do know that as teachers we, along with the thousands of teachers across the country, will make it great and we will help our students feel safe, happy, and guided.
So, then the question becomes what can I do as a teacher to become better? Teaching conferences at the local, state, and national level have been cancelled, so how do I learn and become a better teacher? Below are a couple ideas to help you move forward as an educator, learn new things, and learn how to overcome what we are currently dealing with.
Connect with Your PE Department
My first suggestion for everyone is to hold online meetings with your school's entire physical education department. I am guessing that most of you have already done this and are continuing to do this, which is fantastic as you try to determine what you can do right now for your students. I suggest that you also look to the start of next school year and be thinking about ways to greet your students both in your individual class and also as an entire school. One of the great things about where I teach is that I know every student in my school, which again I am sure you do as well. We are one of the only subjects that sees every student during the school year. I see them all every other day, all year long. So, I know them. My goal is for them to know on that first day of class next year that I missed them, and that I am glad they are back in my class! We usually have a lot of fun in our classes, but I have promised myself that next year will be even more fun! I encourage you to make the same promise!
Find a New Way to Connect
Try something new to reach your students! I started a Facebook Live PE class every day to reach my students, along with any of my friends and their kids to keep people moving. It is not a fancy class that requires a lot of time and equipment. I try to keep it simple, funny, and for the whole family! It has been a great experience for me as a teacher and a parent since I get to have class with my own kids!
I have been lucky enough to host a PE Summit each summer for the past couple of years through the support of Gopher. It has been a great experience for me and for the teachers that attended the free day of professional growth. This summer, that opportunity is really up in the air. So, how do I host this regardless? I have been thinking long and hard on this, and if we can run the Summit like always, fantastic! But if not, I am going to see if I can plan an online conference instead. I have no problem hosting a live event, and I will do my best to make something happen for anyone who would want to attend.
Connect and Share with Others
The final suggestion I have really is just to each of us. The great thing about the PE community is that everyone that I have ever talked to has always been looking to share ideas just as much as find new ones! The response online to reach our students has been amazing, and the sharing of those ideas with each other is yet another reason why I love what I do! The creativity is amazing too! I am finding new ideas every single day. I strongly encourage you to look at PE Universe for great ideas and to the other Gopher blogs and podcasts! Gopher has been sending out daily At Home PE Challenges, as well as through social media. Take advantage of the great ideas of others and be brave and share your ideas too! Again, the community of PE teachers is so welcoming and encouraging, so all ideas are welcome! And don't be afraid to reach out to any other PE teachers and pick their brains for ideas! I have had several people email me or call me asking me for some ideas, to which I ask them for ideas too! And trust me I have done my fair share of reaching out too!
In the end, how you answer the question, "Where do we go next?", is completely up to you! I know some of us are down because things are not normal, but I encourage you to rise up to the challenge and find the most creative ways to reach your students now and then again to start the school year! Be positive! Be encouraging! Be AWESOME!