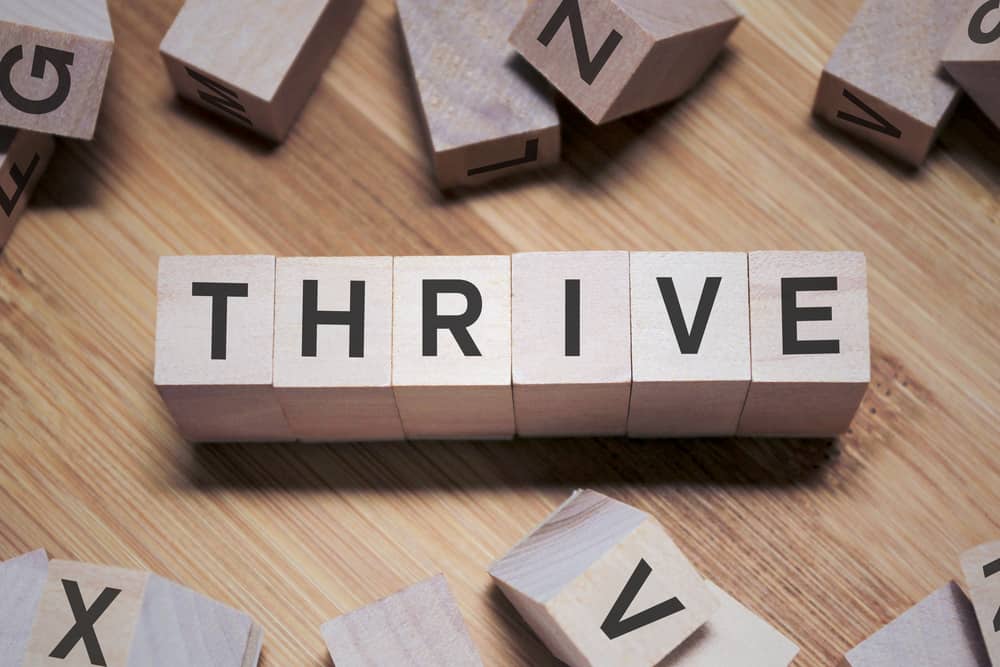 In my last blog I discussed the role small changes in perspective can have using my brother Trent's story as an example. I ran out of space so I want to expand on the term "Thrive!"
At the time of Trent's passing I was working on a presentation for my final class for a course I teach for classroom teachers. The purpose of the class is to train future classroom teachers to integrate physical activity in their classrooms and promote lifelong physical activity in schools. I was looking for something to leave them with that was bigger than physical activity and frankly, bigger than education—something to go back to throughout their career.
As I mentioned last time, Trent's favorite song was "Thrive!" by Casting Crowns. I've always thought THRIVE is a strong word. So much so that I use it as my email signature as a reminder to myself with each email I send. It means: live with vigor or prosper. Some have said it is more than surviving or existing. At the conclusion of the course I was teaching, I had five things I wanted to leave the future teachers with. Being the genius of creativity that I am, I came up with "Five to Thrive" (just do a quick Google search and you'll see lots of other folks have thought of it before me) as the ending piece to the presentation. The first part of the presentation is Trent's story. Here are the concluding "Five to Thrive" Physical Education Teaching Tips.
1. Commit to making a positive difference and write it down
My guess is that most of us got into physical education because we care about youth and want to positively impact their lives. As we go through our careers many of us lose our zest or passion for what we do. Sometimes it's just for a season and sometimes longer. To combat this I encourage educators (or anyone) to write down what a "commitment to making a positive difference" looks like. A personal mission statement of sorts.
For the final exam of the courses I teach, I have my students write themselves a letter titled, "The Teacher I Want to Be". I encourage them to write it thinking of the teachers who impacted them. I also encourage everyone to re-read this letter yearly as a reminder of their heart and passion. This process serves two purposes. One, during difficult times, a personal letter with a personal mission statement can be invigorating or that little lift a person needs. Two, this statement helps shape one's big picture (vision) career wise.
This big picture is made up of pieces— a puzzle if you will. Identifying the pieces of our puzzle allows us to stay targeted, relentless, and positive. It helps us eliminate minutiae in our lives. If something is not represented by a piece of the puzzle, don't worry about it. In reality, as educators we are forced to give some things like standardized testing a small piece of the puzzle. Some things we have to deal with in order to be educators who get to make a positive difference. However, some things we don't have to put in our puzzle. Negative chatter in the teacher's lounge. Colleagues who focus on coaching and not teaching. Teachers who want to argue about dodgeball. Feeling unappreciated. These negative thoughts tend to suck the life out of our teaching and our joy. When this happens, it's a great time to read your letter/statement and remind yourself of the puzzle pieces. Your own personal statement allows you to shape your puzzle and remember your commitment to making a positive difference.
2. Respect yourself and others
We have all heard the Golden Rule since we were young children, learning to play with others. But man, it's hard to live. A student talks back. BAM! There goes the "teach this kid a lesson" mode. He needs to learn to respect me. Yes, you are right, but is this the time? What has this child gone through to get to the point that he will disrespect you? It could be something you did, or it could be something that happened outside of physical education. Although it is difficult at times, it is essential that we treat students, teachers, faculty, etc., like we want to be treated, regardless of how they treat us. Boy howdy I wish that were as easy to do as it is to type. It's a daily struggle for me.
One way we can show this to students is to know their names. It's free (and takes some work for some of us) but it shows a student we care enough to know their name. Similarly, get to know students as individuals. This takes work. It takes effective management to free yourself so you can ask students about their weekend. Ask them about their siblings or their weekend hiking trip. How do you know they went on a hiking trip? Because you got to know them beyond physical education. How do you know they sleep on the floor with 5 other siblings?
Think about what it would be like to be a student who goes through a day of school and no one asks them how they are doing…or cares how they are doing? No one says their name. No one acknowledges they exist. Some of you are saying, "That's not my students." I challenge you to prove me wrong by getting to know your students so that you can definitively say that. Email me if you do. Treat your students like you want your own kids treated. Every child deserves to have a teacher who thinks they matter; respect them enough to be that teacher.
3. Believe what you do matters
If you don't believe what you do matters, find something else to do. I don't say that to be crass, but to encourage you to find something that fulfills you and brings out your passion. It has been said that, "When you lose your why, you lose your passion." Genius. I know of teachers who sit in a chair and watch students play in a gymnasium every day….and they have done it for 30 years. I have talked to these teachers; they have no life in them, no pizzaza. And they don't think what they are doing matters. They have no "Why". Apparently they have never been told all the benefits physical education can have.
Confucius said, "Choose a job you love, and you will never have to work a day in your life." Although I would say "career" as "job" has the connotation of an undesirable chore, but the statement is so true. It happens from time to time, but rarely do I dread Mondays….I am lucky. Something that has taken me some time to figure out is that none of my work is about me. I have had to get rid of the mirror and have chosen to serve others. My wife would argue that the mirror shows up from time to time and life becomes about me, but I am working on it. I can say that I feel the best when I focus on the fact that what I do matters and it helps others. How could life get any better?
4. Relationships precede learning, and well, everything
The students you teach are far more important than the content you teach. Teddy Roosevelt said, "People don't care how much you know until they know how much you care." In most fields or endeavors, the most successful people, or leaders, are those who can connect with people. A major part of connecting with someone is to show them you care.
For some, connecting and showing you care can be difficult. The easiest way I have found to connect with others is to ask them about themselves. I was recently at a hospital and the tech wheeling our friend to see her baby was far less than friendly. As we got on the elevator I asked, "So are you starting or ending your shift?" He responded with something about his school schedule, and off our conversation went. Ten minutes later he dropped us off at the nursery, smiled, asked if we needed anything else, and said, "Have a great night." One question is all it took.
This holds true for students. Yes at times you will find out WAY more than you want, but ask questions, talk to them, and as I said before, get to know them. You cannot teach them if you do not know them. Connect.
5. Live with purpose
In some ways this circles back on much of what's already been mentioned. To thrive and live with vigor I think we first have to ask, "Why do you do this?" This is your why and defines your passion. Marketers will tell you to identify the "why" of the product first. Ask then, "Why do you do what you do?" This will be identified and evident in your personal statement discussed above.
We are not here to just survive each day. I firmly believe we are all here to make a positive difference for others in some way. For most of us we have chosen to make a positive difference in the lives of youth through teaching. Think about how dependent our society is on education. More importantly, think about how dependent your students are on you. For many, you are a lifeline (possible the only lifeline) to a productive, healthy life.
Summary
In summary, I want to leave you with my take-home message for my students.
Know what you do matters.
Love students….all of them.
Teach with passion.
Lead with tenacity
Live with purpose.
Know your big picture
Focus on the important pieces
Thrive!
What are your favorite physical education teaching tips? Share below in the comments.