Have you heard of Fuel Up to Play 60?! Wondering how it can promote school wide wellness?
Find out more about the program and how it promotes school-wide wellness below.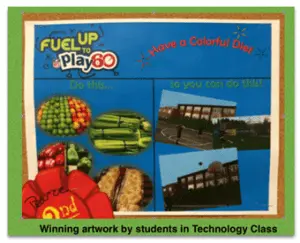 What attracted me to the Fuel Up to Play 60 (FU2P60) program is how the mission aligns with my goals as a physical educator AND it isn't just a physical education-only grant.
You're probably thinking, "Wait. Say that again?! You were looking for something that wasn't just a PE grant?"
Yes, I was looking for an opportunity to emphasize wellness as a school wide initiative. FU2P60 helps schools build comprehensive programs that promote a culture of school wide wellness, which includes and supports health & physical education, and is built upon student leadership. This is what I was looking for to help me team up with colleagues and cultivate wellness partnerships.
This is my fourth year as a Fuel Up to Play 60 Advisor and each year the program expands throughout our school. For example, near the end of last year, the technology teacher at my school approached me with the idea of bringing Fuel Up to Play 60 into her classroom. A little back story, with previous funding, I had provided teachers with some of Gopher's Active & Healthy™ Schools program materials to bring 'brain energizers' into classrooms to help students take breaks from prolonged sitting. This teacher had successfully added these brain energizers to her teaching and now wanted to educate students on the importance of regular breaks from sitting and emphasize making healthy choices, especially if their career choice would include sitting in front of a screen.
The technology teacher became a program advisor with me. With FU2P60 grant funding, we purchased equipment to keep at her end of the school for physical activity breaks from prolonged periods of sitting. Other teachers were allowed access the equipment as well. The students loved being able to get outside or into the hallway to move and then return to their work, often with more vigor. This was made possible through the "In-Class Physical Activity Breaks" Play.
Next, we purchased an iPad mini™, GoPro® camera, and educational materials/posters for the "Snack Smarter in School" Play. Students utilized the technology equipment to take videos, interviews, and snapshots of our students in action during a variety of activities. The technology teacher used Food Cards to review nutrition content previously taught in physical education. Students built healthy plates, analyzed food labels, and formatted information into tables as part of their technology skill building. Students created original posters with healthy messages and participated in contests for giveaways. Students even developed a FU2P60 student website we will use to post pictures and promote the program overall.
The technology teacher developed several activities that infused nutrition with technology skills. It truly is a successful cross-curricular partnership.
Fuel Up to Play 60 is a natural platform to help teachers collaborate and enhance their curriculum through student health and wellness. The possibilities are endless! This blog is only one success story from my Fuel Up to Play 60 experience. There are many more and you can view other stories here. Overall, the initiative is an excellent way to help establish partnerships within your school that promote the importance of physical activity and nutrition.
The program provides the option to apply for grant funding annually. You are not required to apply for funding to be a part of the program. It is completely FREE. As an experienced grant-writing teacher, the FU2P60 application process to be very user friendly, even for first time grant writers. Your local dairy council will provide support with the application process and overall program. All you have to do is ask. There are two upcoming deadlines for 2015-16 school year grant funding cycle (June 16 & November 4, 2015) where your school can qualify for up to $4,000 in funds to support the Healthy Eating & Physical Activity Plays.
Continuing the Conversation: What do you currently do to support wellness in your school beyond your classroom? What partnership opportunities might there be in your school or community that could begin next year?