Physical education forms part of a multidisciplinary curriculum, but integration doesn't compromise teaching the concepts important to developing a physically educated individual. (3.7.1 SHAPE America Appropriate Practices.) As physical educators, how do we integrate cross curricular components without compromising the importance of our own standards? As well, how do we educate classroom teachers on the significance of brain boosts so that they see the benefit to their content? Integration, as promoted through the STEAM approach, is key!
Math:

Math might be the easiest core subject to integrate into physical education. During a bowling unit, you can teach students how to keep score using bowling scoresheets. Adjusting the scoring on any game so that students count by 2s, 5s, or 10s reinforces basic math skills in the primary grades.
A recent unit planned with a 3rd grade teacher incorporated the use of FITstep2 pedometers. Students collected and logged their step data for two weeks. The classroom teacher then used the data to have the students order their daily steps from least to greatest and find the difference between the greatest and least number of steps. There are a variety of other grade specific math standards that could be taught using this same data.
Activity Idea: Mathopotamia
These fast-paced math games build math and fitness skills in which students duel against their peers with addition, subtraction, and multiplication. When not dueling, students stay moving through a series of physical activities, so the action never stops during fun math games!
Literacy:
I recently collaborated with our librarian to promote literacy in our school with a One School, One Book! Program. We integrated our Jump Rope for Heart event with a school-wide read aloud of How to Eat Fried Worms by Thomas Rockwell. All classes reading the same book built a community of readers and led to common discussions with every student in the school. As I write this blog, I am researching how to prepare a fried worm since our students met their fundraising goal.
Art & Science/Health: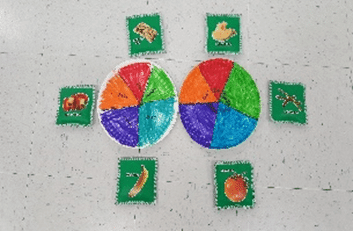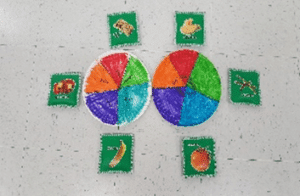 MyPlate illustrates the five food groups that help promote a healthy diet. In collaboration with the art teacher, and additional instruction in science class, each student designed their own MyPlate. We incorporated the use of the plates along with NutriPlay Food Beanbags. Each student tried to fill his/her MyPlate before being tagged by the Junk Food Taggers. Once tagged, the student would empty his/her plate and start the game again. Students who collected all the food groups would identify each group before starting over.
We are always trying to cross the curriculum to incorporate core subjects, but how do we get core subject teacher buy in?
Bonus Activity:
Teacher Pedometer Challenge. Using the same FITstep2 pedometers, I assigned each classroom teacher a pedometer for a staff wellness event. The teachers wore their pedometers and tracked their steps to promote the importance of physical health for all of us. At the end of the day, the teachers with the highest total of steps were rewarded with me covering their lunch duty.
Check out these cross-curricular team games that are great for physical education!
"A lifetime of exercise can result in a sometimes-astonishing elevation in cognitive performance, compared with those who are sedentary."
― John Medina, Brain Rules: 12 Principles for Surviving and Thriving at Work, Home, and School