How can you maximize your time with students?
How can you reach more stakeholders?
How can you show staff, students, administration, and the community that what you are teaching is rich in meaning and more than just a 30 minute lesson?
I encourage you to think "outside of the box" or beyond the gym walls. Collaborate to create opportunities that impact learning through meaningful moments and also causes a ripple effect within the school and beyond.
Here are just a few ideas: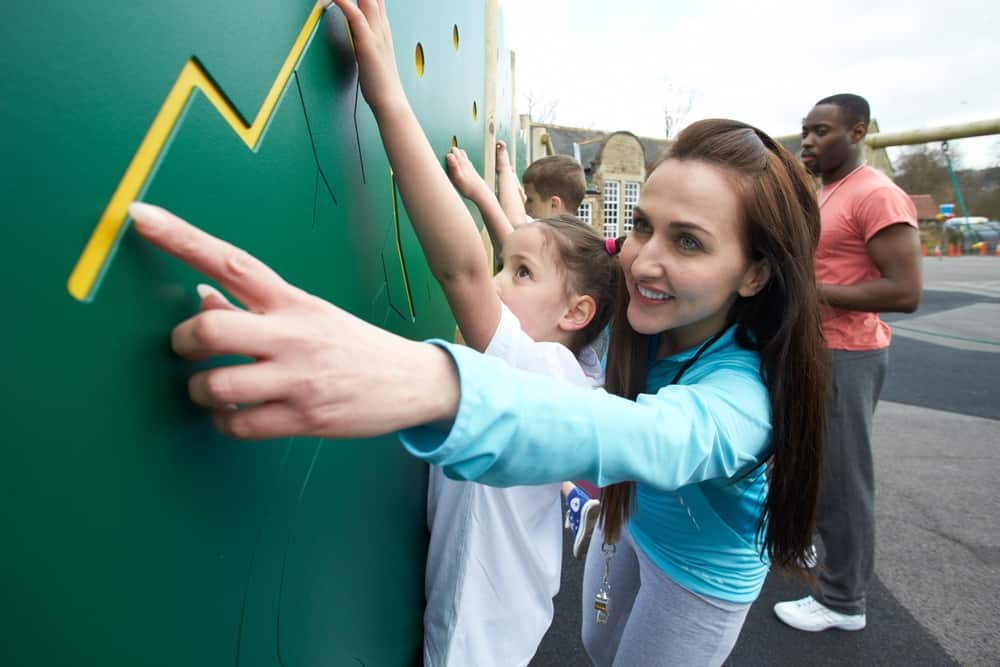 Physical Change
While teaching at East Elementary in Lake Bluff, Illinois, I implemented a program called "Physical Change." Atop the stage in the gym sat an empty 5 gallon water jug. Each month students were given a physical task. Upon completion of the task at home students were encouraged to bring in "sweaty pennies" to add to the jug. For example, during one month the assignment was jumping jacks and the suggested ratio was 1 penny for every 10 jumping jacks. Some students chose to bring them in each day while others collected them at home all month and then made a single deposit. At the end of the month we chose a charity to donate the sweaty pennies to and then started over. The students were motivated to practice the skill, solicited the help of family members in the process, and saw the effect they could have on others through their contributions.
Strengthen Important Bonds
As a teacher at Lake Bluff Elementary School I collaborated with my staff to implement two activities that improved our school culture and strengthened the bond between staff and the community. In the fall we held a "crazy" kickball game at a local park. Twenty to thirty staff members participated in the game and many others sold popcorn, dressed as the mascot, or took on other tasks. We encouraged families to bring non-perishable food items to donate to the local food bank. Each inning various rules were implemented to make things more exciting. Students and parents had the opportunity to see their teachers laugh, play, and work together. This annual activity has been an October staple for the last 5 years in Lake Bluff. Later that year we created another fun activity and this time collaborated with our district's middle school staff and the central office. Working together we hosted a staff basketball game that had a suggested cost and all donations went to the Wounded Warrior Fund. Some staff played basketball while others took the initiative of creating cheerleading squads, selling food, or working the crowds. It was standing room only on our first attempt and once again students had the chance to see their teachers participating in healthy physical activities that had a ripple effect beyond the walls of the gym.
Physical Challenges
Take time to develop challenges that ask your students to apply their knowledge and skills, encourages goal setting, promotes teamwork and respect, and pushes them to finish what they start. Lundahl Middle School Physical Education Teacher Fred Kaiser, a 2008 Teacher of the Year, has implemented several programs over the last 15 years that have made ripples far beyond his own community. His students have the opportunity to participate in a 24 hour run, a fitness marathon, self defense units, and much more. As a state and national presenter, Fred has been able to share his successes and inspire other educators to develop similar activities that motivate students and go far beyond the walls of Lundahl. Inspired by Fred's work, I developed a Hurly Burly in Lake Bluff for my second grade students. Rather than running one mile at a time my students ran a quarter mile. Students were put in teams and their only challenge was to never quit during the two-hour team run. It became a right of passage for our students leaving second grade each year. After five years of the program, I had nearly as many parents running the challenge as I did students and it became necessary to stop students at times because they were completing 5 to 6 miles! Students were self motivated and determined to finish. Students received a shirt and a post-race pizza party. Since student teaching for Fred Kaiser in 1998 I have not stopped thinking "out of the box" and seeking ways to reach beyond my daily instruction. To learn more about Fred and his programs, you can check out his website.
Blending Curriculums
Want to sell yourself to your staff? Go ask them what they are doing and how you can be a part of their efforts in the classroom! Look for ways to bring their curriculum into your space and tie it into movement. Research is showing that learning is improved when students are engaged in hands-on activities and/or physical movement. While teaching in Lake Bluff I sought out my kindergarten teachers and asked if we could work together to create a Literacy-Movement Lab for students. Our 25 minute Friday lab included literacy skills combined with activities such as tossing, balancing, tumbling, jumping, and cup stacking. The kindergarten team determined my groupings each week and students viewed the extra time as exciting and meaningful. Did it require extra planning, collaboration, and giving up some prep time? Yes. Did it make a difference in the lives of my students? Yes, and I am sure you can figure out what parents, teachers, and my administration thought of the efforts. You can view a video of the program on PE Universe!