All successful businesses, and school systems, are always looking for ways to be creative and improve their business or organization. Great ideas grow into systematic change when the leadership at each site is willing to listen to; research data, philosophical concepts, emotions, the latest in technological approaches, and every once in awhile a "dream" that has no data attached to it! When hiring for leadership positions it is important to have individuals who have; strong work ethic, great communication skills, depth in educational knowledge, and a caring approach to everyone that they come into contact with. It is also extremely important to have leadership that is flexible and willing to try ideas that go against the norm and require some patience and understanding.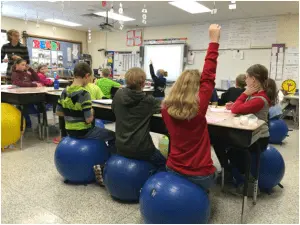 Over the past several years we have had some of our staff transition to Standing Desks or Workstations, use walking paths during the school work day, and on-site yoga and Pilates classes starting at 3:20 p.m. There can be a negative public perception centering around walking paths and workout classes on-site. Leaders have to be able to withstand that negative public perception and accept the fact that more staff will physically work out if the workouts are of convenience and they are with a positive group of peers. If employees want to go for a 30 minute brisk walk during the middle of the day, either around a break time or lunch time, that should be encouraged and the public will soon recognize the increased enthusiasm and job performance of those employees. We encourage our community to use our indoor walking path at Hastings High School, why would we not do the same for our employees?
A few years ago some of our teachers incorporated Stability Ball Chairs" into their classrooms. I was very skeptical when this decision was made. As a former elementary teacher, I could only imagine the number of times that students would be bumping into other students, falling off of their stability balls, or knocking their work off of their desktops. The stability balls have proven to be beneficial for not only students who had some excess energy to burn off, but they have also been beneficial by increasing student motivation to stay focused on their work. Students love their stability ball chair and do not want to lose the privilege of using it during the school day.
Over the past four years, several schools in our area have incorporated what I will label as, "Physically Active Learning Centers." Teachers can take their students into these rooms during reading or math time and the students are engaged in specific activities that require both mental and physical activities at the same time. Some of these activities could also be accomplished in the regular classroom setting, but it is safer in the Active Learning Center. There is research that indicates some students who have reading weaknesses, will improve in their reading skills when combining physical activity with academic repetition.
The main point of this blog is to emphasize that any of the above mentioned changes can only take place with flexibility from the leadership position. All staff will dream and incorporate positive physical activities into the school day if they know that their site leadership is open to new ideas and are flexible.
Check out Moving Minds for more great products to engage minds through physical activity in your schools!
Read a related CDC Report, classroom results start on page 21