Gymnastics activities are a great way for students to learn fundamental skills like balancing and rolling, while strengthening their bodies.
Balancing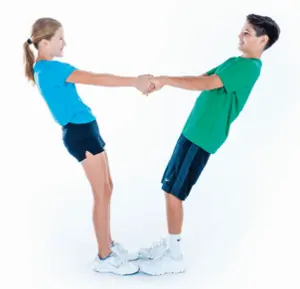 It is great to begin a gymnastics lesson with stretching to warm-up arms, legs, and calf muscles. Next, have students partner stretch to practice balance and gain confidence in beginner stunts such as the Partner Chair Balance, the Partner "V" Lean Back, and the Partner "V" Lean Side.
Partner Chair Balance: Partners face each other and hold hands. Their knees bend and they squat as if sitting in a chair.
Partner "V" Lean Back: Partners face each other and hold hands. They lean back until their arms are fully extended.
Partner "V" Lean Side: Partners stand side-by-side and hold one of their partner's hands. They continue to lean until that arm is fully extended.
Having students hold stunt poses with a partner challenges communication and strength.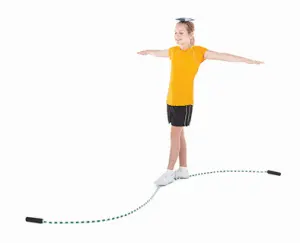 Next, have students practice balancing on their own. Have them practice balancing on one foot and walking foward and backwards in a straight line.
Balancing something, such as a beanbag, on their head can help them keep their chin up, implementing good posture
Use jump ropes, floor tape, or chalk to create lines of various shapes
Keep tumbling mats folded for safe practice of balancing on an elevated surface
Challenge them to balance on various body parts, supporting themselves in more ways than the typical two feet. Hold poses for 10 seconds.
Rolling
Once they are comfortable walking in a straight line and holding poses, teach your students how to roll across the tumbling mat. The Log Roll, Forward Roll, Straddle Roll, and Cartwheels are fun challenges!
Log Roll: Students lie on a mat with their arms straight above their head, rolling on their side, back, side, and continuously moving in this circular motion. They should try rolling in a straight line.
Forward Roll: Students balance on the balls of their feet and extend their arms out. Then, their hands move to the mat as they tuck their chin to their chest and tighten their abdominal muscles. Students who struggle tucking their chin can practice holding a beanbag underneath their chin. Students roll forward on their shoulders, by pushing off their feet.

Straddle Roll: Start with legs far apart. Bend at the waist, placing hands down on the mat. Their chin should tuck to their chest to protect their head and neck. Roll forward on their shoulders; push off with hands and feet.
Cartwheels: Students can begin practicing cartwheels by learning the hand, hand, foot, foot sequence. Next, have them focus on keeping their legs straight up in a "V". Trying to perform cartwheels in a straight line will help them perfect the skill, strengthen arms, and increase balance.
Once they have mastered balancing, rolling, and tumbling, they can build their endurance by practicing them all in a continuous sequence. Creating sequences offers students the chance to be creative, have fun, and build confidence in their gymnastic skills.
Teaching gymnastics in your P.E. class allows your students to safely learn skills, strengthen muscles, and motivate themselves through new challenges. Share your favorite gymnastics activities for physical education below!