It is the middle of the school year, budgets are done, and you are out of money to replace or repair equipment. Then BAM, down goes a treadmill in your fitness center. What do you do? Is there a plan for something like this? I ask because this happened to me this year, and it was a nightmare trying to figure it all out! Here are some lessons I learned that I hope will help you avoid the same nightmare.
1. Get Everyone Involved
My first suggestion is to make sure that everyone involved with the budget process and cost to repair big ticket items—like a treadmill—are fully aware of the cost to repair or replace. I work with a very reputable and reliable fitness equipment company, and I know the cost of everything in my fitness center. I also have a rough idea of costs to repair some issues. However, with turnover of administrators and business managers, it seems that not everyone else does as well. I can tell you that as of right now, we are all on the same page. They have worked with me on a plan to budget repairs and replacements, which was in place in the previous administration but somehow disappeared! You should also be ready to defend the cost of commercial grade high quality equipment! I know when I first started teaching at my district, treadmills and ellipticals were being purchased at Sears, and they would not last the school year with how heavily we used them in class.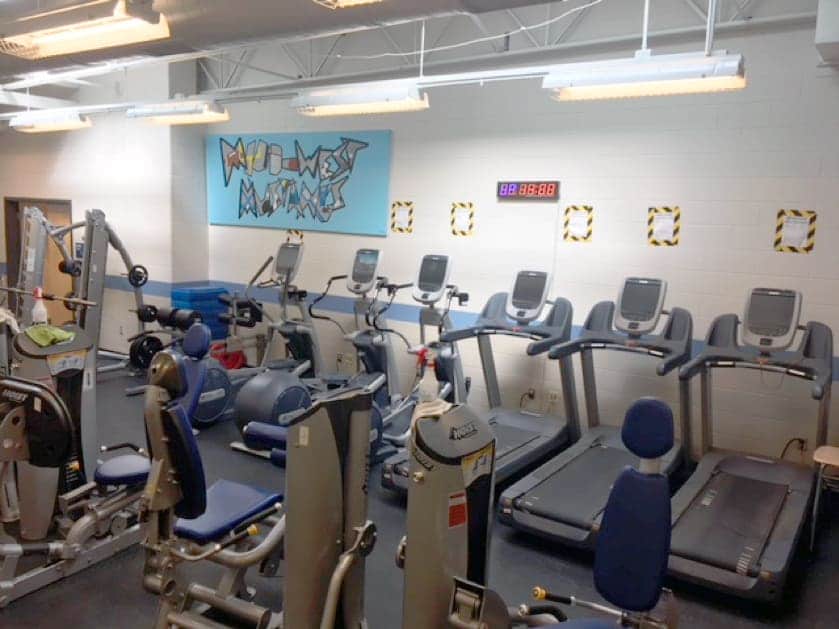 2. Create a Yearly Service Plan
My second recommendation or tip would be to make sure you have a yearly service plan in place for all your fitness center equipment. This service plan is a preventative plan that will hopefully catch small things before they turn into a big thing and cost you a lot more money! Our plan is not costly at all, and the service techs do a fantastic job of giving me a detailed report on each machine. I also have the opportunity to speak with the techs while they service the machines, ask questions, and/or let them know of any issues we are seeing with the machines. It is a great relationship and really does save us money in the long run!
3. Ask for a Repair Account
Another suggestion for your unexpected budget needs is to ask for an account for repairs. We now have an account that is separate from our normal equipment budget that we can rely on to help cover the cost of unexpected repairs. The money will be used throughout the year to fix equipment that inevitably goes down during class. Sometimes, like in our case this year, this account doesn't hold enough money. So, make sure your administration understands that some things cost a lot more to repair than you can plan for.
Something else that we notice with our equipment and that we have brought up is that more people are using it for things outside of PE; or in the case our fitness center, athletic teams, after school usage, and community use. We have asked how the PE department is responsible for covering all costs needed to maintain and repair equipment out of our budgets, when we are not the only people using the equipment. Currently, we are debating this and trying to find a way to share the costs to repair or replace.
4. Fundraise for Repairs
Fundraising is also an option if you realize you have a lot of equipment that needs to be replaced or will be costly to repair. If this is an avenue you are looking to go, be sure you have approval of the administration and have a clear plan in place. Make sure you know the exact amount you need to raise, ensuring that those donating understand the plan. There are a lot of ideas for fundraising, but I recommend you make sure the one you choose is not a nickel and dime type fundraiser. For example, selling gym bags for $5 that cost you $4 is not a good plan, because you will need to sell a lot! One of my favorite fundraisers and easiest to organize is a walk/run-a-thon! I will use my daughter's school, which is 3rd to 5th grade school, as an example. They did a walk-a-thon last month where kids asked for sponsors to pay per lap completed or a flat donation. This is a school with roughly 600 students and they were able to raise over $20,000 just by walking. This is one of my favorite ways to raise money because there is nothing to sell or deliver, and best of all kids are EXERCISING!
I am hopeful that some of these tips help you avoid the nightmare that I dealt with this year. I would love for you all to comment and share what you and your district do to help cover the unexpected costs that occur during the school year. I would also love suggestions on how to share the costs of these repairs in your fitness centers when others outside of PE are using the equipment!