Every day, PE instructors and coaches teach kids how to become more physically active, healthier, better athletes, and better adults.
With school closures and social distancing, kids are less active than ever before. Activities students participate in at school are now being replaced with TV and video games. Students are missing out on opportunities to be active!
Both kids and adults are healthier when they get 30-60 minutes of physical activity each day, and our brains are better equipped to learn during and after physical activity.
Home PE can help kids stay active at home!
PE teachers and coaches are irreplaceable, but they can't come to your house to teach your kids every day.
PE Home is a weekly subscription box sent directly to your doorstep. Boxes feature a new activity theme each week with equipment and activity ideas (written by PE professionals) to get kids out of the house and playing outside again.
How does home PE work?
Visit www.home-pe.com!
Choose a subscription level (Basic or Deluxe).
View pack options – Home PE offers 6 themes designed to get kids out of the house and moving around. Each pack includes unique equipment and 30 to 50 game and activity ideas for individuals, partners, and families.
Subscribe – The cost of a Basic subscription is $30/week or $170 for all 6 weeks. A Deluxe subscription pack costs $45/week or $250 for all 6 weeks.
Start having fun! After subscribing, you'll receive an order and shipping confirmation. Each box will provide endless hours of fun and many lasting memories for you and your kids.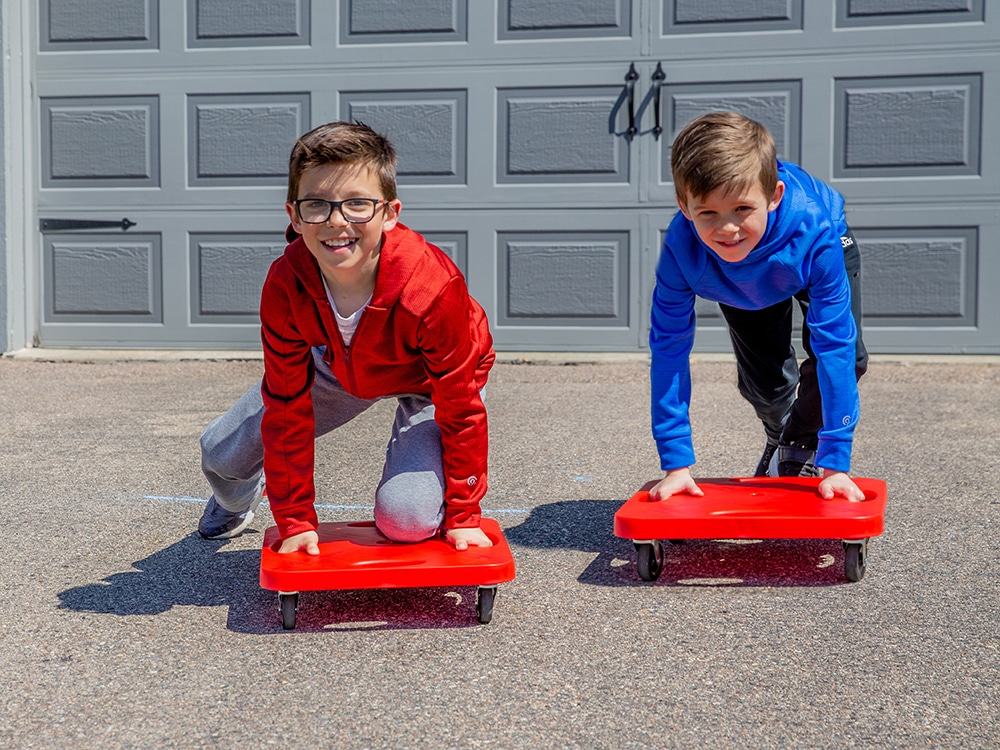 Subscription box details:
Week 1 – Four Square: This classic playground game can now be played at home! The Home PE Four Square Pack includes everything your kids need for endless outdoor fun. Whether they're playing by themselves, with a friend or sibling, or the whole family, we've got you covered. A variety of equipment and unique activity instructions (40 game ideas) will keep everyone moving and having fun!
Week 2 – Jumping and Skipping: Jumping rope is one of the best and most fun cardiovascular activity there is. Rope jumping is great at developing agility, timing, and muscular endurance. You'll get clear instructions for 40 jumping, hopping, skipping, and agility activities. Activities will show your kids (and you!) how to progress through increasingly challenging and impressive jump rope activities. Instructions share how to perform double-bounces, crossovers, double unders, hopscotch jumps, agility jumps, jump turns, rhythm patterns, double dutch, chinese jump rope patterns, and more.
Week 3 – Tossing, Catching, and Juggling: If the only hand/eye coordination your kids get is from video games, they need this! You and your kids will do fun activities to develop hand/eye coordination, throwing and catching skills, and you'll (hopefully….) learn how to juggle! More than 50 activity ideas provide endless amounts of fun whether your kids are playing alone, with a partner, or the entire family.
Week 4 – Sports: Your Home PE pack wouldn't be complete without institutional-quality equipment for your favorite sports. This pack includes equipment for basketball, football, soccer, volleyball, and kickball. Nearly 50 game and activity ideas (including individual, partner, and family activities) will teach kids a variety of skills and provide an endless amount of fun. The basketball and football each display unique hand placement graphics to help kids understand how to shoot and throw with the correct form.
Week 5 – Scooters: Your kids will go crazy when you receive the Scooters box! Scooter games are a wildly popular activity in Physical Education, just ask your kids! Your kids will sit, lay, or kneel on the scooters and develop important coordination, balance, and dodging skills, plus muscular strength. The included paddles challenge kids with a variety of tennis and hockey activities. Your kids will have a blast with the 40 unique games and activity ideas.
Week 6 – Fitness: Strength, flexibility, and muscular endurance isn't just for jocks. You and your kids will get introduced to cool fitness activities in this week's subscription package in a fun way! Thirty cardio and strength activities can be performed individually, with a partner, or family and can keep everyone active for hours. You're getting the same institutional-quality equipment in this and all the other packs that is used by hundreds of kids each day.
Home PE is the best way to get your kids away from the TV and playing outside. The variety of equipment and activity instructions will keep kids engaged and playing for hours.
Visit home-pe.com to subscribe today!