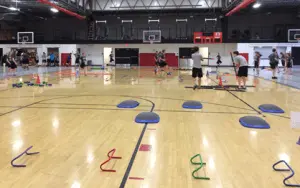 One of the biggest concerns any teacher has is class size. We know class size impacts many aspects of teaching from management and safety within a crowded space to having sufficient supplies/equipment, to individual feedback opportunities.1 Regardless of our situation, we must remain positive among our students and provide them with the best learning environment possible while also continuing to advocate for improved class sizes with our administration.
There is no magic formula for teaching large class sizes, but there are resources you can access on best practices for teaching large class sizes in physical education.1 Here are four of my 'go-to' large class size strategies to keep students moving and learning:
1. The On-Off Rotation Rhyme
Here is my rhyme: "If you win, you stay IN. When it's two-in-a-row, you GO." Two teams are on the court or field playing and a third is off. After a short amount of time (e.g., a 3-4 minute round) the winning team stays in to play the waiting team. However, a team can win and stay two in a row only. This keeps things moving and reduces student wait time. Once a team wins two in a row, it rotates off giving the other two teams a fresh start. I enjoy the rhyme because it's something students remember and allows them to rotate quickly on their own. The waiting teams complete a strategy session or a task.
2. The Sidelines
When it comes to playing games indoors with limited space, especially certain invasion-style games such as basketball, ultimate Frisbee®, soccer, and modified handball where you may only want a specified amount of players on the field to reinforce certain concepts, you will have teams waiting to play. Here are two types of sidelines you can use:
The "Live" Sidelines: : Inactive team(s) along the sideline. They must actively move or side-shuffle along the sidelines with the game being played. They can receive and/or pass the ball down the court, but they may not score directly. They can only assist from the sideline.
Fitness or Health Center Sidelines: Sideline teams work on personal fitness at stations. Have the sideline teams complete a mini-circuit for a set amount of time. You can also use this time for academic knowledge tasks using things such as Skillastics® Nutrition quiz cards, reflection journaling, or Plickers card questions.
3. The Strategy Session
Any team waiting to play should be working together to strategize for its next game. For example, during Omnikin® where there are three teams of four players on the court at once, I create three teams of eight and divide them in two shifts for an on/off rotation. The waiting team records its "ON" team's play (on our school iPads® and/or with a video delay app). When it is time, all teams switch from "on" to "off" and those teams who were playing now get to watch the video feedback. They identify something the teams did well and something to improve upon when they go back in. The team also records more live game-play footage for the next switch. If you are just using the camera app video function on a device and not a specific video delay app, I recommend a four-minute game where teams can watch themselves for two minutes and then record for two minutes.
4. Small-Sided Games
Small-sided game play is a key best practice that allows all students to be active and participate in game play. Teachers must learn how to break down larger games into smaller contexts or mini-challenges with smaller teams in smaller playing areas. Check out my Gopher blog: 5 Ways Small-Sided Games Make a Big Impact and my free Gopher webinar Enhance PE Participation with Small-Sided Games for more information. It is a real game-changer if you are not already utilizing this best practice.
1 National Association for Sport and Physical Education. (2006).Teaching large class sizes in physical education: guidelines and strategies [Guidance document]. Reston, VA: Author.