Jumping rope is an excellent exercise for increasing activity time, coordination and confidence. While jumping rope is often used as a warm-up activity, one professor studied the health and social benefits of an after school jump rope program.
Minnesota State University Physiology professor, Dr. Jessica Albers, studied students as they spent 2 hours after school learning how to jump rope.
"It's one of the more high-intensity activities that you can participate in," Dr. Albers said. "You wouldn't think that jumping this high over and over again would get your heart rate up that fast, but it does."
Students between the ages of 8-12 learned and mastered different jump rope skills throughout the 12-week program. At the end, students performed a group routine at the local high school.
Increasing MVPA through Jumping Rope:
While Dr. Albers used a more scientific approach to determine MVPA (Accelerometer counts and intensity cut points developed by Freedson et al), Gopher's FITstep™ Pedometers track step count, total activity time, and total time within the moderate to very vigorous activity zone. With the FITstep™ Pro Pedometer, teachers are able to upload data into the FITstep™ software to organize into printable reports.
"What it's looking at are the intensity levels of your activity," Dr. Albers said, "If you want to actually see changes in the cardiovascular system within the respiratory system and even musculatory system, depending on the type of activity you're doing, you need to be at these higher intensities."
She tested students three times throughout the 12-week, 90-minute program and concluded the following activity results:
9.7 minutes (10.8%) in very vigorous activity
7.6 minutes (8.4%) in vigorous activity
28 minutes (31.2%) in moderate activity
8.0 minutes (8.9%) in light activity
36.7 minutes (40.7%) in sedentary
Dr. Albers admits that most of the sedentary time was spent learning new skills and the group routine.
"When we broke down, just for sense of time, MVPA specifically – moderate, vigorous and very vigorous – they were meeting their recommendations." Dr. Albers said.
Albers was surprised with how much very vigorous activity time students were getting and thinks jumping rope is a great way to keep students motived throughout the entire class period.
"We could just make kids run for 30 minutes a day. PE – go run for 30 minutes a day! But that's no fun." Dr. Albers said, "With jump rope, hopefully you keep it interesting enough that they continue to be active enough during that period of time."
Other Benefits of Jumping Rope
Beyond physical fitness, Dr. Albers explained that there may be other benefits to jumping rope.
"Jump roping is so unique, you learn skills every single day." Dr. Albers said. "If you have success in something, it overall increases your self-competence, and then with that, you are more likely to try something multiple times."
Dr. Albers uses Harter's Competence Motivation Theory as a large motivation for her reasoning. According to Oxford Reference, Harter's Competence Theory explains that a person's confidence increases after they master a task, encouraging them to take on more challenges in the future.
"You master so many things [in jumping rope], as opposed to some sports, you might take longer to see those mastery attempts be successful." Dr. Albers said.
Getting Started with your Jump Rope Program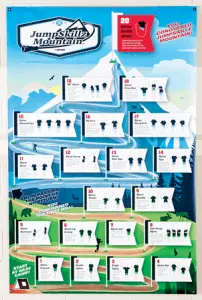 Dr. Albers currently teaches a jump rope class at Minnesota State University – Mankato and has worked with multiple schools to expand their PE curriculum or add an after-school jump rope program.
"I encourage you to just go try it and be out there with your students." Dr. Albers said, "Kids figure out things faster than you would think. Even showing them a video, they can kind of figure out some things on their own pretty fast, which is always fun."
Dr. Albers recommends using the photos and videos at Jump Rope for Heart to learn different skills and techniques. You can also use Gopher's JumpSkillz™ Mountain, a 6'L x 4'W banner that offers step-by-step instruction for 20 progressive drills and is a great resource for increasing jump rope instruction into your program. Need to replace broken jump ropes or add more to your storage room? Check out these Jump Ropes all backed by an Unconditional 100% Satisfaction Guarantee!
How do you use jumping rope in your PE curriculum? Share your ideas for increasing activity time by commenting below!