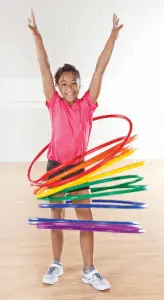 Thanks for checking out the first blog in our three-part series featuring unique activity ideas utilizing P.E. essentials like hoops, beanbags, and poly spots!
Hula Hoops are a staple in most PE classes. Nearly every Elementary P.E. program has them, but are you using them to their fullest potential? Besides performing traditional Hula Hooping, hoops can be used as targets, spots, obstacles, agility, and team building activities for plenty of hula hooping exercise! We searched through PE Universe and compiled the top 5 hula hoop games for students!
1. Fitness Hula Hoop Timer
Spin the Hoop while you and your partner perform an activity until the hoop lies flat on the ground. Run around the hoop, perform burpees, or other warm-up activities! Variation: Place your class in a large circle, have each group spin their hoop and try to run and grab another team's hoop before it falls flat. For an added challenge, require teams to grab a hoop that is not one of their neighboring hoops.
2. Hula Cars
This is a great warm-up activity that allows students to get loose without bumping into each other! Students hold the hoop around their body and run around the gym driving their car. Call out different signals to have your students perform new exercises!
Bumpy Road = Skipping, Flat Tire = Gallop, Stop Light = Stop in place, Spin Out = Hula Hoop. Call out different roadways or speed limits to have students adjust their speed! Freeway = Run, Residential = Jog, School Zone = Walk. (PEUniverse – Jerad Hampton)
3. The Hula Jive
Perform a unique hula hoop dance with your hoops! Students can dance with the hoop around them or place the hoop on the ground and jump in and out. Shannon Jarvis has an awesome video on PE Universe of her students Hula Hooping the Cha Cha Slide. (PEUniverse – Shannon Jarvis)
4. Hula Huts
Students love building Hula Huts! Stack Six hula hoops on top of each other to build a hut. These huts make perfect targets for knockdown and team building games! The PE Specialist, Ben Landers, demonstrates his unique game, Hula Hut Throwdown.
5. Fishing with Hoops
This is a fun physical education game! Students work in teams to roll their Hoop out to capture items in the playing field (cones/balls/buckets/any other equipment you can find!) Capture an item and bring it back to your team to score points. Variation: If an opponent captures an item, roll your hoop to try and hit them on their way back. If players are hit while carrying their winning item, they must forfeit their item to the team that hit them. (Activity Idea: Shannon Jarvis)
Do you have any Hula Hoop activity ideas? Join the discussion and comment below to share!
P.S. – Don't forget to check back next week for fun beanbag activities that get your entire class moving!