Keep students moving with PE team games that are action packed, class oriented, and align with SHAPE America's National Standards. ACTION! Team Games by Gopher will help you do just that.
ACTION stands for:
Action Packed
Class Oriented
Teacher Friendly
Inclusive
Only from Gopher
National Standards
We've compiled five of Gopher's top team games that focus on a wide variety of skills for your students!
ACTION! SturTee
SturTee is an excellent game for students of all ages. This target game teaches students how to pass, throw, catch and block. As students continue to play, they must plan and work together as a team to knock over the SturTee balls.
CageAll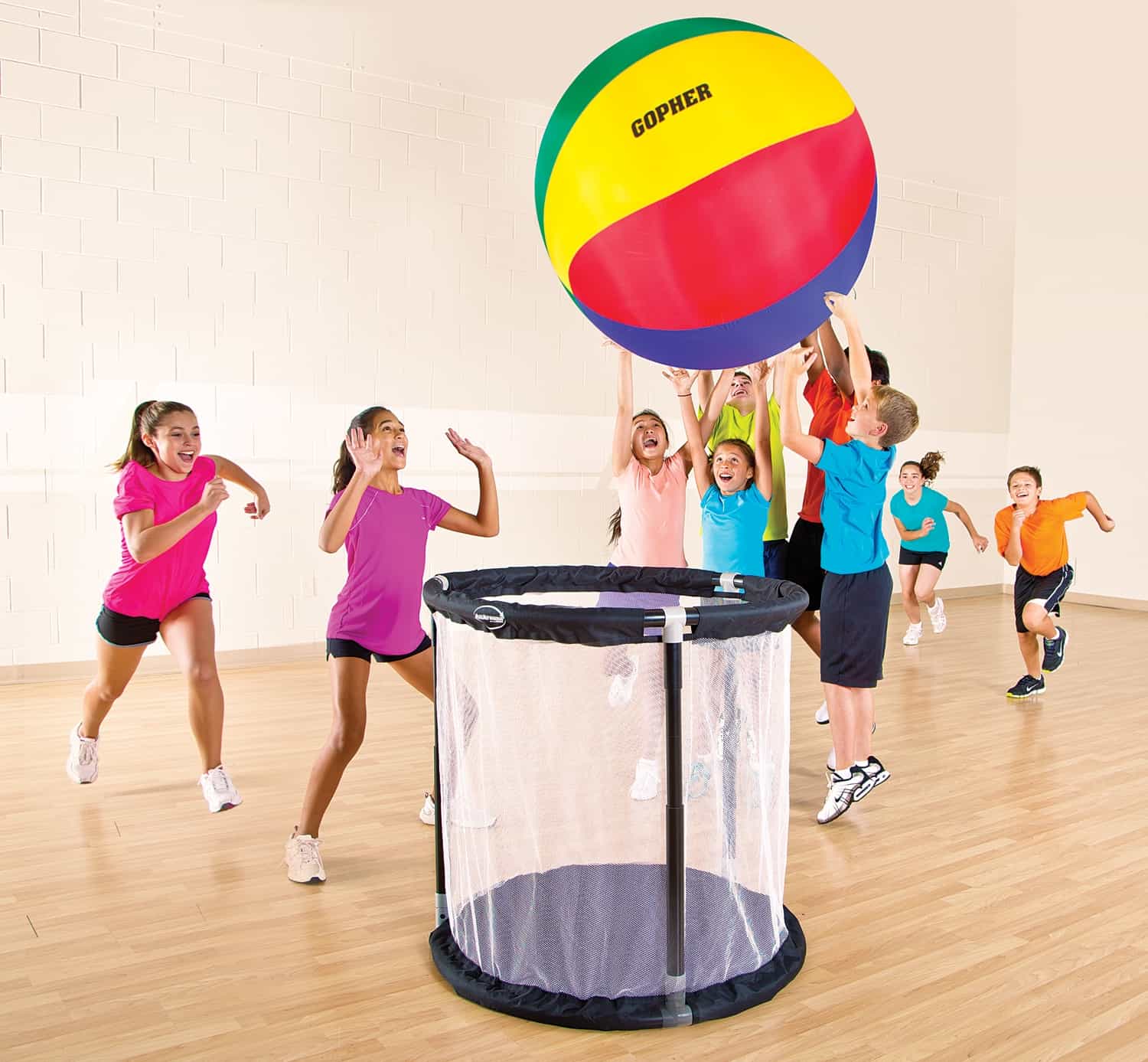 This game is all about strategy and teamwork. Students have to work together to score a cage ball that's twice their size! This ball is too difficult for any one student to handle. CageAll is great for developing communication and leadership qualities.
ACTION! ToppleTubes
Teach locomotor skills the fun way by introducing your students to ToppleTubes! They'll enjoy the competitive aspect so much, they'll forget they're working on basic movement skills. Have your students run, jog, skip, gallop and leap from one ToppleTube to the next while flipping it over to their team's color. This game is also great for teaching spacial concepts such as moving to open space and running with you head up!
NitroBall
NitroBall is a fantastic way to introduce hitting, striking and rallying skills. Students use basic volleyball strategy and technique to pass the ball over the net. The biggest difference between NitroBall and volleyball is that the height of the net is only 3.5″ high. The ball is also much lighter and larger, which leads to more success and fun!
ACTION! Paddlemonium
It is difficult teaching racket skills to a beginner. Simplify the game and develop eye-hand coordination with ACTION! Paddlemonium. Paddlemonium is an action-packed game the entire class can play at once! Students run to find their team's colored ball and must pass or dribble the ball to score on their goal!
If you're interested in PE team games that teach nutrition and fitness, visit Gopher's Nutriplay and ACTIVE! games for more ideas! If you've had experience with any of the games above, please share your comments below. We'd love to hear them!