School has been back in session for two weeks now, and I can honestly say things have been going really well. The one question leading up to the start of the year from my students and their families through email was, how will PE with PPE work? Even other PE teachers have reached out to me with the same question. The response has always been the same, we will adapt and overcome any hurdle put in front of us.
My team at school put together a plan that we had approved by our extremely supportive administration, who encouraged us to make sure the students were active as much as possible while remaining physical distanced. We have had to make changes to some of our curriculum to make this happen, but as a team we feel we have a good plan in place.
Now let me share a couple tips since we have started!
Where do we put PPE when we are not wearing it?
Most of our students have elected to wear face masks as opposed to the clear face shields. When students are in a physically distanced environment and have permission to remove their masks, those that want to put them in their pockets or around their wrists like a bracelet. So far, this has gone really well. The biggest thing to remember is to get your students into the habit of putting the masks back on when they can no longer physically distance. We needed to do a lot of reminding during our first week, but now the students are all pretty good at remembering or even reminding their friends.
The face shields are a little trickier because they don't fold up and fit in your pocket. With that said, all of our students who choose to wear face shields are keeping them on the entire time during class.
Shop masks & face shields for students and staff >>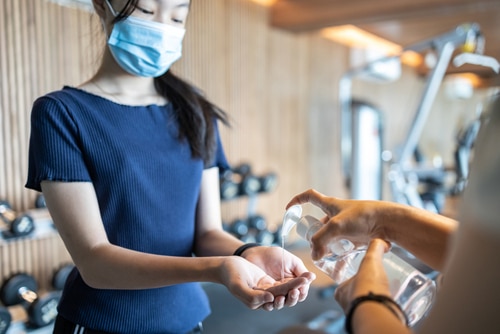 Sanitize or Wash, Sanitize or Wash…
I should have had t-shirts made with this saying on it given how many times a day I remind students to sanitize or wash their hands. Our school has hand sanitizer available in every classroom and at every exit/entrance to our building, as well as the sinks in the locker rooms and bathrooms.
On the first day of school, we were very clear with our students about making sure that when they come to and leave class, they need to wash their hands in the locker rooms. They also need to use the hand sanitizer stations at the door when they come back inside. For the most part, washing and sanitizing hand are things students should have been doing anyway. However, even with my high school kids, we must remind them regularly to create routine.
Shop hand sanitizer supplies >>
Cleaning Equipment
Because we have made some modifications to our curriculum in regard to Covid-19 and keeping our students safe, we have limited our usage of equipment in class. Students are no longer sharing any equipment or passing a ball to one another at any time during class. And any equipment they do touch to use in class is sanitized/disinfected by the teacher at the end of each class period.
To simplify the cleaning process, we've created a dedicated space where students put used equipment after class. The teacher then sanitizes the equipment before the next class comes in. If you can, split your equipment into smaller sets so you can rotate them for every other class period. Also, I'd recommend using a sprayer to quickly disinfect larger equipment.
Shop sanitizer & disinfectant supplies >>
Keep Calm
My last tip is, DON'T STRESS! The natural reaction is to stress and worry about what needs to be done, how to keep yourself and your students safe, how to properly clean your equipment, etc. But I strongly encourage you to be as positive as you can be and remember that as teachers, the example we set for our students and the way we handle ourselves, will directly impact how the students handle the situation. Sometimes things won't go as planned, but this is not new for us as PE teachers, so let's do our best to adapt and overcome any hurdle put in front of us!