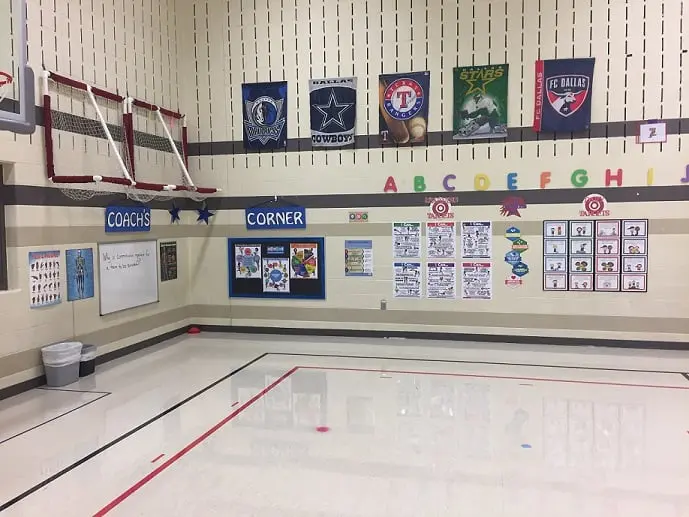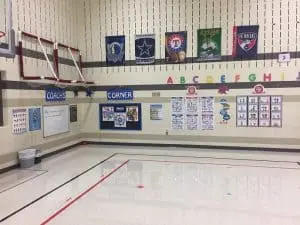 Ok, let's face it…organizing your storage & teaching space isn't the most glamorous of tasks.  You'd rather be searching for that great new activity for an upcoming lesson or doing something you feel adds value to your program.  I get it, believe me, I have a ton of things I could be doing right now to enhance my program not to mention the tasks piling up on the "back burner" of my to-do list.
However, I've come to realize over the years that taking the time to intentionally plan how I'm going to utilize my teaching space within a given lesson and how that space changes between classes/grade levels enhances the "flow" of my teaching and allows students to transition smoothly.  This intentional planning of space utilization coupled with the organization of a tidy storage area has saved me countless hours in both set up time and gaining student instructional minutes.
Change Starts with a Decision
"You'll never change your life until you change something you do daily.  The secret of your success is found in your daily routine."  – John C. Maxwell
I suppose I could stop right there, I mean, that's it… that's the secret.  The little things that you do intentionally each day add up over time to yield BIG results.  Sure, it takes a few extra minutes to straighten up your storage area or teaching space at the end of the day.  And yes, it takes extra time to "create your classroom" every morning.  And of course, your lesson planning takes longer because you're spending more time thinking through the transition times within your lessons and between classes.
Doing these things consistently day in and day out isn't the fun part of the job, and it's easy to skimp on the time you put into any one of those tasks.  Knowing this, and knowing yourself, you need to stop right here and decide if you're willing to commit the time it takes to manage your space efficiently and effectively.
An Organized Storage Area is a Must
Whether your office is your storage room, you have a standalone equipment room, or you utilize any spare spaces you can find within your school building, it is paramount that your storage space be organized.  An organized space allows you to access the things you need quickly.
Visualize your silverware drawer at home.  I'm guessing most of you have some kind of organizational tray for knives, spoons, forks, etc.  When you need a fork, you know right where to get it, and you know where it goes when it comes out of the dishwasher.  You don't have to think about it.  Your storage space should be the same.  You have a designated space for everything, and it goes back when you're done.  I keep the equipment I use regularly just inside my storage room doors for easy access.  I keep larger pieces of equipment and things I use less frequently toward the back and rotate them closer to the front when I'm using them.
Create Designated Teaching Spaces
I've found that thinking of my teaching space as "my classroom" instead of "the gym" has helped me utilize my space more effectively.  If you walk into an elementary classroom, you'll notice things like the reading rug, book nooks, whiteboards, a projector, a daily agenda/schedule, mailboxes, bulletin boards, walls filled with colorful posters, each classroom unique in how the individual teacher organizes his/her space.  Our classroom (the biggest one in the school) should be no different.
Think about what you want to accomplish in your space during your lesson (direct instruction, activities/games, assessment, discussion, etc.) and then decide where those things are going to take place in your space and how students are going to get to and from those areas.
My Essential Teaching Spaces
On any given day, my gym is typically divided into five main areas:
Teaching/instructional area
Equipment staging area
Activity area(s)
Assessment area
My entry & lineup area.
These five areas help me create a "flow" to my lessons which help students transition seamlessly.  My entry/lineup area stays the same, but the other four areas are flexible locations within my gym depending on the space needs of the lesson.  Some of these areas can also be combined to fit your needs but each plays a particular role in helping students focus on the task you're wanting to engage them in.  Remember, a place for everything, and everything in its place – like the silverware tray. 
Plan for Equipment Transitions
After you've established the areas in your teaching space (middle circle, squad positions, whiteboard, projector/TV, stage, bleachers, a particular line or corner of the gym, etc…) you can begin using those areas frequently as you teach.  Students will learn how you use the different areas in your class just like they learn where the pencil sharpener is or the reading rug is in their home classroom.
The key here is to be intentional with how you're going to move students from point A to point B.  Do they need to get equipment or put it away? Do they know where you want them to go for instructional time when they finish their warm up?  Is there an assessment planned during the lesson?  How do you handle the utilization of technology in your class?  All these things (and many more) need to be thought through either during your lesson planning or well before your class arrives.
Believe me, when your students know the spaces you use for specific activities and you have taught them how to transition between those spaces, your class (and sometimes your whole day) goes so much better!
Transitional Times between Classes
Finally, look at the big picture.  How is your schedule laid out each day or for the week?  Which grade levels are using the same equipment or playing similar activities?  Are any classes completing an assessment today?  Do you need to have technology ready for any lessons?  Visualizing what your day is going to look like as you move through the schedule helps you make better decisions on how to prepare your space.
Creating our classroom every day takes time.  Especially when your classroom is used by other people/groups after school.  I like to give myself at least an hour in the morning before my first class arrives to mentally walk through the needs of each lesson with the different grade levels and make sure I have everything prepared and a plan in mind to get through the day with minimal loss of instructional time.
Summary
Now it is up to you.  Start small and take a few minutes each day to tidy up your storage space, plan how you want to use your teaching space during your lessons, and then think about the big picture transitional times between classes.  Focusing on these small things consistently over time will not only help create a better workplace environment for you, but also help you squeeze the most out of the time you get to spend with your students.
All photos are credit of Jason Leach, a Physical Education Teacher in Keller, TX. Follow him on Twitter!