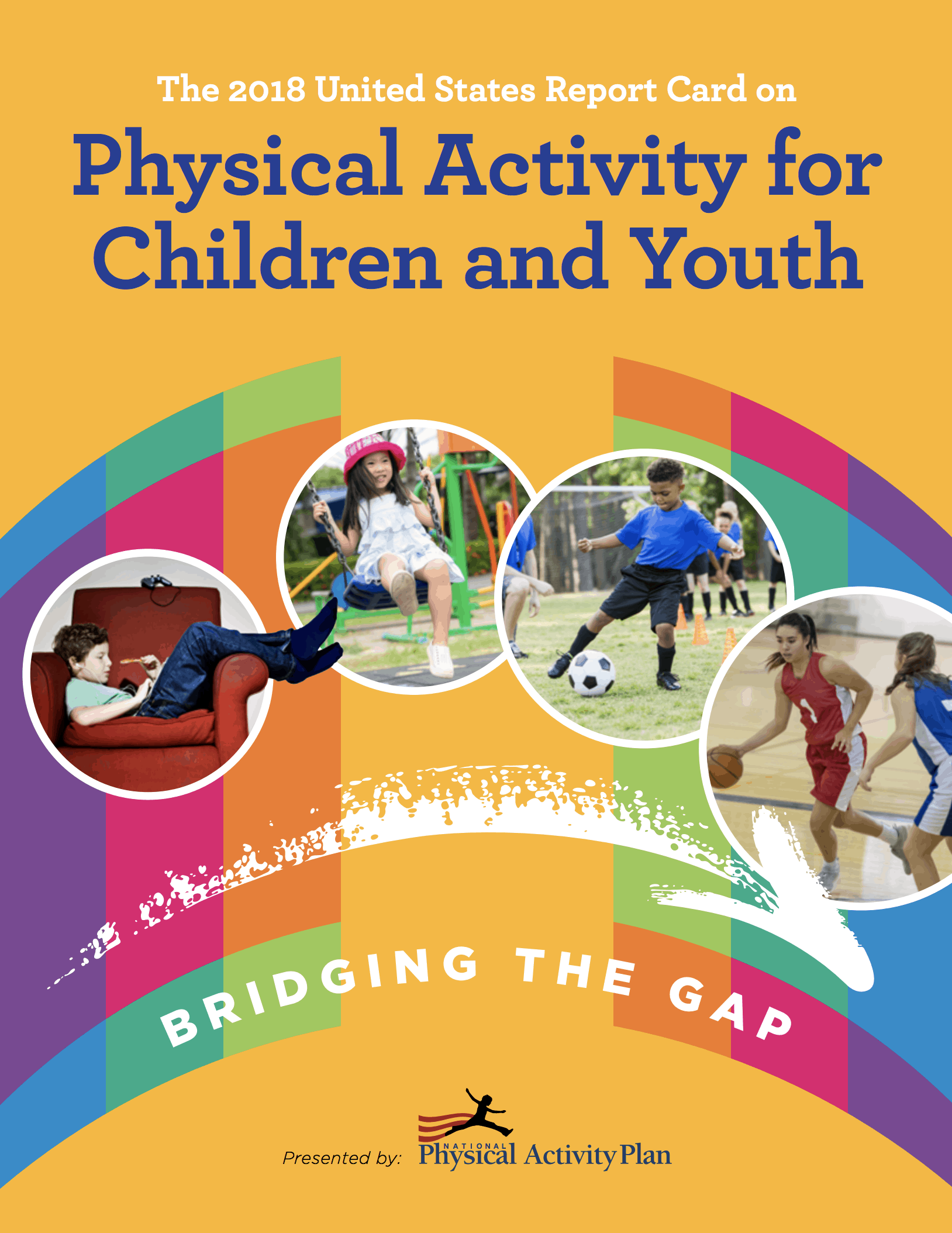 When I was a kid I didn't dread report cards. I heard horror stories of kids getting grounded because of grades and was jealous of other kids who got money for good grades. I guess I did alright? I really don't know. Grades were never a big deal in our house. I do know that I didn't do well in "penmanship" and believe me those low grades did NOTHING to improve my handwriting. My daughters are always embarrassed when I write school notes saying, "Dad, she won't even be able to read it." I suspect this is all part of the reason I have never been worried or concerned with reports cards and grades, neither my own nor my daughters'. This serves as a backdrop for this blog on the 2018 United States Physical Activity Report Card for Children and Youth.
About the Report Card
First, a brief summary of what the physical activity report card suggests. We are doing well in creating policies and providing spaces for youth to be active. Much of this probably came from the emphasis on built environment and policies in physical activity research in recent years. Unfortunately, this progress is not helping our grade in the number of youth engaging in physical activity. When the rubber meets the road and we look at how active youth are, we have gender, age, and zip code gaps. That is, girls, youth 12+ years, and youth living in high crime neighborhoods are all less active than boys, youth younger than 12, and those living in low crime neighborhoods. These data offer a sobering call to action that demonstrates we are making progress but have a long way to go.
At this point in my career, I rarely get too excited or too alarmed by reports such as this. Getting too wound up about them isn't productive, but ignoring them is not advocated either. As the physical activity report card says, one of its primary purposes is to serve as an advocacy tool. However, like my handwriting grade, the advocacy tool is only effective if it motivates. Frankly, I don't think the report card alone motivates high level decision makers in education. This isn't the first or the last report to suggest youth are inactive. However, I think this report can be the impetus for us to make changes in our own programs.
This Report Doesn't Solely Fall on Physical Educators
            When deciding how to proceed with this report as physical educators, I think it's important to know that the physical activity levels of youth is not solely physical education's cross to bear. As the report suggests many entities are involved including transportation, sports, family, peers, whole schools, community, and civic organizations. Often we use reports such as this and begin shouting, "See! We need more physical education." While this is certainly part of the solution, it is just that, part of the solution. Further, this is only part of the solution if the physical education program provides ample opportunity for physical activity during lessons and promotes physical activity beyond the gymnasium. This means that high levels of physical activity are not the only outcome for physical education. Are we teaching them the skills and knowledge needed for an active life? Or are we just letting them play and hoping they learn something? Are we making physical activity meaningful? Are we helping students learn the value of physical activity? If we are doing all of this, we are heading towards being a significant part of the solution.
4 Steps to Make a Difference
            But how do you know if you are doing that? I have always been taught, "If you want to change the world, start with your corner first." This is something I use in many aspects of life and I think it fits here. In order to truly impact the physical activity of youth and allow this report to have an impact, it seems starting in our own backyard makes sense. To do this I suggest four general steps:
Step One: Get a Buddy
Some call this an accountability buddy. As with any change in life, it's always easier to do with someone. Get a PE buddy you can share ideas with. This has to be someone who will be honest and compassionate. At times, we all need someone who will tell us like it is. This is one of those times. As you start to look at your own program and how you are addressing youth physical activity, the eyes of this partner will be invaluable.
Step Two: Write a Program Mission Statement
Not your mission statement, your program's. This is also part of the curriculum development process I have written about before, but it's also handy to have around when you make other programmatic decisions. For instance, you may decide that you want to integrate concepts associated with making physical education more meaningful for students. Does that fit with your mission statement? Your mission statement is global in nature, yet targeted enough to guide your decision making.
Step Three: Unpack your Program
Unpack your entire program from curriculum to teaching style to instructional practices to schedule to equipment. This takes courage. This may require peeling back lots of layers and asking "Did it work? Why not? How can I make that better? Do we need to get rid of that? Keep it? Tweak it? The idea of being so raw gives me the willies just typing it. I have done this with book chapters, courses, lessons, approach to preparing teachers, and my approach to working with doctoral students. Never was it comfortable, always it was worth it.
Step Four: Celebrate!
As you go through this process, make time to celebrate how well you are doing. This isn't about throwing out the baby with the bathwater. Some, probably much, of what you unpack will get repacked. This process should be encouraging and invigorating. Too much negativity ruins that.
As with those similar reports before it and those that will come behind it, this physical activity report card provides us with valuable information. From my perspective, the best use of this report is to see where we are as a country and use that as a spring board to change where you are in your corner of the world. tHRIVE!