Wouldn't it be fantastic if all of our students had their own electronic device?
If these devices aren't available in your school then plickers in PE are definitely for you!

What are Plickers?
Plickers stands for "paper clickers." They are 40 pre-made cards that let teachers collect real-time formative assessment data without the need for student devices.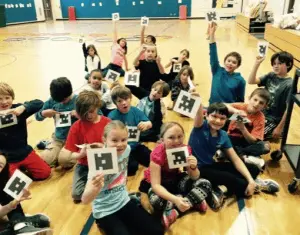 Students are given or assigned a card to hold up to answer questions given by the teacher to check for understanding.
All the teacher has to do is scan the room with any IOS or Android device. Results are given instantly as to which students understand and which do not.
The results can be shown for each individual student or you can have it show the overall percentage for the class.
Get the pre-made Plickers cards for free! Or you can purchase a laminated set on Amazon for $20!
The Benefits of Plickers in PE:
Easy to use

IOS- and Android-friendly (phone or tablet)

Totally free

Infuses technology into your program

Quick and paper-less

Grades instantly – No grading at home

Allows you to plan questions ahead of time or on the fly

Great tool for pre-assessments, checks for understanding, polls, class surveys, and exit tickets

Free! (Print your free set)
Resources:
Check out the following tutorials for setting up and using Plickers!
YouTube Plickers Tutorial by TeachPhysEd (Benjamin Pirillo)
Plickers Blog Post by

T

eachPhysEd (Benjamin Pirillo)
Plickers Blog Post by Phys. Ed. Review (Kevin Tiller)
Plicker Questions Blog Post by

Phys. Ed. Revi

ew (Kevin Tiller)
Check out my website, PE-4-Kids — Movement Matters!
See you on Twitter at @PEberingmx!