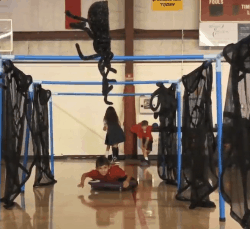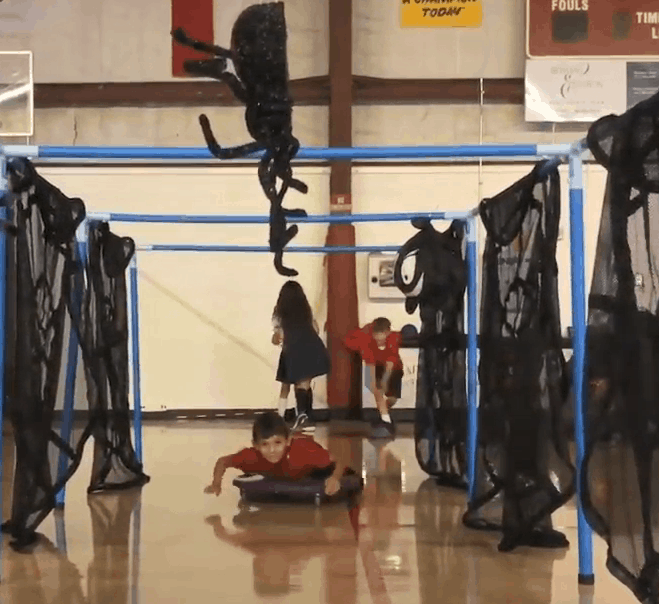 Themed stations are one of my favorite activities to put together for my students. I love watching their faces as they see the decorations and equipment. I will be honest, it is extra work and I found myself getting away from themed stations when I switched schools. For 8 years I taught at a K-4 campus, where I saw all of my students every day, making setting up stations a breeze. Instruct on Monday and do stations all week long, easy! In fact, I posted a video on PE Universe with my students doing Spooky Fitness Stations. Click here to watch it.
I couldn't understand why it was such a struggle for me to implement the same routines with my new K-8 campus. Then I realized it's because I don't see my students every day, along with the elementary vs. middle school age gap. My schedule bounces back and forth from upper and lower grades, making anything with an elaborate set up difficult. Trying to set up and break down the stations several times a day was a big turn off. At my old school I was able to set up once and keep them up over night because our gym was only used for our PE classes. That's not the case at my current, so themed stations went to the way side.
Fast forward 5 years to when I stumbled across Cap'n Pete's Power PE and his Super Bundle for Halloween. I downloaded it and got started planning right away. His visuals and game ideas made planning quick and easy. I was able to pull together stations with equipment I already had in my closet and used my decorations from previous years. See these fun PE Halloween Stations in action!

PE Halloween Stations and Equipment Outline
Smash the Pumpkins with Medicine Balls and Stretch it Out
Ring the Doorbell using DuraCoat Foam Balls
Hurdling the Headstones with SnapBack Hurdles
Score a Ghoul using Gophers Polo Pack
Floating Ghosts using PaddlePro Paddles
Witches Hat Ring Toss using 24" DuraHoops
"Boo"Ling using Ultra Bowling Set
Pumpkin Patch Roll using Ultimate Scooter Boards "pumpkins" were Orange KettleBALLS
Skate through the Graveyard with Gophers GoGliderz!
Crawl through the Spiders Web (Discontinued Gopher Product called Soaring Spiders)
Spider Climbing Wall
I hope you find inspiration from this post like I found from Pete Charrette aka, Cap'n Pete! Please share with us your station ideas.