While teaching physical education in Lake Bluff, Illinois, I had the opportunity to teach in a one hundred year old facility that housed 250 K-2 students.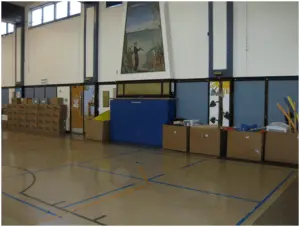 This building was unique and carried with it maintenance issues and many structural needs. Most unique was the space that I was given to carry out my instruction each day. The "gym" had a single basketball hoop at one end and a stage at the other. The focal piece of the room was a huge fireplace on the East wall with a beautiful mural stretched to the ceiling.
The room posed many limitations and required me to be creative with my teaching. This was largely due to the fact that five classrooms and the front office (main entrance) were directly attached to the room. This meant a variety of things throughout the day, including whole classes walking through the gym to go to areas of the school such as library, lunch, music, art, or recess. Classroom teachers had to deal with screaming children and my music during activities, and we couldn't throw objects at the walls because they were lined with classroom bulletin boards.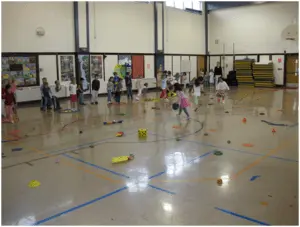 Above all else, the most unique part of this experience was that I was visible to everyone at all times during my instruction. Visitors that came to East School had to go through the gym to get to any other destination after checking-in with the secretary. Every teacher in the building had to walk to the office to check their mailbox or visit the office staff. My principal had to walk through my class repeatedly throughout the day to get to any other room or location including the district offices that were upstairs. It required confidence to teach in such an environment and it provided extra motivation to demonstrate effective teaching strategies and creative planning within the curriculum.
For an example of the space and what our foot traffic looked like during class, check out this PE Universe Video
This unique environment shaped my teaching forever!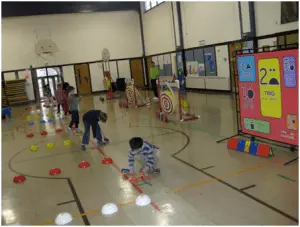 Teaching at East School shaped my instruction and love for being an educator because it positioned me as a focal point of the school. Over the years I have had the opportunity to teach in facilities that had amazing indoor and outdoor spaces for my physical education classes. I also taught for three years without an indoor space and had to come up with creative ideas to withstand the weather conditions of Montana. But nothing shaped my teaching as much as my time at East School where I had the daily opportunity to showcase the program to families, staff, and community members.
No matter your circumstances, have goals that include motivating all stakeholders in physical education experiences throughout the year. Invite staff, parents, and community to participate in your program. Be creative as you look at your facilities, equipment, and nearby resources to determine their hidden potential. Seek out administrative support for your teaching and begin by providing highlights of the great work you do each week. Invite administrators into your classroom rather than waiting for them to come in during the week. And lastly, when that class of students comes into your amazing and unique instructional space take it as an opportunity to teach like everyone is watching.