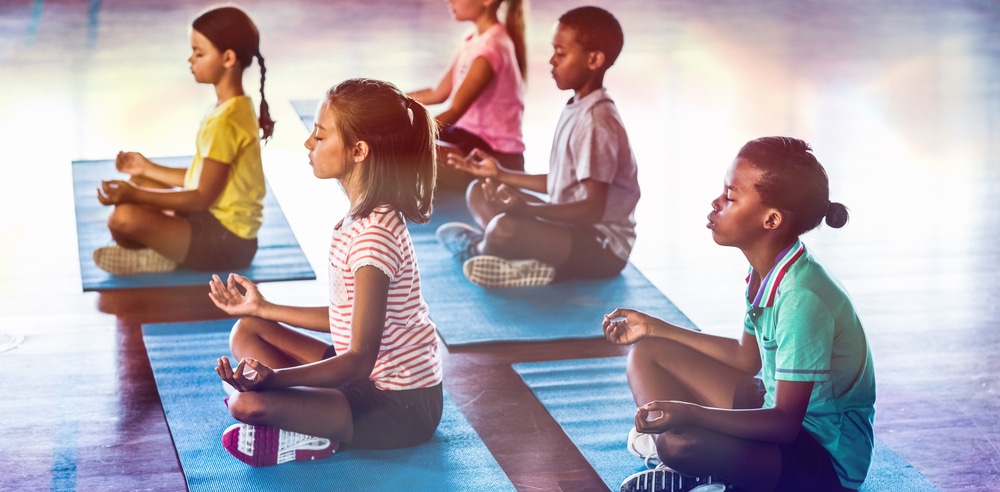 Yoga is more than just a collection of stretching exercises. An ancient holistic discipline that hones the body, mind, and spirit, yoga offers a multitude of physical and mental benefits that are as relevant to middle school students as they are to adults. Incorporating the practice into your Physical Education program helps students in a multitude of ways, while also aligning with state and national standards for fitness.
Contrary to appearances, yoga isn't just for the flexible. Learning the proper form of some of the simpler moves is not too difficult, and people both young and old can quickly get the hang of the practice. By teaching your students to appreciate yoga, you help cultivate a fitness habit that will serve them well throughout their lifetime.
All-Around Fitness
Yoga is an excellent total body workout. The discipline combines cardiovascular exercise, body weight strength training, and flexibility conditioning all at once.
Regular yoga practice helps improve one's balance and mobility.
Even a short 15-minute routine done daily can help tone the body, burn off calories, and improve one's range of motion.
Each pose engages multiple muscle groups, which can help tone the body and build functional strength.
Stress Management Benefits
Yoga has been found by many mental health experts to be an excellent means of managing and reducing stress levels.
The meditative nature of yoga helps improve concentration and fosters a sense of control over oneself.
Yoga incorporates deep breathing exercises, which have a calming effect on the body.
Regular yoga practice can help improve one's heart-rate variability and mind–body connection, which play a key role in responding to stress in a healthy manner.
Yoga can also help the body lower the levels of the hormone cortisol, which is tied to stress and blood glucose concentration. This not only reduces the feelings of stress but also helps the body control impulses like stress eating.
Teaching Mindfulness
Mindfulness helps teenagers creatively manage their emotions and improve their ability to focus on the task at hand, which can help them perform better academically. It is an excellent tool to teach your students the value of mindfulness and provide them a means to cultivate a more mindful mental state.
Yoga is meditative. Meditation is a great way to foster a greater awareness of one's thoughts and impulses.
Mastering each pose requires a great degree of focus and discipline, a key component in being mindful of the present.
As they get better at a pose, learners also ingrain a habit of concentration on the task at hand.
Meeting State and National Fitness Standards
Yoga and other flexibility exercises align with many of the goals laid out by the SHAPE National Fitness Standards.
Yoga adds variety to a fitness program and can challenge students consistently, which can help them avoid fitness plateaus.
The diversity of the poses in yoga means that it is easy for instructors to formulate new workouts that keep students regularly challenged.
Yoga is easy to perform and can be done almost every day, which makes it among the best ways to cultivate a daily fitness regimen.
SOURCES AND CITATIONS:
https://www.webmd.com/fitness-exercise/a-z/yoga-workouts
https://www.yogajournal.com/teach/teaching-yoga-to-teenagers
https://www.yogajournal.com/lifestyle/yoga-poses-for-teenagers
https://www.psychologytoday.com/intl/blog/urban-survival/201505/7-ways-yoga-helps-children-and-teens
About the Author:
Harsh is a Content Writer at Diet Chart which is a leading Nutrition, Diet, Health and Fitness Blog. He is keen to spread his knowledge through words and sharing resourceful study on health and wellness and tips like Yoga for Digestion. Read more articles from Harsh at Diet Chart.