Congratulations! You're ready to start your first teaching job. Starting off your first year can be a bit intimidating. So many student names to learn, not to mention all your new co-workers and their personalities. You're probably feeling excited, maybe even nervous or anxious. These feelings are completely normal and know that you're not alone. As a Physical Educator, you have many FREE resources available to you. And since you're reading this blog, then you've already found a great one. There's a whole great network of PE professionals ready to share their knowledge with you. We are definitely a profession that has each other's backs and want you to be successful. We will talk more about that later in this blog.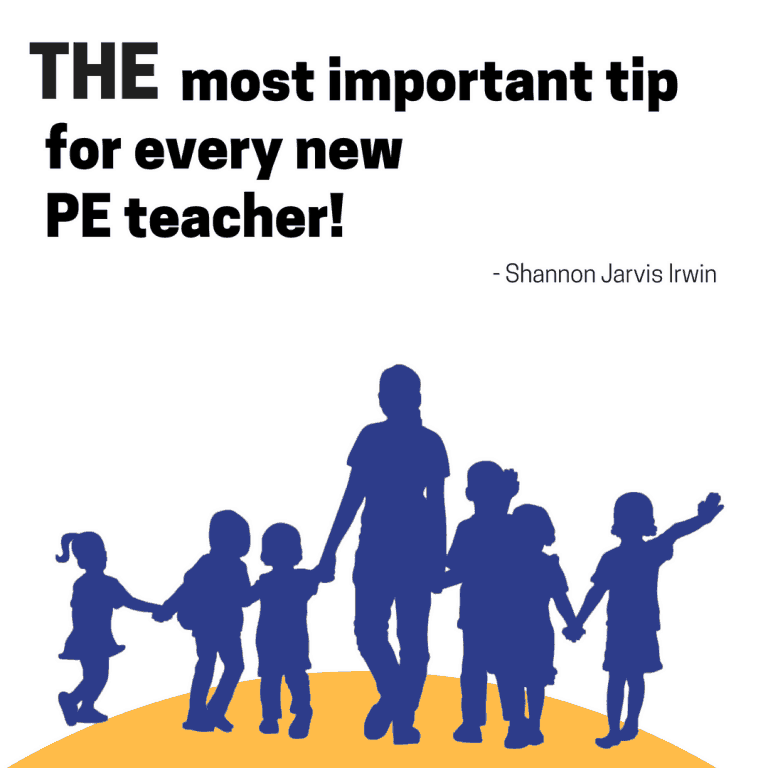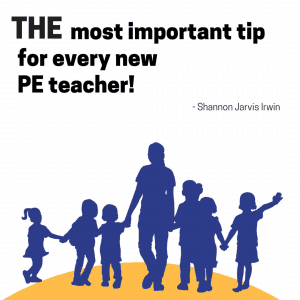 Being a new teacher, I am sure many people want to offer you advice, and it can really be overwhelming. So, let's cut the list and get straight to THE most important tip for new PE teachers is: establish relationships. Have you heard of the saying, you can't teach them, until you reach them? While this is very true, I am not just talking about establishing relationships with your students. Think bigger.
You are now a part of a school community, embrace it and learn who everyone is and what role each person plays. Who changes your light bulb? What the lunch lady's name? It's important to be seen outside of the gym and know the people around you who are serving in your same school community. You never know how these relationships can help you or benefit your students in the future. While it's never been my intention to gain something from having these relationships established, other than just creating a positive environment in which we all serve, I can definitely say that I have benefited many times throughout my career because of these relationships existed.
For example, bless our lunch lady Mrs. Maria. Our PE class has invaded her space several times since I came to work at Saint Andrew, and she has always greeted us with a welcoming smile. PE in the cafeteria is not the greatest choice, but when plan A and plan B both fail, I am glad I can always go to Mrs. Maria for help. Another time that comes to mind is when I came back to work after missing several days away for a conference, the head of maintenance noticed my absence and asked me if I was feeling better. I explained that I wasn't ill, just out learning new ideas for the gym. During our chat, I explained a new game that I learned and wanted to get for our students, but I needed a way to figure out how to fund it because the equipment was not in the budget. No joke, he went back to his office, googled the game and figured out how to make the equipment with items left over in his workshop. Such an awesome gift to our students and years later, we still use that equipment today.
Being an active part of a school community that supports each other is a fantastic way to build and foster these relationships. Don't be afraid to attend the Art showcase or evening school play because it's not in your realm of duties. Help where you can and give back to those relationships and your school community. Also consider where your knowledge of being physically active can help benefit your school community. Is there a committee that you can serve on to be an advocate for physical activity? Or an afterschool club that you can create or help sponsor that promotes kids being active? We have a running club at Saint Andrew that meets once a week after school for 45 minutes. Every year it grows and grows in attendance. What started out as 20 students and two parents 5 years ago, now has 175 student members and about 20 parents who regularly attend. By far, the largest after-school club in our school.
One of the most important relationships to build is with your student's parents. Learn who belongs with whom by paying attention at drop off and pick up. Don't be afraid to introduce yourself and let them know you're excited to teach their child. Make an effort to small talk or at least acknowledge parents in passing, just remember not to get into a full-on conference on the sidewalk. Also, it's so important to never pass up the opportunity to tell parents something positive about their child; and if possible, do it in front of the child. It's always a win/win scenario. Bottom line, avoid only communicating with parents when there's a discipline issue. Having a relationship already established with a parent on good merits will go a long way when a more serious issue comes up and needs to be addressed.
Establishing relationships in your school community is valuable, but don't forget about establishing relationships in your professional community as well. Our profession is known to rally and support each other when we need help or have questions. This bond has really grown through use of online resources and social media. Online communities for Physical Educators, such as PEUniverse.com and PHYSEDagogy.com has really advanced our networking possibilities and for me has widen my knowledge. Twitter also makes it easy to connect with other passionate PE Teachers. In fact, @PhysEd released a list of 145 #mustfollow PE Teachers I suggest you check out and click follow. My motto throughout my career has always been, if you know something great, then share it. Many Physical Educator share in this thinking and are willing to help you if you reach out.
So welcome to the cool club, you know us PE teachers are the coolest, right!?! Easily the most favorite special, hands down. No seriously though, we get to make an impact on the whole school, now how cool is that? Stay passionate. Get connected. Build those relationships.