Our goal as PE teachers is to encourage and develop young students to become lifelong lovers of fitness and well-being. At the elementary level, and even the middle and high school levels, if students are not enjoying the fitness activities you are doing in your classes, they are not likely to have a connection with lifelong fitness. And if you really want to get students hooked on exercise I suggest hooking their families.
One way of accomplishing this goal is to host a FamilyFitness Funday. This might be a once a year event to start, and then it could grow to once a month or once a week depending on parent involvement. I recommend if your school has a PTO or similar association that you involve them and maybe even plan to have the event the same night as a meeting for their organization. Again, the goal being to get as many families involved as possible to support your student's health and well-being!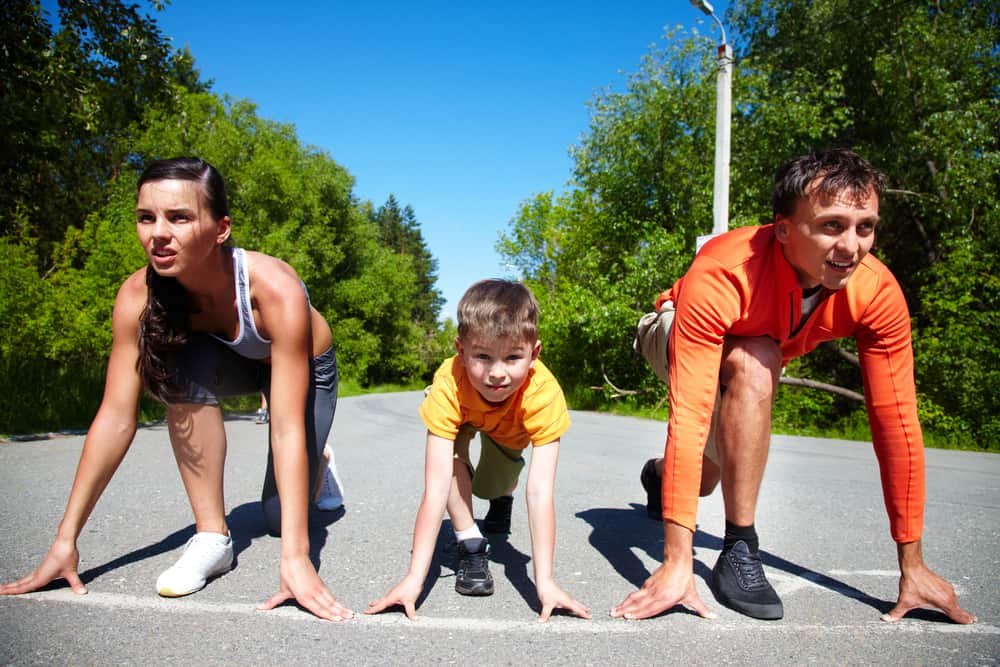 NASCAR Fitness
Here is one suggestion for you to try. And I do recommend starting simple, easy, and fun to get people hooked. One of my favorite activities to do with my elementary students was something I called NASCARFitness.
You will need to create a racetrack using cones in your gym, including on the inside of the track for the pitstops. You will also need to create signs that list the exercises you want students to do when you call out what has happened. I always used pile-up, out of gas, flat tire, and oil spill.Below you can see an example of what each caution had students doing on the race track.
Pile-Up = 10 push-ups
Out of Gas = 10 squats
Flat Tire = 10 crunches
Oil Spill = 10 jumping jacks
I recommend making signs so that you can change up the exercises each class.
How to Play
When you have an entire class involved, I would put students in groups of three. One student travels around the racetrack, one waits in the pits, and one rests/refuels. You can determine the number of laps each racer must complete before entering the pits. I usually start with one lap and then decide based on the grade and class if I can increase the laps.
While students are traveling around the racetrack, you can change up their method of travel. Maybe you want them to gallop one day or run or even get out scooters. For Family Fitness Funday, you may want to use scooters because kids love watching their parents ride a scooter and parents love the feeling of riding a scooter like when they were kids. Again, kids laughing with their parents while exercising is a great way to get them hooked!
During the "race", the teacher needs to call out one or two cautions per lap. If the teacher calls out Flat Tire, all racers must stop where they are and do their 10 crunches, or whatever exercise is attached to that caution. Once they complete their 10 crunches, they get up and start racing again. One suggestion for safety of the racers is to tell students when they hear the caution they must move to the outside of the track to do the exercises.
Keep an Eye on Parents!
Another word of caution is when you do this for FamilyFitness Funday, make sure you keep an eye on the parents! If they have not exercised themselves in a long time, you want to be certain you don't have them struggling to keep up! You want them to enjoy it, be active, and want to do the same more often at home with their child!
Other Family Fitness Activities
Other activities that I have done on Family Fitness Fundays include different tag games, fitness walking with pedometers around the school to see student artwork or classwork that is posted throughout the school (you could also turn this into a scavenger hunt), bike rodeos, jump rope stations, student created circuit stations (this is a fun one because the students know they are going to do these with their parents, so they get creative).
Again, with Family Fitness Funday, your goal is to get both your students and their families into school to be active and enjoy themselves together in the hopes that they will start exercising as a family at home! My last suggestion to make the event more enticing to students is to offer healthy snacks; and for the parents, you could coordinate with a local hospital or doctor to offer free health screenings and even flu shots!
If you have any suggestions for Family Fitness Night, I'd love to hear them. Please share them in the comments below!