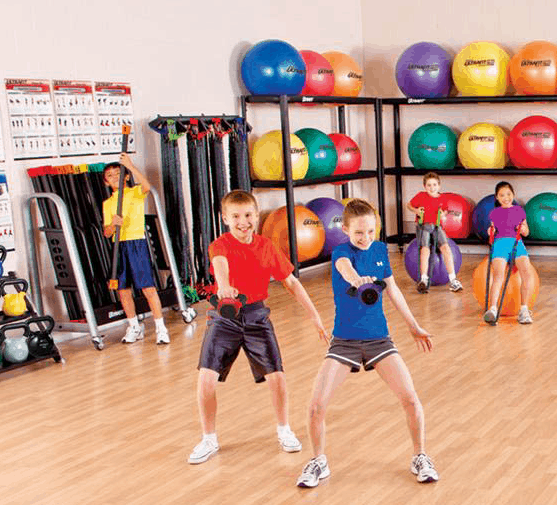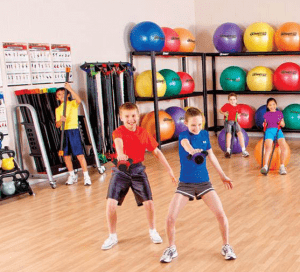 Reach and teach the benefits of an active and healthy lifestyle to more students at your school by starting a fitness club. Continue reading to learn helpful tips and strategies for launching a fitness club at your school!
K-12 Physical Education teachers are encouraged to focus on fitness and activity in our classrooms to help combat the rising obesity rates in the U.S. The vast majority of P.E. and Wellness teachers are incredibly dedicated in their commitment. One of the biggest challenges to this goal is that students typically only have Physical Education classes once or twice a week. Others have it for one quarter or semester and then not at all for the remainder of the school year. As fitness professionals, we all would likely agree that challenged scheduling is not going to help our students achieve any long-term fitness goals during school hours.  So if these schedules appear to not be changing (and most will not unfortunately), what is the next step or potential genesis of helping students achieve some authentic fitness goals?
Many schools are now looking at Fitness Clubs either before or after school to help augment the PE staff's and curriculum's fitness pursuits.  Establishing a fitness club is a tremendous opportunity to build school spirit, galvanize staff and students, and make fitness and activity a healthy focus at your school.  Here's what we did at my school and what I would recommend as the critical steps to getting a Fitness Club up and running, literally!
Obtain Approval
I always recommend seeking approval from the Principal, Athletic Director, or staff member in charge of clubs and activities before doing anything else.  Being certain you have followed all of the district's protocols for starting anew club is significant and can help you avoid unnecessary hurdles, speed bumps, and potholes down the road.
Seek "People Power"
Approach staff and/or parents that you have connected with who share your desire for fitness.  Plant the seed about your idea and see who would be willing to help.  Once you have some committed staff and parents, you'll probably need both, you can then begin to forge a game plan.  Committed adults will be critical to your successful club launch.
Build a Fitness Club Plan
This part is tri-fold and important, as your infrastructure will be paramount to your success.  You will want to complete the following three initiatives before you seek out students:
Determine whether your fitness club will be pre- or post-school and what days you will meet
Build a "curriculum" of fun activities for your club sessions
Secure space outside of your school for good weather days and explore space inside your school for the inclement or cold weather days
Put the Word Out
Begin to announce to the student body, staff, and your families that you have limited space and are launching a fun fitness club.  Morning announcements, flyers around school, social media, and newsletters proved very helpful when we launched our fitness club.  I recommend the "limited space" verbiage because it is probably true that you can only safely host a certain number of kids. It also adds a little positive pressure to sign-up quickly.
Launch with Energy & Enthusiasm
Kick off the Fitness Club with all the energy, enthusiasm, and excitement that you can muster! We had a blast!  Everything was meticulously planned for maximum activity and movement. We had the music pumping, actions planned for almost zero transition time, and the very best fun and active games that we could design so that the morning session was active and awesome for the students and staff.  Everyone couldn't wait for day two!
Additional components you can explore and expand with once your club is up and running:
Have fun formulating a cool and fun name for your fitness club
Consider finding financial support for club t-shirts for students and staff
Healthy snacks for after the club is fun, too.  Our parents were so supportive that they worked with our cafeteria staff to provide a healthy breakfast for all of our members.
Determine a culminating goal for each season (fall, winter, spring). Our fitness club started with a 1-mile, then a 2-mile fun run in our community. Now, 4+ years into existence, it has evolved into an annual 5k that the entire fitness club participates in.
These are the tips and strategies that we used to start a small club at my school. I recommend utilizing these steps to explore and ultimately launch your club too.
What other ideas do other professionals or parents have? Are there other steps that could help or streamline the process?