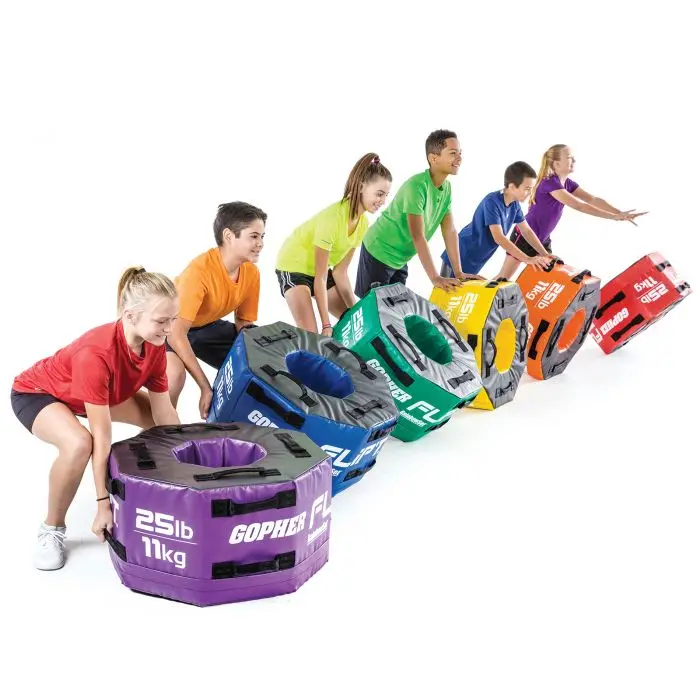 Get your students moving with indoor tire-style training designed for beginners! Gopher's Rainbow® IntroFit™ Flip'T™ Tire Trainers are a non-intimidating, safe way to introduce students to a new weight training method. The Flip'T™ trainers are soft for younger students and are safe for indoor use. Here are 5 unique tire activity ideas that will ensure your students have fun while training with tires!
1. Flip'T™ Relay
In a relay format, students run down to the other end of the gym to flip their team's trainer back to their home base. Teams can either choose to flip their trainer forward once or another team's trainer backwards once. The first team to Flip its trainer to the finish is the winner!
2. Flip'T™ Beanbag Rally
In this relay style game, students run down to the opposite end of the gym to flip their team's trainer on its side. Once on its side, students can throw a beanbag (one beanbag per person) through the trainer to score a point for their team. Watch out, other teams can knock your Flip'T™ trainer over to prevent you from scoring points. The first team to score all five of their beanbags is the winner!
3. Pyramid Stack
In this cooperative activity, students flip the trainer from one end of the gym to the other. Once all of the trainers have reached the other end, students must work together to stack the Flip'T™ trainers in the shape of a pyramid. Unstack the pyramid and flip the trainers back to the beginning for the next groups' turn.
4. Musical Chair Plyometrics
Much like the traditional game of music chairs, students run around the gym waiting for the music to stop. Once the music stops, players must run to the nearest Flip'T™ trainer to perform toe touches. Only three players are allowed on each trainer. Students who miss out on a trainer are out of the game. As the game continues, limit the number of spots available on a trainer from 3, to 2, to 1. Variation: Remove a Flip'T™ trainer from the gameplay area to decrease the spots available.
5. Flip'T™ Fitness Exercises
Perform a variety of traditional tire-trainer exercises including flips, burpies, pushes, partners flips and partner fireman carries.
IntroFit™ Flip'T™ Tire Trainers are 25 lbs and can be purchased in a rainbow set. For a more intense workout or to train with older students, check out the full size Flip'T™ Tire Trainers. They are available in 50, 90, 130 and 175 lbs.