One look and it's easy to tell that YOU.FO is a cross between Lacrosse and Ultimate Frisbee. But, that's only the beginning. As a kid, Bas Ruyssenaars was inspired by a variety of sports and activities like soccer, Jai Alai (the world's fastest ball game), disc games, and even martial arts. Like most growing up without internet, Bas always created his own sports games using materials in and around the house. The idea of YOU.FO was one of those games—his dog's rubber ring and a large wooden stick as the launching stick. It kept him entertained for days trying to throw it higher and farther until his next idea came along.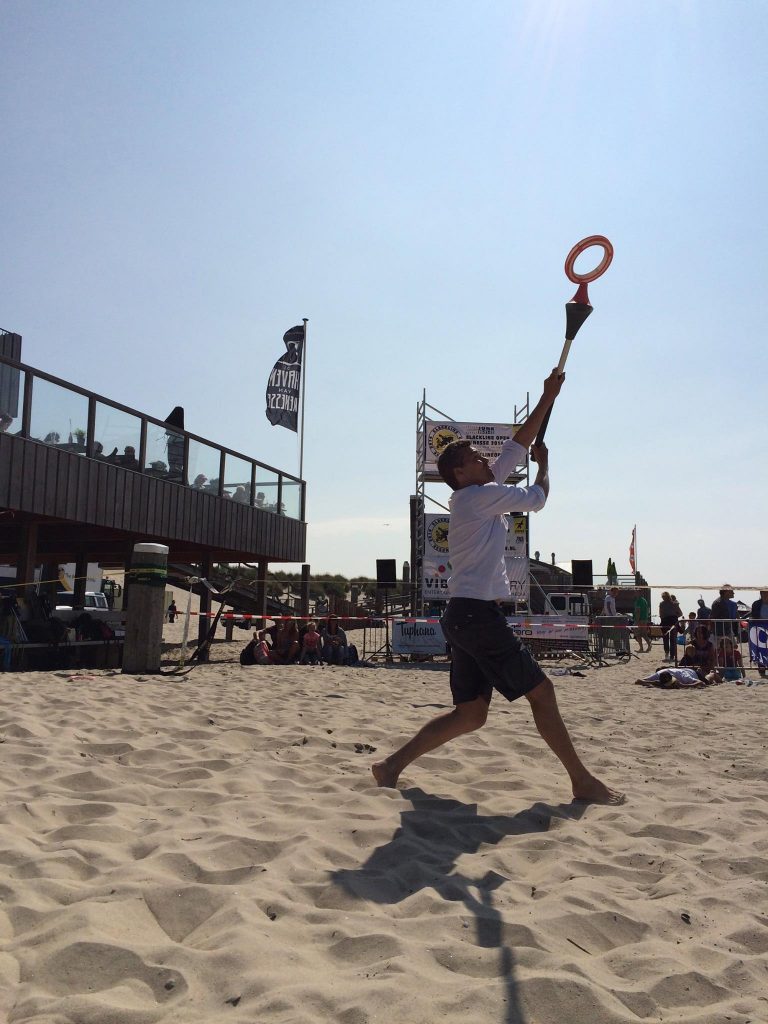 Fast forward to the year 2010. While on vacation and playing Frisbee with his son on the beach, he suddenly remembered the game with the ring and stick he created when he was 16. With the growing popularity of Ultimate and lacrosse in the U.S. and Europe, he thought it would be quite extraordinary to develop a hybrid of those two sports and using inspiration from various others at the same time. Once back home, Bas created the initial idea with a team of industrial designers specialized in aerodynamics, along with sport innovation professionals and physical education teachers. After a few years of concept development and fine-tuning, YOU.FO was born!
Since then, YOU.FO won several international awards (Profit European Award for Innovation, ISPO Brand New Finalist, Sports Innovator Award, etc.) and was an official demo sport at the CSIT World Sport Games '15 in Italy. In addition, YOU.FO has been introduced in 15 countries on 4 different continents already. Now, YOU.FO finally made the flight over the Atlantic Ocean and has just landed in the US.
What is YOU.FO?
YOU.FO is a versatile sports and leisure game, based on throwing and catching an aerodynamic ring with specially designed sticks. It can be played as a competition game or freestyle, in teams or one-on-one, at the beach, in a park, on city squares, and even indoors in a gymnasium. YOU.FO is 'Easy to Play, Fun to Master', which means the basics are fun and easy to learn, but you need practice and dedication to improve your skills.
YOU.FO Zone is the official competition game and can be played 3 against 3, 4 against 4, or 5 against 5. It is played mixed-gender, non-contact, self-regulated, and the most unique rule is that players continue playing at all time. This increases the level of competence, autonomy and relatedness from students and players, because everybody can participate in the game at its own level. If the ring falls on the ground, everybody is allowed to claim it in order to get possession of the ring. This ensures every player to play a role in the process of scoring or defending. In addition, it is non-contact and you cannot walk or run while having the ring. This ensures inter-player dynamics and teamwork in order to be able to score or defend.
Play variations for PE?
Within YOU.FO are three basic techniques: throwing, catching, and picking up the ring. The first step in learning the basics of YOU.FO is improving these three basic techniques. Because of the development of YOU.FO in co-creation with PE teachers and students, YOU.FO developed many fun and dynamic play variations that are perfectly suitable for PE.
A challenge or minigame can be added within each play variation, ensuring increased fun and competence during activities. These challenges, minigames, and activities can be changed to different circumstances (for example; outside or inside, beginners or advanced, elementary or high school, etc.).
For example, students need to learn the basics of throwing and catching. After minutes of practice, they may feel bored and that would be the moment to drop in a challenge or minigame. Students need to get a high score during a 2-minute-challenge, they get excited, can set a score, experience a high level of fun and competence, while they are still doing the same activity of practicing throwing and catching in the same circumstances as just learning the basics.
YOU.FO developed an online environment for PE teachers, students, players in which all this information is accessible for free. The platform is named YOU.FO World, and it contains instruction videos, lesson plans, tips and tricks, challenges and minigames, game rules, and more.
How to ensure safety?
YOU.FO is a sports game using firm and sustainable materials for the stick. In addition to the stick, it uses a flying object to pass and score. Because YOU.FO can be played at any age level and both indoors and out, it is always important to ensure safety.
For this reason, it is possible to use safety gear (including safety glasses or a mouth guard), but the developers of YOU.FO also thought this through. YOU.FO is played non-contact, but more important, players need to always remain arm + stick length distance from opponent players. When a player wants to throw the ring, the opponent player needs to remain safe distance so nobody can be hit with another player's stick. In addition, when a player has possession of the ring, this player can be 'blocked' by a defensive player ('blocking' means standing arm + stick length distance, with the stick horizontal, this has the consequence that the ring possessive player cannot throw the ring through or over the blocking player). This is a tactical game rule, but also ensures safety for all players, because players are not allowed to throw in or over a defensive players direction.
YOU.FO is a self-regulated sports game. Players can discuss and decide the boundaries and feasibilities of the game themselves. If players are more competitive and would like a more physical game, they can call fewer fouls. If players want others to pay more attention during 'claiming' and defending (for example intercepting the ring), they can call more fouls or communicate this in advance. It's important for players respect each other and the rules of the game. This is one of the core values of playing YOU.FO.