It happened so swiftly I don't think any of us were truly ready for the situation. In what seemed like a blink of an eye the coronavirus pandemic went from being something that we watched on the news to something more serious than we could have ever expected. As the cases began to pile up and the spread began to reach epic proportions, we transitioned from vigilantly cleaning equipment to following state-mandated stay at home orders that closed gyms, small studios, and performance facilities.
As a facility located in New Jersey, we tried to take a proactive approach by looking to create solutions that not only would retain our clients/athletes but also ensure we were making the right decisions for the health and safety of our members.
Unprecedented is a word we hear often these days, and I believe it best describes what it is we are experiencing as human beings, coaches, and facility owners. In many ways, coaches are still trying to find ways to adapt to this situation and to be effective resources for our athletes.
While attempting to navigate the early stages of our facility's full lockdown of our facility, we as a country strive to flatten the curve. As a coach and fitness business owner, I wanted to take a little time here to share three lessons I learned during our pivot that might be of use to coaches in similarly challenging situations.
Lesson #1: The Magic Is in Our Community
Our clients and athletes come from all walks of life and choose our facility for a multitude of reasons. One of the things they all have in common is they enjoy the human connection of training and interacting with other awesome people. During these very scary and uncertain times, one of the things people need is leadership. Understanding and feeling that from our community, the last thing we wanted to be was to go silent on them.
To respond to that need, we wanted to be out in front with our messaging and reassure our athletes that this moment is much bigger than a physical place to exercise. It is about protecting their health and well-being. We made efforts to keep them informed of each step in the process, from filming public service announcements regarding changes to our cleaning policies to providing options for continuing their fitness journeys with us once we were mandated to close our doors. It was important that they know and understand that they are not alone, we are all experiencing this together. that we lean on each other and work together to find solutions.
Some action items we have found to be more powerful during the current crisis are:
Facebook groups where clients could discuss challenges and solutions to things they might be experiencing during the pandemic.
Regular Instagram Lives to share news and motivational messages with our tribe.
Live hangouts on streaming platforms like Google to stay connected.
Lesson #2: Adapt, Pivot, and Embrace New Methods and Technologies
One of the biggest lessons came when pivoting our clients to online services. We had historically offered online service options prior to the current situation. These options consist of exercise libraries, apps, and delivery thru on-demand workout programs. One of our early adjustments was to offer every group fitness participant access to these programs. This option represented a significant upgrade value vs. just showing up for a class or two. However, after switching most of our people over to these formats we noticed that many were not doing the workouts or utilizing the programs.
So, after some discussion we decided to try to move our existing group schedule to a virtual format via streaming platform (i.e. Zoom, skype). Admittedly not something I was originally a fan of, simply because I didn't feel the effects would be sustainable. But after all, pivoting means trying new things. To my surprise it was a big hit and continues to be among clients. I credit this format with growing participant numbers and engagement as we have routinely seen full families including spouses and kids participating in workouts together regularly since shelter in place orders have taken effect.
One of the constant threads in feedback from our community about these workouts is that the energy of having a coach talking directly to them and interacting with fellow participants on a live stream allows them to feel a sense of normalcy. The addition of virtual training can be a powerful option that allows your athletes to stay in training shape and maintain connection with their coaches until facilities are allowed to re-open.
Lesson #3: Assess the Tools They Have
When setting up home training options for clients/athletes it became a challenge to assess what equipment they may have at their disposal. That challenge was upgraded to the next level with the question of what they could realistically get their hands on during the current climate.
Dumbbells were flying out of stores at a record pace. Purchase of home equipment was and still is on the rise and many clients were wary of extra costs not knowing how long the current circumstances might be in play. For the many clients that would be home and wanted to continue to train, the challenge was making sure that each would have the equipment necessary to complete at home programs and virtual training.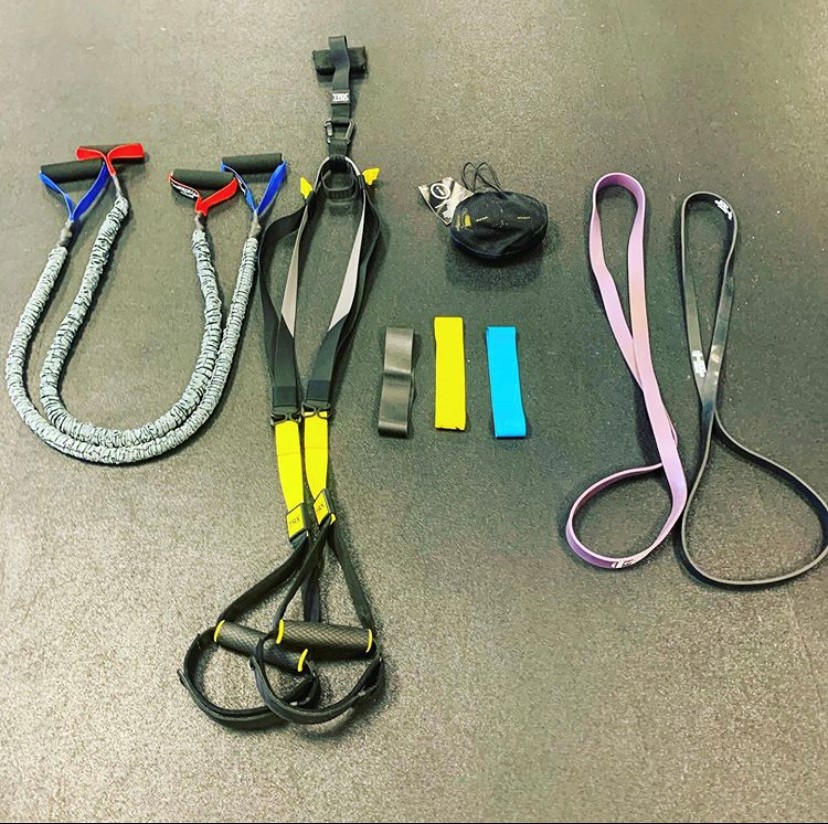 To address this issue, we created a Quarantine Survival Kit consisting of implements like a suspension trainer, resistance bands, and mini bands. Each member enrolled in a program was loaned a kit and will also have the option to purchase the kit following this situation.
To create your own equipment kit for your clients, each one of the pieces can be purchased from Gopher Performance and are versatile and extremely portable. Perfect for both in home workouts or outdoors and great for providing a load challenge for athletes doing virtual training programs. For other items that might not be available, we can substitute household items into workouts such as water bottles of multiple sizes for Dumbbells, Duffel bag filled with items as sandbags, sticky notes and/or books as cones. Your only limit is your creativity.
Continuing to Learn the New Normal
These were just three lessons we learned during this pandemic. We are learning so much more as the situation unfolds and no one truly has all the answers of what to expect when this crisis ends. One thing I do believe is certain, we will awaken from these challenges with a new fitness and performance industry with virtual services at its core. Providing future professionals with opportunities to serve not just clients/athletes within their local area but a chance to broaden that scope both nationally and globally.
At the same time giving clients the more options to customize their individual fitness and performance needs. As families train together will this become that excuse to invest more into their home gyms. As the definition of the modern workplace transfers to the home, will it be more feasible for the fitness enthusiast working from home to attack their fitness goals form home as well?
These questions remain to be answered but we can seek the solutions right now by adapting and embracing change to deliver services that provide value for the current state of our athlete's lives. As in history it is evolve or die, and this crisis above all requires fluidity and changing of methods and practices. To evolve requires us to remain fluid, creative, and think outside the box to navigate what will most likely become the new normal.