The 2022-2023 school year is upon us! With some of us starting back to school at the beginning of August and others of us wait until the beginning of September, it is important to begin to think about the materials you will need for your classes.
I thought I would share with you my 3 favorite pieces of Gopher equipment that I have used over the years that have stood the test of time!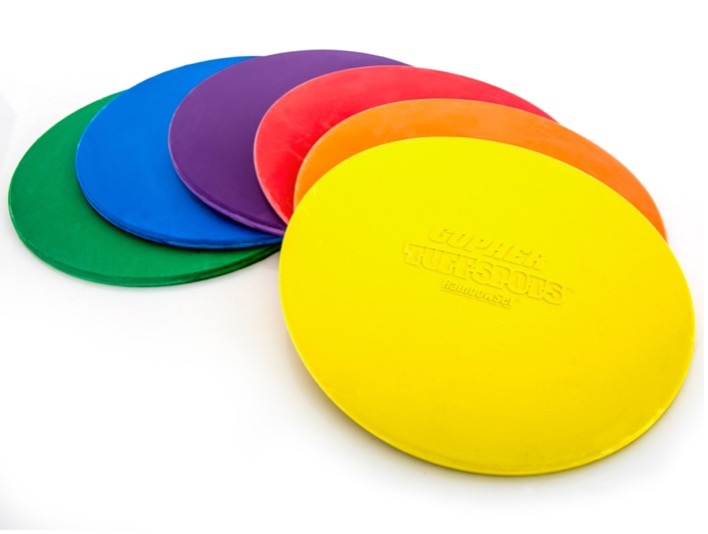 TuffSpots are the poly spots you need in your life as a PE teacher. Over my 12 years in teaching, these are by far the best spots I have ever used and there is no comparison.
Before I found TuffSpots, I would use other poly spots that would constantly shift and slide all over my gym floor and I would spend lots of time between classes fixing my set-ups before my next group came in. That all changed when I switched to Gopher's TuffSpots. TuffSpots are much thicker than traditional poly spots, which makes them more durable and able to withstand the abuse they see within the nature of our content area. My favorite thing about TuffSpots is that they stay where you place them, even when they get dirty or dusty. This has saved me countless times and aggravation over the past few years. They also come in Gopher's traditional rainbow colors (red, orange, yellow, green, blue, and purple), which matches up perfectly with the color system I use for my students' squad lines, groups, and teams! Check them out here.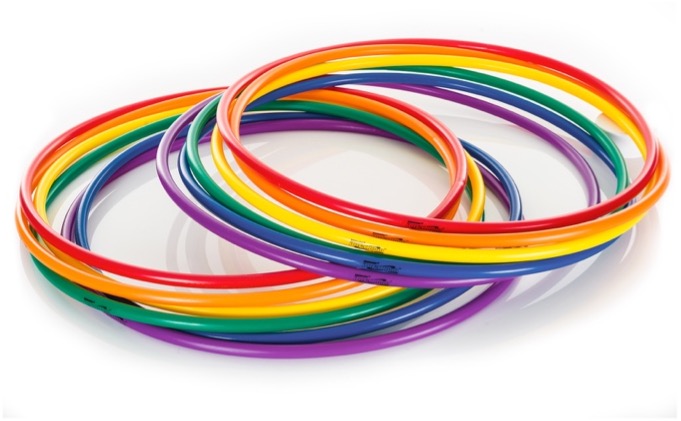 Hula hoops are a P.E. teacher's best friend. Whether using them as a personal space identifier, a floor, suspended or wall-hung target, or as a manipulative, hula hoops are easily one of the most used items in our equipment closets.
With this being the case, over the years I have found that investing in quality hula hoops is essential, and that is where Gopher's DuraHoops come in. These have been my favorite hula hoops to use with my students for a variety of reasons. Their no-staple design allows them to be more long-lasting compared to traditional hula hoops. I have never had one break or kink in over the years since I started using them with my students. The variety of sizes that the DuraHoops come in is great to give you options that meet your students' needs and like TuffSpots, they also come in rainbow-colored sets! Check them out here.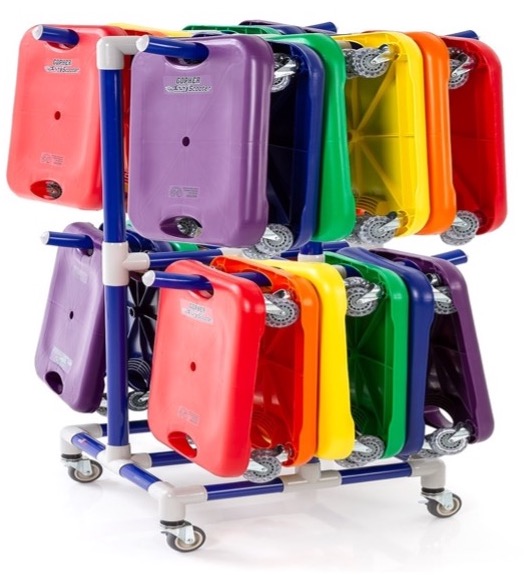 If your students are anything like mine, they reach another level of excitement when they come into the gym and see scooters out on the floor. Fewer things bring as much joy to my P.E. classes than the use of scooters!
Gopher offers a variety of different scooters and I have used many of them over my 12 years of teaching, but my favorite model is their SST Scooters. These scooters offer my students a super smooth ride while allowing for quick changes of direction during our activities. The SST Scooters I currently have in my equipment closet are equipped with 3-inch urethane wheels, which give me the flexibility to use them either indoors in the gym or outdoors on our school's blacktop. The placement of the handles allows my students to stay balanced easily while also protecting their fingers when using the proper grip as they ride around. The enjoyment my SST Scooters provide combined with their safety, practicality, and versatility make them one of my go-to items in my classes! Check them out here.
These 3 equipment items from Gopher have served my students, and I well over the years. Questions? Have your own favorite pieces of Gopher equipment? Please share in the comment section below to keep the conversation going!