[0:02] On today's podcast, I want to give you some quick tips for promoting all the things that you do within your PE Program, and I want to share some things that I do to advocate for physical education at my school.
How to be your own PR team
[0:45] I learned early on in my career that if you want people around you to value what it is that you bring to the table and what you do for kids, then you have to be visible. And by that, I mean no one's gonna miss you if they don't know you're there. We need to be our own cheerleaders, our own self-appointed public relations agents. And it's okay to toot your own horn once in a while to let other people know, hey, what we do matters, what we do has value, what we do has an integral part and an integral impact to a child's development and well being.
[1:17] And personally, I try to promote physical education and things that students are learning in my classes in a variety of ways. I don't believe that you can over-promote what you do. So let me run through what I do and hopefully you'll find something that you can add to your PR plan.
1. Contribute to your school's newsletter
[1:31] The first thing I can think of is the school newsletter. We have this school eNewsletter that goes out every other week to parents, and I make sure to always put a blurb in there about PE. Typically I include some important announcements or upcoming dates and then I like to put a picture of students from the week participating in an activity and that picture acts as a hyperlink to my website where parents are taken directly to my This Week in PE blog. Now this week in PE blog is basically a look at all the learning that took place throughout the week. I kind of recap it with some pictures, videos, explanations of what students are learning, what's going on. I add to it throughout the week and then by Friday afternoon I publish it live on my website.
2. Build a website and keep it updated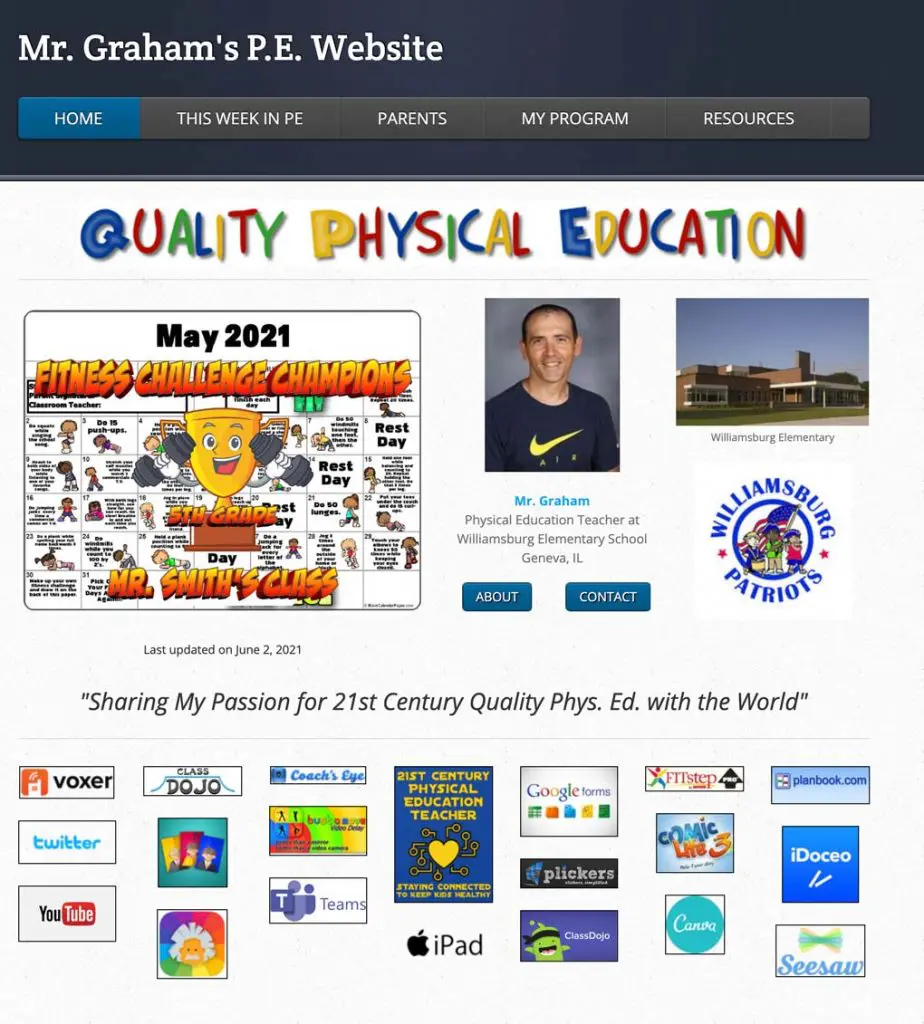 [2:19] So I guess the next thing would be my website. I spent a lot of time keeping information, current, posting regular content on there, promoting all the good stuff that's going on in class. All my lesson plans are linked there via planbook.com. All the recaps from each week are found there. So I'd say that my website really has the most impact on the global community.
3. Communicate with parents regularly
[2:44] Another cool thing that I do is I use an app called Class Dojo, which is typically like a behavior tracking app to record observable behaviors, but they have a tool within the app that I use to communicate with parents and share videos and pictures and text. It gives them a sneak peek into the gym and I've received many, many, many kind words and compliments from parents who really enjoy having that window into their child's day.
4. Share your program on social media
[3:12] Another big one is Twitter, social media has just been a great way to share and promote things that are taking place in the gym. You know the fact that it's a public platform that's accessible to anyone. It really helps bring visibility to the program. YouTube is another one. I have a channel. It's been a great way to share activity explanations and see some students in action.
5. Decorate your gymnasium
[3:34] I think another thing that's within a lot of people's control is just the way you decorate your gym, how you dress up your space can really send positive messages to visitors, to other staff members, administrators, and it can really serve as an advocacy piece as well. I mean your use of posters, the way you create a bulletin board, displays or other signs, even posting the standards or grade level outcomes or some other curricular content, just lets people know that this is a place of learning.
6. Make a positive difference to your students
[4:04] The most important one is the students. You know the kids are really the best promoters of what we do. If you have students who leave with positive experiences who are excited about moving, they're going to go home and tell their parents about it. Trust me. So try and make your class the best part of your student's day so that when they go home and they get asked about how their day was, the first thing that comes out of their mouth is, let me tell you about what we didn't PE today.
[4:34] So I hope you found something in this list that you may be able to incorporate into your program and remember by no means, is this an exhaustive list. My advice is to just start small, start with something that you can tackle easily and find some ways to share what you do with your school, with your parents, and the greater community. The return on investment is definitely worth it.