How do you keep track of physical education equipment for your school or district? When I was teaching, I had a spiral notebook that I used to write down all of our equipment each year. When I became a health and physical education (HPE) coordinator, we used electronic documents and eventually created a spreadsheet with equipment inventory data for all of the schools in our district.
What would you say about having a spreadsheet already set up for you that also aligns PE equipment with the National Grade-Level Outcomes for Physical Education from SHAPE America? Gopher has created exactly that! This is an amazing free tool that teachers and HPE coordinators probably didn't know existed. The PE Equipment Calculator has incredible potential to support our profession.
The spreadsheet will help you:
Keep track of your own equipment
Share equipment between schools
Make ordering equipment easier
Align your curriculum to National Grade-Level Outcomes for K-12 Physical Education
Advocate to your administration and school board for more resources to be able to teach standards-based physical education.

One of my favorite aspects of the PE Calculator is that it is a free download for the benefit of our profession. This tool is for our use and the only people tracking the equipment is you and the people in your own schools/districts.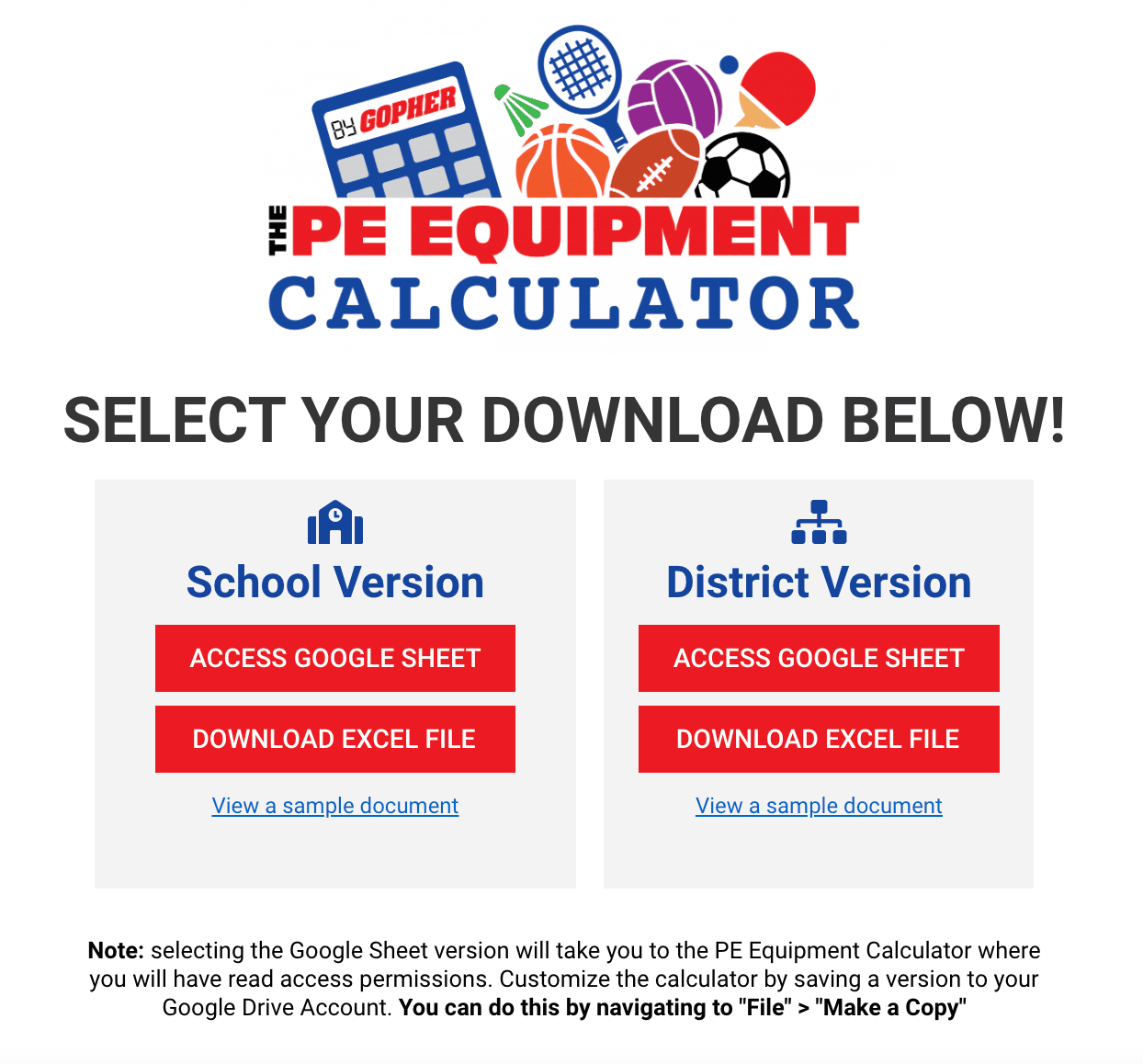 Get Instant Access to this Powerful Tool
Simply visit gophersport.com/pecalculator and complete the short form for instant access to a Google Sheet or Excel file. You'll notice there is a school version and a district version. I'd recommend watching the short videos on the website to better understand the differences between the two resources.
How to Use the PE Calculator
Both the school and district PE Equipment Calculators have multiple tabs that are all linked together. While it may look intimidating at first, you only have to complete a small portion and the calculator will do the rest. Once you dive in, you'll be surprised how easy it is to follow along!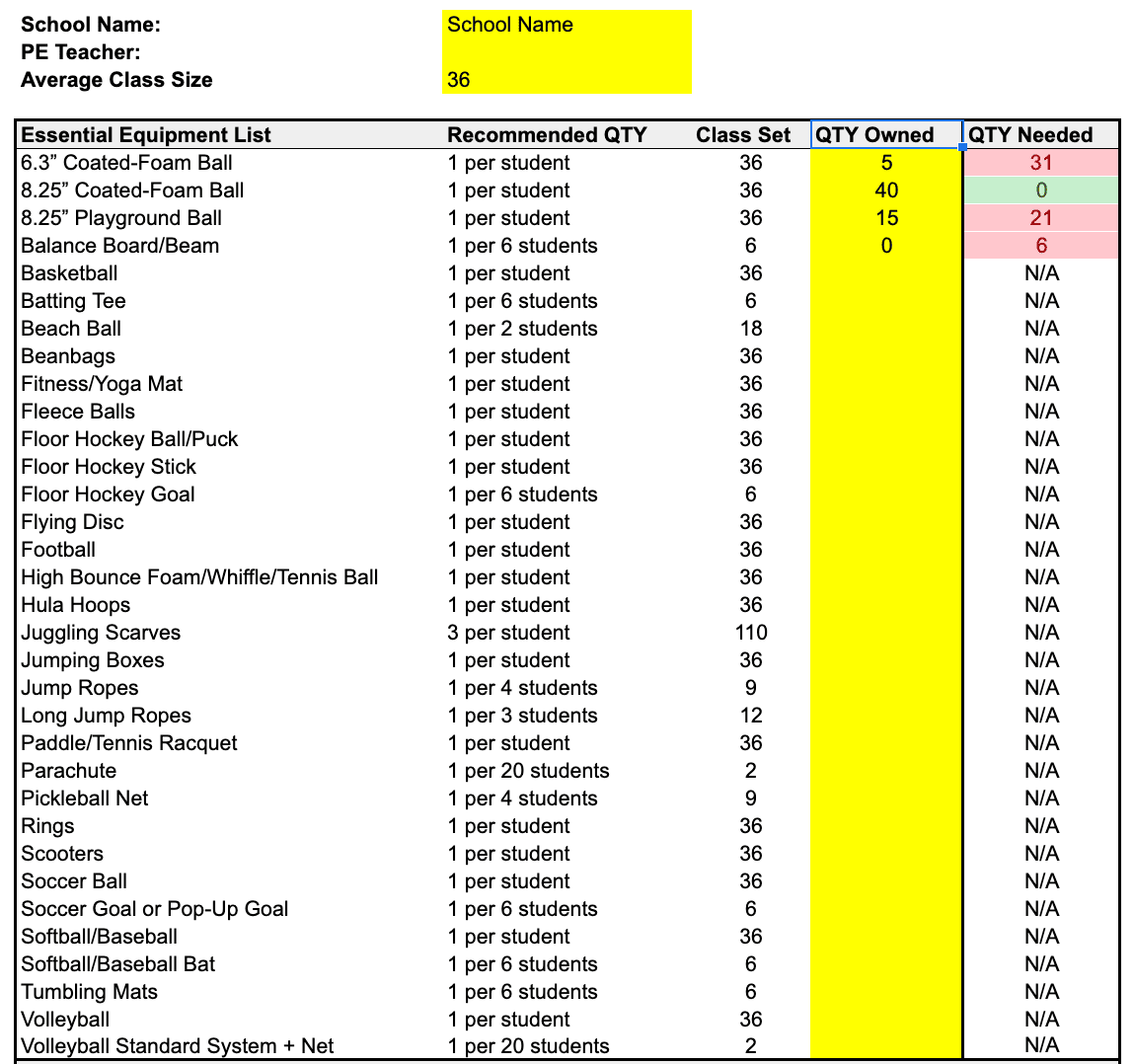 Step 1: Complete your Equipment Inventory
To help this resource understand your equipment needs, you'll first have to complete your equipment inventory. Teachers can go to the "school tab" and complete the spreadsheet as they assess their inventory volume. While the list of equipment cannot be edited, it is a list of equipment that's recommended for standards-based instruction. If you feel you do not need certain equipment for your program, simply enter the full amount in the "QTY owned" section. The sheet then automatically calculates how much equipment is needed based on your average class size!
Step 2: Link Equipment Needs with National PE Standards
The real work that Gopher put into this tool is in the "Grade-Level Outcomes" tab. This is where Gopher worked with Dr. Robert Pangrazi and teachers to provide what are called "Essential Equipment" and "Additional Standards-Based Equipment/Team Games" for every grade-level outcome in Standard 1. After completing your equipment inventory, you'll notice the spreadsheet cell colors update to either green, yellow, or red based on the equipment you have to teach that outcome. This can be an essential resource to our teachers when advocating for Physical Education programs. When an administrator asks you to provide standards-based instruction, you can now give them a list of the equipment needed to provide that standards-based instruction!

Step 3: Follow Recommendations to Simplify Equipment Order
After you understand your equipment needs, go to the "Equipment Recommendation" tab.
The "Equipment Recommendation" tab lists three different options (standard, deluxe, premium) for a school's normal equipment selection. School staff members enter in this page the cells highlighted in yellow (some examples are provided at the top). You'll noticed the cell titled, "Total Items Needed" is customized based off of your inventory levels. Gopher provides active links to their online catalog so you can conveniently get the needed information to enter.
Once this is completed you have the item numbers and amount to be ordered and an estimated quote. If you are using the school version, this one tab can be printed and given to your bookkeeper (or whoever is the person doing the ordering in your school). For the district version, the district could use this sheet to order district equipment and give the "schools" sheets as part of the order to know how much equipment is shipped to which school. The document can be emailed or shared with pecalculator@gophersport.com and Gopher will put together a hassle-free quote with the items on your list!
As a former HPE coordinator, this tool will support districts in keeping track of current equipment and equipment needs. There are tabs that show what schools have and what they need. If you are at a school and suddenly have a need, you can look at the shared PE Equipment Calculator and see that another school has the equipment you need. What a great resource for easily sharing equipment between schools!
Please take time to download the spreadsheet and try it out for yourself. If you have any questions or recommendations for future updates, please email pecalculator@gophersport.com.