As a former HPE teacher and teacher educator for 25 + years, I still enjoy the back-to-school excitement and anticipation the new school year brings. September is always a time of new challenges, opportunities, and renewed visions for what we hope to accomplish in our HPE programs to ensure our students lead healthy active lives long after they graduate from school.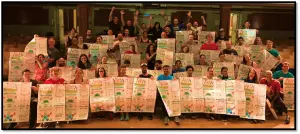 This past month, I delivered a summer professional learning course at OISE, along with two of my colleagues Michael Sinukoff and Eva Roser, both HPE teacher leaders in the Greater Toronto Area. It left me feeling inspired and re-energized from the 50 teachers we worked with; some aspiring to teach HPE for the very first time while others are leading the way to quality HPE programs.
On our last day of the course, we were challenged by my husband, Ted Temertzoglou. He's an award-winning former HPE teacher, author, health and physical literacy champion, and world-renowned speaker who believes in maximizing teacher success, and unlocking the potential of ALL students to "reimagine" HPE and to actualize the principles of the UNESCO Quality Physical Education Document.
UNESCO (2015) states,
"Despite the recognized power of physical education, we are seeing a global decline in its delivery. This is helping to fuel a global health crisis – conservative estimates consider physical inactivity as accounting for 6 per cent of global mortality. This is the pledge inspiring these Guidelines – to mobilize stakeholders and resources in order to ensure the provision of quality physical education to young people across the world, regardless of their socio-economic situation, ethnicity, culture or gender."
Are you feeling up to the challenge? Wanting some back-to-school inspiration? Here are three ways to get you started:
1. Back-to-School Essentials
When you head back to school, take a look at your equipment and ask yourself, "do I have all of the equipment I need for my students to be successful in physical education?" Take a look at this essential equipment checklist and use it to advocate and address your equipment needs.
Innovative equipment can also inspire hours of physical activity! New games such as Topple Tubes, Speedminton, disc golf, Spikeball, SturTee, and Block 'Em are sure to get your students up and moving. Shop other back-to-school essentials here.
2. Survey your students
Ask about what games, activities, and sports they enjoy and clearly communicate the learning outcomes/goals of your PE program to your students, staff, and parents.
Use this checklist by PHE Canada to guide your teaching practice with respect to i) planning for student learning; ii) creating an environment for student learning; iii) using teaching strategies and skills for student learning iv) modeling exemplar teaching and professionalism
READY, SET, GO! Share what inspires you for Back to School below.